When You Take a Music Theory Look Behind 'Master of Puppets' You'll Find This Weird 5/8 'Microtiming Deviation'
"What makes this rhythmic idiosyncracy different from what has been studied by most music theorists is..."
UG Team
Ultimate Guitar

UG Team
UG editorial team. A group of people who are passionate about guitar and music in general.
Posted Aug 29, 2016 09:12 PM
Stephen Hudson from Metal in Theory has presented an interesting analysis of Metallica's classic track "Master of Puppets" a while ago, focusing on the track's peculiar 5/8 "microtiming deviation."
The thing takes place during the verses. As you can see in the first photo below, it's transcribed as a bunch of 4/4 bars followed by a single 5/8 bar even in the band's official tab book.
The author noted: "The problem is that on the album version of the track and in some live recordings, it doesn't really feel like an even 5/8 - the rhythm is consistently off enough that if you try to tap out really strict eighth notes, you end up not being with the band when you get through to other side.
"There's a lot of research literature within the fields of music theory and music cognition which focuses on such 'microtiming deviations,' but most of this research deals with rubato (slowing down and speeding up in the course of a phrase) or differences in timing between a solo instrument and the accompanying ensemble. That doesn't seem to be what is going on here."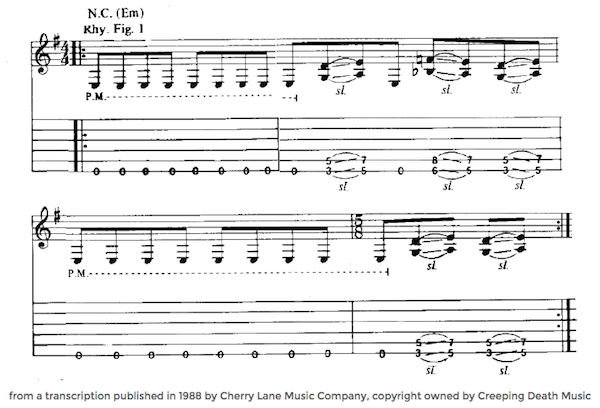 Stephen's next move was to fire up Audacity and do some manual measuring.
He noted: "I wanted to be thorough, and measure enough timings of this pattern to get a good average, but I do still have a life outside of music research, so I only looked at the occurrences of this pattern in the first verse.
"That still gave me eight instances of the 5/8 pattern to study. I measured the surrounding quarter note beats for comparison, which are mostly clearly marked by the drum pattern. If you look at the chart below, there is a clear and surprisingly consistent pattern to how Metallica performs this rhythm.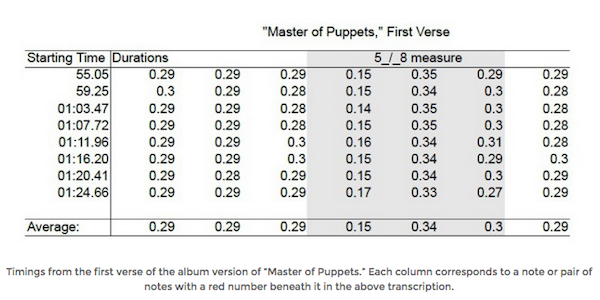 "As you can see, Metallica's timing keeps pretty consistently to .15 seconds for an eighth note and .29 seconds for a quarter (or two eighth notes), except for the middle of the 5/8 measure. After the first three eighth notes of this measure, you can hear a brief pause before the last two eighth notes, a pause which is almost always .04 or .05 seconds (about a third of an eighth note), and which makes the measurement of these two eighth notes grouped together .34 or .35 seconds.
"What makes this rhythmic idiosyncracy different from what has been studied by most music theorists is that this slightly attenuated beat is performed by the whole ensemble in unison, and it's not a delay that is 'made up for' right afterwards. In other words, it's not a local deviation from the beat that maintains the pulse over a longer span of music, but a permanent shift of where the beat occurs.
"This 5/8 measure deliberately disrupts the song's pulse as much as possible. Even if the band played the eighth notes in straight timing, the quarter note pulse and half note pulse would both be disrupted by the odd length of the 5/8 measure. The 5/8 measure places accents on the second and fourth eighth notes, against the pulse of the preceding 4/4 measures, but then the following measures continue to reinforce this new location of the beat.
"For a long time, I thought that the transcriptions I'd seen were all wrong, that this riff did not have a 5/8 measure in it, but until I measured it I wasn't sure if my ears were fooling me or not. I still think this is a valid question; 5/8 is 'supposed to be' five equally timed eighth notes, so does this performance of 'Master of Puppets' count as 5/8 when one eighth note is regularly 30% longer than the rest?"
For the full conclusion, make sure to consult the source.