Why Not Just Bass: Guitarist Replaces 9-String Guitar With a Bass, Here's How It Turned Out
"Well guess what - it doesn't sound the fucking same!"
jomatami
Ultimate Guitar

jomatami
UG News editor since early 2013. King Crimson fan. I handle the 'news' around here.
Posted Sep 11, 2017 01:15 PM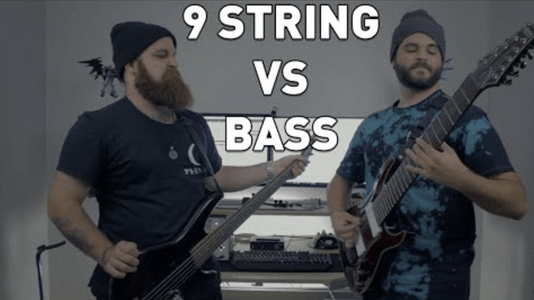 Guitarist Andrew Baena, known for his work with extended-range guitars, reacted to frequent "Why not just bass" comments he got on his videos by actually replacing his 9-string with a bass.
The musician explained:
"In this little test, we take a listen to a 9 string guitar and a bass guitar in the same octave.

"The first test showcases the bass guitar by itself, then the 9 string by itself, then the two together.

"The second riff showcases the same thing, but this time the 9 string guitar uses the bass tone, and vice versa. Both are tuned to some form of C# tuning."
After the test, Andrew concluded:
"Well guess what - it doesn't sound the fucking same! As you can hear, the guitar sounds terrible as bass and the bass - well, it kinda sounds good but that's not the point. It's not the same, doesn't sound the same, stop fucking saying that."
You can check out the clip in the embedded video player below.