Why Not Just Downtune? This Is the Difference Between 8-String and 6-String Downtuned 10 Halfsteps
Meaning they have an identical tuning on 6 thickest strings.
jomatami
Ultimate Guitar

jomatami
UG News editor since early 2013. King Crimson fan. I handle the 'news' around here.
Posted Feb 17, 2017 12:56 PM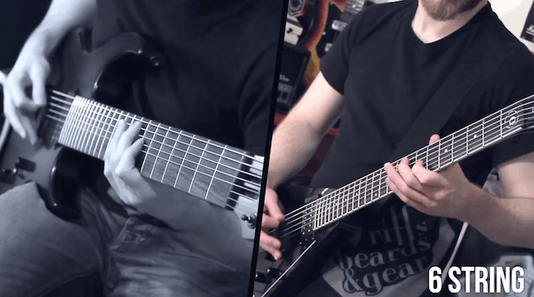 Pete Cottrell from YouTube presented an interesting experiment, testing out whether you can really just downtune a 6-string guitar to get the sonic effect of an 8-string.
Specifically, the musician took his 6-string, downtuned it 10 halfsteps to F# and put it up against the 8-string.
He explained: "One of the many criticisms of 8-string guitars is that you must use all strings, otherwise you're just djenting on the low strings. So why not just downtune a standard 6-string? Putting technical specifics aside, this kinda makes sense, right? Aren't 8-strings just low-tuned guitars? But, the proof is in the pudding, let's test this out in the context of a song."
Pete also pointed out about downtuning the 6-sting: "I beefed up the string gauge and gave it a quick setup, but other than that, there's no modifications."