Yngwie Malmsteen to Guitarists: Don't Neglect Your Music Theory!
"It all becomes hardwired and you soon stop thinking about it."
jomatami
Ultimate Guitar

jomatami
UG News editor since early 2013. King Crimson fan. I handle the 'news' around here.
Posted Aug 03, 2017 10:34 AM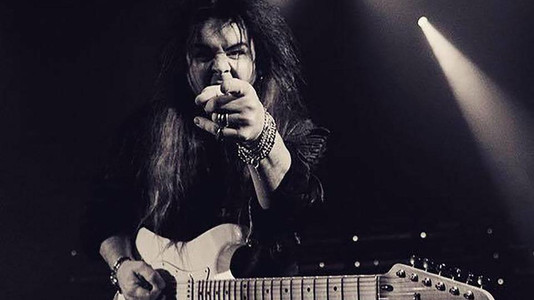 Yngwie Malmsteen discussed the importance of music theory, telling Music Radar:
"You're going to laugh at this... I only play with my ears. I don't think about technique or scales or anything. I just think about what I sound like.

"I grew up in a very musical family and I knew how important it was to know all the theory.

"You might think it's boring, but you have to learn the relationships between all the scales, keys and notes in order to know what you can and can't do.

"Not only does that help you play whatever you hear in your head, but you can start throwing yourself off the cliff without worrying about playing the wrong note.

"You know exactly what notes belong in the scale you're looking for and which ones don't. You can improvise as it happens.

"That's how I taught my son, Antonio Malmsteen, and he's amazing! I told him from day one: 'You can learn this riff and this lick, all of it, but they are only building blocks. It's about how you put those blocks together and create a building that doesn't fall down.'

"It might sound boring, but it's very important. I took piano lessons as a kid, so I knew theory before I even picked up a guitar.

"My older brother and sister would talk about F# sounding good in a certain key on the kitchen table... it was a common way of talking. In rock 'n' roll, that seems to be missing a lot. People aren't spending enough time on all of this.

"Say Phrygian and Diminished - they're all connected. A Harmonic Minor is also E Phrygian Dominant , but you could play diminished from F# (every three frets) and you'll bring that flavor. It all becomes hardwired and you soon stop thinking about it."
Focusing on improvisation in general, Yngwie noted:
"When you play blues, you go into a certain mode, you know? The groundwork isn't actually that hard, it's all mathematical theory.

"You have the key to this door and when you open it, there's a hallway with 100 other doors. Behind those doors are more doors and it keeps going on. But you need the key to open that first door: once you have that, you don't need to worry anymore.

"That's how you become an amazing improviser and I feel that improvisation is one of the most important things to be a musician.

"All the great composers were great improvisers - they wrote it all down because they had to! That all comes down to knowing the theory. It's how you stay in the right place and never head anywhere you're not supposed to be."