Amos Heller, Dale Watson and Butch Walker Discuss Fender American Design Experience
Butch Walker gets to see and play his very own designed ADE Telecaster guitar for the first time - exclusive photos inside.

UG Team
UG editorial team. A group of people who are passionate about guitar and music in general.
Posted on May 22, 2014 02:38 pm

There's an impending arrival in Amos Heller's life that pretty much overshadows everything else. Home in Nashville between world tours playing bass in Taylor Swift's band, Heller and his wife are expecting the birth of their first child.

But another upcoming delivery has him excited too. He's one of the first artists tapped by Fender to explore the new American Design Experience - creating an instrument to his own specifications via an easy-to-use online interface that lets you choose the materials, hardware and accessories to get the sound and look that's just what you want. And the result is on its way from the Fender factory in Corona, Calif.

"When Fender asked me to participate, I think I built about 1,800 combinations on the website before ordering," he said. "I bored my wife to death asking things like 'How about the pearl white pickguard?' She'd answer, 'I don't care!' But who doesn't fantasize?"

Heller made his fantasy into reality, using the modular features, step-by-step, to create his own bass.

"I wanted something that would have a lot of character in it," he explained.

His hand-picked model, a Jazz Bass with a maple neck - "famous for that distinctive jazz midrange presence that can cut through" - coupled with the 1964 Jazz Bass pickup - "because the first one I ever got from Fender had that, and it was the best sound I ever played." 

The one he designed has a nice classic look and feel: Lake Placid Blue body made of alder, tortoiseshell pickguard, black knobs, '70s Jazz Bass maple fingerboard, high-mass vintage-mount bridge, the '64 Jazz Bass vintage pickups he mentioned and nickel hardware. All this for a cost comparable to an off-the-rack model.

"You see all these great signature series, instruments that great players have tweaked to be their own," Heller said. "This gives you your own signature, something uniquely yours."

He then paused for a much-needed breath.

"I'm way into this," he continued. "As you can probably tell."

He's not the only one.

"Getting a custom guitar for this kind of money is pretty damn good!" said Telecaster devotee Dale Watson, master innovator in the long line of country, rockabilly and roots players with nearly two dozen twang-fueled albums to his name, the latest being 2013's El Rancho Azul.

"Being able to order your own type of neck and fretboard and hardware and pickup and body combination kind of floors me, really," said Watson. "We could all go in and buy a 1957 Strat or Tele if we could afford it, or if we knew where it was. But even then, I've played some and the neck wasn't right. I have two Fenders I bought off the rack - a Thinline Deluxe and another Tele Standard I bought on the road. They play fine, but one has a maple neck where I'd rather have rosewood. The other has rosewood, but I'd rather have the traditional Tele pickups."

Ditto for Butch Walker, who in addition to his own albums has a long list of writing and production credits from Taylor Swift to Pink to Panic! at the Disco to Keith Urban.

"I was never a kid growing up who liked stock items off the shelf," he offered. "I would wear a different color sock on each foot, put patches on my jackets - still do! - and dye my hair different colors, just to not be like everybody else in the classroom. When I would see guitars on the walls at music stores as a young gun, I would say to myself, 'Oh, I love this Strat with the white body, but I wish it had brass tuners or a pearl pick guard, and a rosewood neck instead of maple.'"

For Walker it's more than just having a guitar you like. It's about a full sense of self-expression.

"Being able to go to the site now and just design your own Tele or Strat from the ground up gives you that same feeling of personalization and individualism that makes you feel good about yourself," said Walker. "And chances are the guy next door won't have the same exact thing. I just designed a Tele that I can't wait to get. It's going to be my very own model. Who doesn't want that?"

American Design Experience allowed Walker to find a sweet-spot guitar that had previously seemed elusive - and it's not the strictly '50s vintage outfit you might expect. Well, not entirely.

"I'm not a big fan of the early '50s neck that was really fat and round," he says, noting that he has relatively small hands. "I like the '60s neck. But I like the '50s body that was really light and made of ash."

The key for him is the bridge. Rather than the six-saddle bridge with each string to itself, he went for the three-saddle model, pairing up strings.

"This is just my ear and I could be totally wrong - but I have talked to some people I respect, and for the most part everyone agrees that the six-saddle – even though you get a lot of great adjustment possibilities – you can make it where every string is in tune all the way down the neck," he said. "With the traditional three saddles on the tailpiece, they seem to me to lay against the body and the bridge plate a little better to give you more sustain. I picked a less powerful pickup so my sustain isn't going to be as good as someone with a more blues-oriented, honkin' pickup. So a six-saddle would be good for them. But with me, a three connects to the body in a more solid fashion. I like it when you hit a chords and it rings, stays out there a while."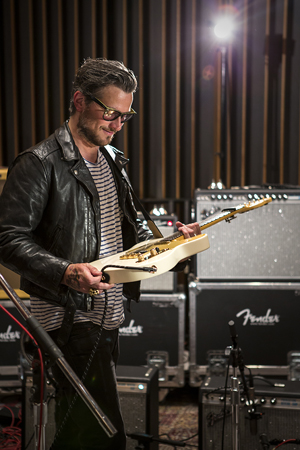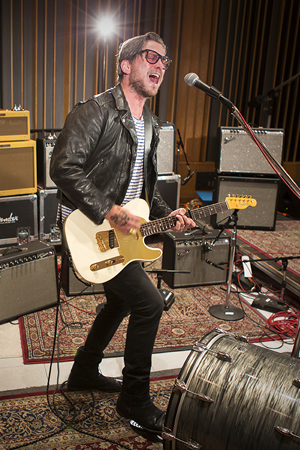 The upshot is the guitar he ordered is specific to him, in a way that would have been difficult - and expensive - to find before now.

"When I went on the site to play around, I basically built an old style guitar, which is beautiful," he said. "If you get one of these old guitars you're lucky to find them for six or seven grand. I was able to build a new one for a lot less."

Now, these guys are pros, with the knowledge, experience and access that allows them to know just what they want and, now more than ever, how to get it. Arguably, though, the American Design Experience is an even bigger boon to the regular guy or gal, the amateur player, the folks who don't know a humbucker from hummus or those who are intimidated walking into a guitar store. For lefties (your humble scribe included) who have largely had to settle for picking from whatever handful of southpaw models may (or may not) be at any given store, it's a near miracle, as both guitars and both basses in the ADE program can be made either way.

Picking a look is very simple. As the user "builds" the instrument on the site, the image takes on the specific characteristics. It's simple to switch bodies and necks and hardware and see any combination almost instantly. As for what any choice might sound like, each pickup, each wood selection, has an accompanying description of its sonic characteristics. For example, the American Standard Stratocaster SSS pickups are known for their warmth while the Custom Shop Texas Specials have "increased midrange, punch and presence."

And to further help, a growing roster of Fender artists, including the three quoted here, share their choices and insight into how they approached the process on the Collaborate page, where these demanding experts give you a head start with their own designs.

In many ways, says Fender Electric Guitars Vice President Justin Norvell, the American Design Experience fulfills an ideal held by Leo Fender himself when he started experimenting in the '40s and '50s, laying the foundation of what would soon become iconic musical instruments. Essentially, modularity was built into Fender guitars and basses from the very beginning.

"As the company grew, we've tried to stay close to these roots," he said. "The Internet affords the opportunity to increase that scale for more people. But every customization has always been nothing more than a couple of screws away. This further levels the playing field where you can build a signature instrument to your specs."

It's also a great way for people to step into the world of Fender and learn from the ground up - whether they buy a guitar at this time or not.

"That was the challenge, to be techy enough for the real professionals, but not make it a thing where you'd have to go to school to navigate," Norvell explained. "A lot of people want to learn things, but in a way that's not intimidating."

After all, Leo Fender's founding philosophy was that a guitar should be something the player wants to play, something that suits him or her perfectly. That's something Dale Watson learned directly from Leo and something he explicitly incorporated into his American Design Experience Telecaster.

"Leo Fender gave me a guitar for the first video I ever did," he recalled. "I went down there and played it and was tickled to death. And he's there with his glasses on, with all the different magnifying glasses attached, and he had a pocket pen protector but with screwdrivers and wrenches. I was playing the guitar and he said to play the B string again, and then he made a little adjustment and said 'That's better.' I told him as soon as I finished the video I'd keep it safe at my house. He said, 'Give it back then if you aren't going to play it.' I said, 'But, I play 6, 7 nights a week. It will get beat up.' He said, 'I'm not a musician; I'm a maker. My biggest joy is knowing that something I made is going to someone who can feed their kids, put a roof over their heads.' He also talked about how he hated people buying his guitars and putting them under glass

"So I said, 'Ok, it's going to get really beat up,' and he said, 'It's just a hammer, Dale. A hammer.'

"And that's what I had them put on the neck plate of the new American Design Tele I just ordered: 'Custom Made for Dale Watson.' And underneath that, 'It's just a hammer.'"

By Steve Hochman