With only two full length studio releases under their belts, one might think of
Halestorm
as a new band on the scene. The truth is quite the opposite. The band has been together since 2003 and
Lzzy
and
Arejay
had been performing together since they were 13 and 10, respectively. The result is a tight knit group with unyielding passion for the music they make. In the following exclusive UG interview with guitarist and riff specialist
Joe Hottinger
, we learn of Halestorm's future plans, the dos-and don'ts of soldering, and take a deeper look into the very serious illness known as Guitar Acquisition Syndrome (GAS).
UG: Let's start with your live rig. What do you have with you on this tour?
JH:
I start with my
Fender
s. Fender made me my own Tele to my specs. It's not a signature model or anything but it's kind of a
"Franken-Tele"
a mixture of a bunch of different parts from their different models. It's a
Jim Root Stratocaster
neck on a
Bronzeburst Telecaster
Body. Then I've got a
John 5
bridge with a
Seymour Duncan Custom Custom Custom SH11 Humbucker
in the bridge position and I've got a momentary button from the
Scott Ian
model
Jackson
guitars. I just recently put in a
Twisted Tele
neck pickup in there I like it but I'm not sure if I'm going to keep it in there or not yet. It's a bad ass hard rock guitar and it's a constant experiment for me. Otherwise I've got a bunch of other Teles and I've got a really cool
Custom Shop 57 Hardtail Strat
which sounds amazing. I got one of the new
Blacktop Baritones
that I put a
Duncan Custom Custom
in. Anyways, my guitars go into a
Shure Wireless System
which runs in to my effects system.
Bob Bradshaw
built me a
MIDI Switching System
for my pedals so I have his
RSG16
with me out at the front of the stage and that runs into the switcher. I also have a
Jerry Cantrell Wah
and a
Dunlop Volume Pedal
out on stage with me. As for the pedals I have plugged into the
MIDI Switcher
, my main distortion is an
Ibanez TS808 Tube Screamer
. I also have a
Pork Loin
on there and a
Green Rhino
by
Way Huge
. I've got a
Custom Audio Boost
for leads and I have a compressor for when I want to clean up the tone a bit. I have a few
Eddie Van Halen
effects like the
Phase 90
and the chorus. I also have a micro chorus and a carbon copy delay and all of that runs into my amps. I run that into two amps which I run simultaneously. I have an
EVH3
which is the new
EVH
head and I have a 22 watt
Fender Supersonic
and I run those into a
Classic 4x12 Fender Cabinet
. I forget what that has for speakers but me and the guys at Fender did a sound-off between the Fender cabs and the EVH cabs and we just thought it sounded cooler through the Fender cabs for some reason.
Do you do all the work on your guitars yourself?
Yeah I do. Man, I screw it up a lot of times and have to give it to my guitar tech but I always try to go for it first, you know. I'm just now starting to get good at soldering but I've been doing it off and on for years anytime something needed to be done. I remember the first guitar I tried to solder, it was a baritone. I had two different
Blacktop Baritones
from
Fender
and I wanted that
Seymour Duncan Custom Custom
in there. So I took out the factory pickups that came in there I don't really like those anyways, they're a little muddy and flabby sounding for me. So I put this Custom Custom in and I just made an unholy mess. There was solder everywhere. I'd had it on the road with me for a while and then we played this show in Chicago last summer and we got rained on hard fully drenched. We played for about a half an hour in monsoon rain. The crowd was still there and nobody was stopping us so we just kept playing. I don't know how the gear stayed working but it did. The next day we went to a commercial drier place, basically a huge dehumidifier and we unscrewed all the amp cabs and the pickgaurds on all the guitars and put it in this small room overnight. The next day we came in and it had sucked 8 gallons of water out of all of our gear. Anyways, I had to re-solder the baritone because it had come apart during this whole ordeal. I gave it to
Evanescence
's guitar tech because our guy was busy putting everything else back together. He took one look at my solder job and said,
"Oh my God, Who soldered this?!"
I told him I did and he suggested that I shouldn't be allowed to work on guitars anymore. But I'm getting better and I do like getting in there and trying to make things work. Sometimes I still break things more often then I fix them but it's still fun.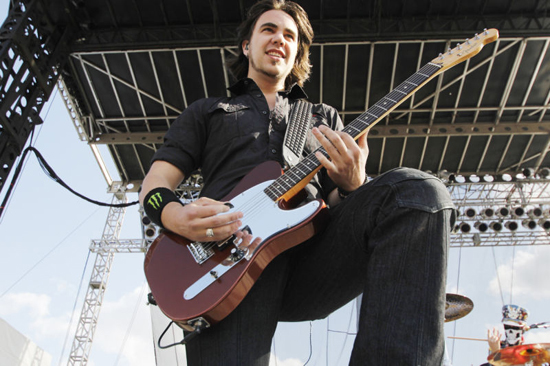 I screw it up a lot of times and have to give it to my guitar tech but I always try to go for it first.
At least you've got the balls to tear into it and give it a try.
Yeah I'm not good with electronics but the only way for me to learn is to dive right in. There's a lot that I still don't understand but if I screw something up I just bring it to our tech,
Justin
, and ask him what I did wrong and he's great with all of that stuff. I'm just obsessed with guitars. It's like a compulsion for me to mess around with and work on my own guitars. Plus I have GAS (guitar acquisition syndrome).
I too suffer from GAS, maybe Ultimate-Guitar should start a support group or something. How many guitars do you have?
I counted a while ago and I forget, it's in the twenties. It's cool, we just got a condo in Nashville and it has a studio in the basement. It's a full on studio, the guy who built it was a great session guitarist so he designed it and put everything together really well. But now I can surround myself with my guitars. I think that each guitar is a work of art so I like to hang them on the wall when I'm not playing them. It's a great feeling to, when you have a musical idea, be able to look around and try to decide which guitar to use. It's really inspiring.
Do you have your first guitar?
I do not have my first guitar. My first electric was an
Ibanez RG-270
. I got it because it was green and I like the color green. I was in 7th grade. I traded that in for a
Les Paul Studio
which was a nice upgrade and I had that for a few years and then I traded that in for a
PRS Custom 22
. Then I traded that for an amplifier and a
Tele
. I traded that Tele to buy a
'76 Strat
. It went on and on like that. I still have my first guitar that I bought when I joined
Halestorm
which was just a
Cherry SG
. I still trade guitars and sell them occasionally in order to get something else. I recently traded two of my Strats and got that
'56 Custom Hardtail Strat
I was telling you about.
That's a killer guitar.
That guitar was actually built for
Johnny Rzeznik
of the
Goo Goo Dolls
in the '90s. I got it earlier this year after we won the Grammy. It's one of the best
Strat
s I've ever heard. We put it up against some of the vintage Strats here in the studio and it has a lot of personality. Plus it's got a pretty neat history, I'm sure Johnny wrote some songs on it. I'm not used to that neck at all with the 9.5" radius but it feels great every time I pick it up.
It must be hard to decide which guitars to take on tour with you.
For sure, I know I drive our guitar tech nuts because I always want to use a different guitar on every song. I try to be good. There are limits on what we can carry on tour. I only get a few slots in our guitar vault on the road. This tour we had to get another guitar rack because I brought out more than my five guitars that I'm supposed to bring. I brought seven out on this tour.
Are you officially endorsed by Fender now?
Yeah I went full
Fender
this year mostly because of the people working there. I used to be a
Gibson
guy, not that I was ever endorsed by them I bought all my Gibsons. Then I started talking to the Fender guys and they started sending me guitars which I thought was really cool. At first I didn't want to commit because I really liked my Gibson and I'd try to give the guitars back. Then somewhere along the line we were talking about what kind of guitar I like with the radius of the neck and stuff like that. The Fender guys said they'd build me a Tele and I could let them know what I think of it. They made my main guitar that I have now and it just rips, the intonation is always perfect, I just fell in love with that guitar and I really enjoy working with the people at Fender.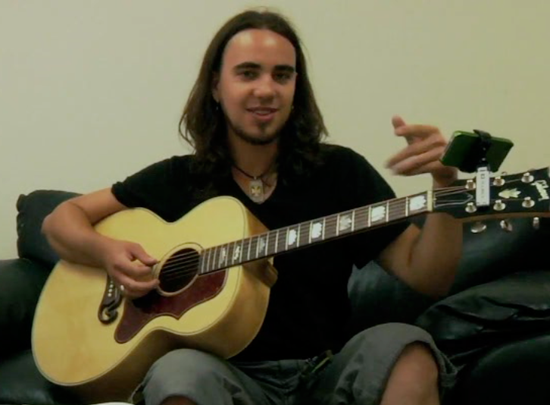 We love playing acoustic, it's raw and you can really tell if someone's a singer or a player when that's all you've got.
You play a John 5 Telecaster, don't you? I love those wide range pickups.
Yeah I saw that in a music shop last year and it was like 500 bucks brand new and that's a 1200 dollar guitar and they just wanted to get rid of it because it had been on their shelf for so long. So I got that thinking, at the very least, I could sell it and make some money. But of course I love it and I kept it stock and I still play it live today. This guitar has the Mexican knockoff Wide Range pickups in it but it's cool, it's got its own personality, it's just so dark sounding. It's a neat sound that none of my other guitars have. I also like the mirrored pickgaurd to blind the audience that's always fun. The other guitar I've got with those wide range pickups is the
75 Telebration
Model. It's got wide range at the neck and then two single coils at the bridge. That guitar is awesome. The one I got has the greatest wood grain, it looks like one piece even though it's still three but the grain is all really straight with no knots so it looks almost like pinstripes going down the body. I had just finished reading the
Keith Richards
book and he had one with a humbucker on the neck and I thought that would sound great. So that was the idea with this guitar I tune that thing to open G and it's so cool sounding with that wide range pickup.
That book is great.
Yeah it was really inspiring. Just the way he talks about guitars and songwriting. I would read that book for a while and then write some music for a while. He talks about how he switched to open G tuning and it opened up a new world for songwriting so I thought, I need to try that. It was the same for me. I wrote like 10 different songs in two days.
What does Halestorm have for new material in the works?
Yes, on all accounts. We'll have an EP out this fall probably. We're still pushing the current album right now so we're in no hurry. We did record another EP of cover songs which you'll find out about soon enough who's all on there. It was a lot of fun.
Lzzy
and I are doing a lot of writing for a new full length record. We've got a lot of riffs down and melodies worked out and she's got some lyrics already. We're slowly putting some new songs together. Maybe next year we'll get it done.
You've done a lot of EPs but never an acoustic EP. Is that something you'd consider doing?
We'd love to do that, back when I first joined the band there was a period where we couldn't play in Pennsylvania because the liquor control board came down on us because Arejay was only 16 years old and they wouldn't let him play in clubs so on the weekends we would do electric shows in Maryland or Delaware or Jersey, anywhere outside of PA. Then during the week, instead of getting day jobs, Lzzy and I would go and play four hour long acoustic shows at local bars. It was so much fun. We would do covers and originals and developed some good acoustic chops some of which I'm sure I've lost over the years. We love playing acoustic, it's raw and you can really tell if someone's a singer or a player when that's all youve got. It's fun to be the whole band with just your right and left hand keeping rhythm. So yeah, Lzzy and I have talked about it a bunch and hopefully we'll get something together one of these days.
Interview by Justin Beckner Ultimate-Guitar.Com 2013