Bring Me the Horizon
, the hard rocking British metal quintet, are now on tour in the US to support their latest album, "
Sempiternal
." But if you haven't bought tickets to see them, you're out of luck as every show on the tour is now sold out.
Call them heavy metal, metalcore - whatever the title - they are intense on stage. But fans are also responding to their unusual and original trademark: the incorporation of electronica and layered keyboard melodies with heavy guitar and rhythm. On "Sempiternal," the two sounds - one intense, the other soothing - combine in ways that seem totally logical and totally new. There's nothing out there like Bring Me the Horizon and with the help of Sony/RCA, the band is now well on their way to turning on the world. Guitarist and co-founder
Lee Malia
stopped by
Epiphone
to talk about the band, the tour, and especially his new
Epiphone Lee Malia Signature Les Paul
.
E: Congrats on the sold out tour, Lee!
LM:
It's been great, thanks. The tour wasn't sold out in advance but now all the dates are sold out. It's been the best American tour we've ever done. We also went to Mexico on this trip. It was insane - probably the biggest show we've done as well.
Some bands have trouble going from an independent label to a major a label. Was that a concern?
Well, we pretty much wrote the album and then they got on board. But everything else changed around it. We've got a lot more support now for everything we're doing.
That must make things easier. You can just concentrate on the music now.
Yeah, exactly that. There's people there to do everything for you, which is pretty cool. So like, I remember when we went in and met all the people at the label - you'd meet 30 people just to look after your artwork and another 30 people to do other stuff. So it's pretty crazy to have that many people working on (laughs) our little band.
Are you writing new material while you're touring?
Yeah, we have a little but we don't know what for. We're not writing a new album this year but we're thinking we might even bring out a single or like a small EP or something to bide us over until the next album.
How has your show changed or adjusted now that the tour has become so successful?
We just got a little more production this tour but that's probably all that's changed. We still have the same show but now we have some C02 that goes off every so often (laughs) and confetti kind of stuff. Nothing too much. We try not to be too gimmicky if you know what I mean. We don't have too much going on but we have a really good lighting package so it's great to be able to do stuff like that we had not been able to before.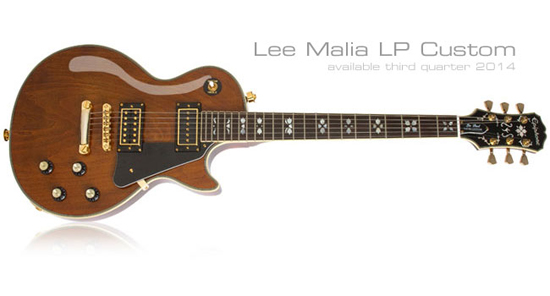 Tell me about designing your Epiphone Les Paul.
I just wanted something that looks really classy. Something that I think appeals to anyone who plays any genre of music. They could pick up this guitar and not necessarily know that I play in a metal band. It's cool - it's got the
P-94
in the rhythm position and the humbucker has coil tapping. The clean setting sounds insanely nice and then the bridge pickup sounds amazing on its own. So I wanted to make something that you couldn't pinpoint to a metal artist. Anyone who sees it will say: that's a nice guitar. And it's based a lot on a
Gibson Artisan
from the '70s. I always liked how that guitar looks so I riffed off of that.
Did your family play guitar?
Yeah, my dad used to play when I was younger and my uncle played quite a bit so there were always guitars around me. And my uncle had a
Les Paul Studio
for awhile so I always saw Les Pauls around. My dad had some kind of Les Paul copy so I always saw them about.
Was that the sound you were going for when you started the band?
No, that's the thing. When I was younger, my Dad listened to classic rock and stuff so I learned a lot of that and then I had lessons for a small amount of time off a guy in England named
Frank Riley
, like a blues guitarist. So, I learned blues and classic rock to start with. But I always liked heavy metal and stuff like that. I loved
Metallica
. So when I got into playing with the band, I used a lot of other stuff before I came back to the Les Paul. When I was younger, I thought you needed pointy guitars -
EMG
's and stuff to make metal (laughs). But I always ended up coming back.
Do you compose with your Les Paul?
Yeah, I use it for writing all the time. Like I said, with the pickup configuration, you can pretty much do anything with it - any sounds. It's really good if you're writing a clean section. You can get a nice tone straight into a computer. You don't have to use an amp mod to get it to sound good. It's just a really nice guitar.
What happens with the band at the end of the US Tour?
Straight after America, we're going to Hawaii. Then we go back to England, have a little bit of time off, then we do all the European festivals - all the big ones so that will keep us busy. It will be a good summer. And then, I kind of don't know what we're doing after that. I just get told (laughs). But we're touring all year.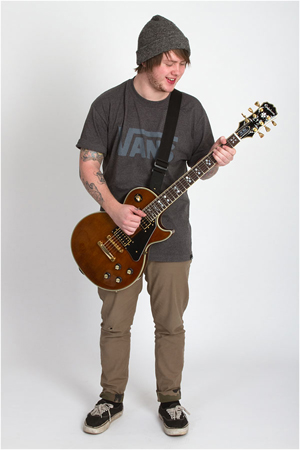 The record is doing great. Congratulations.
Thanks. We have a couple of tracks on radio over here at the moment and they're doing pretty well. The album just went Gold in Australia and Silver in England. And it's doing very well in the US.
Any differences between your European and UK audiences and the US?
It's pretty universal now - what our fans seem to be like. We do notice that we change the set list a bit when we come here because people in American seem to like the heavier songs. They seem to connect more with that.
What was the inspiration for combining metal and electronica?
I think it's more so as I got a bit older and we toured so much, I stopped listening to as much metal because I'm touring with a metal band. And we all got into ambient music and a couple of us got more into electronic music so that's all that we've been listening to for the last couple of years. So, when you listen to ambient music, you get that dreamy soundscape sort of sound. It seemed pretty natural to incorporate that into what we were doing because that's what I like a lot lately.
You're mixing the sounds together more now than when you started out.
Yeah. Well, for this new album, we got a new member,
Jordan Fish
. And he just does all keys and atmospheric stuff, which is probably why it mixes so well. We used to write an album - we'd write all the music and then we'd add electronics after. But when we wrote this CD with Jordan, we wrote it with keys there in the studio, instead of adding them on, so some of the major sounds in the songs are keys and atmospherics. That's the main difference. We wrote the album with those sounds instead of adding them afterwards. That's something we'll continue to do.
What are you listening to now?
I've been listening to a lot of
Bon Iver
. I've loved him since I first heard him - maybe 2009? We played a European festival with him. He's my favorite artist at the moment.
He uses a lot of instruments on his records. Do you hear that influence in what you're writing now?
Yeah, there's definitely some cool ideas there that we incorporate. Trumpets and things like that. On our last album, we had strings, harp sounds. A lot of weirder sounds you wouldn't expect in our songs. So, I think we've definitely been inspired by artists like him.
You could bring strings on the road with you...
Yeah ... I wish!