Matt Heafy: 'We Always Push to Change Not Only Formulas and Patterns of Ourselves, But of Music'
Trivium frontman talks touring with his Les Paul Customs and future plans.
UG Team
Ultimate Guitar

UG Team
UG editorial team. A group of people who are passionate about guitar and music in general.
Posted Jan 08, 2014 08:08 AM
Early in 2013, Epiphone welcomed Trivium's Matt Heafy to the House of Stathopoulo's distinguished group of artists who have been honored with exclusive limited edition signature models including Slash, Frank Iero, and Joe Bonamassa.
It turned out to be an incredible year for Heafy not only for Trivium's critically acclaimed new album "Vengeance Falls" but also for the success of his two signature guitars; the Epiphone Ltd. Ed. Matt Heafy Les Paul Custom and the Ltd. Ed. Matt Heafy Les Paul Custom-7 seven-string, both of which sold out shortly after they were released in February 2013.
With another run planned for 2014, Epiphione.com revisits Heafy who kindly took the time to speak just after returning from a 72-date tour.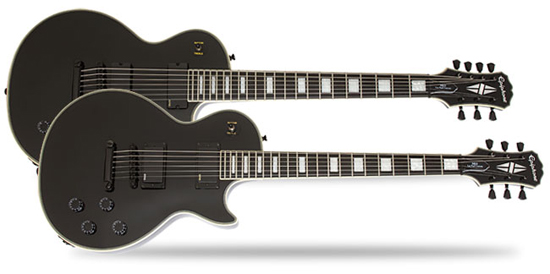 Epiphone: Great to talk to you again, Matt. Now that you've spent a year on the road with your Signature Les Paul Customs, take us through the tour for "Vengeance Falls." How did it go and how are your guitars holding up?
MH: The "Vengeance Falls" tour cycle has already spanned multiple countries and continents across the globe. We even just logged about 70-plus shows in North America alone in the past 3 months. So far, the best show of the cycle (if not one of the top ten of our careers) just happened in Japan. Not only were they the most insane crowd we've seen on this record cycle, their chaos was more organized than anyone else could have pulled off: massive, almost cued-up circle pits, jumping, and clapping that looked as if the 20, 000 people had rehearsed our set already with us.
The Epiphone MKH 6's and 7's are currently the only guitars I am playing live - a true testament to the quality of the instrument. And to reinstate once again: the same model I play live is the same model anyone can buy in stores; there is no higher model for me and lower model for the fan.
Has the new album brought a lot of new listeners to the band?
Certainly! Trivium has always been a band with fans that faction off into different fragments within themselves; meaning, all Trivium albums explore different avenues of our sound. So with each release, we have fans that favor the first, second, third, fourth, or fifth more. I've found that since Vengeance Falls channels elements of every previous album, it's one that all Trivium fans alike can agree on.
Aside from having our usual supporters, we've found a whole new onslaught of new fans coming to the band with us on this album. I'm not sure exactly what is creating that influx of new fans, but we've got a new home for them with Trivium.
For fans that haven't seen you perform yet, are there particular songs from the new record that have evolved away from the original recording?
Since Trivium uses zero click tracks, backing tracks, backing musicians, or basically anything other than what the four of us can do at that moment live, naturally, everything is always a bit more raw than the album. When recording a record, you can add depth with layered tracks and production. Live is the time and place for the band to shine. The records are always done with due justice live, but I always find that there's a nice difference live and by record in comparison with us.
"Vengeance Falls" got a lot of great notices from the press which is especially terrific since the press tends to focus a lot on pop music. Do you feel that Trivium fans are way ahead of the critics?
The supporters of our music are always the first thing we care about the most. The fact that people outside of that even are so into the record certainly does make us happy, but the main thing is always creating from the heart, for ourselves. There is a lot of terrible, manufactured, and trendy music regurgitated for the masses out there, and Metal is one of the few genres that show all the light. I am elated that we're bringing people to a true form of composition and creativity.
A lot of artists coming off of a great experience in the studio start looking ahead to going back in the studio as soon as they can. Is that an exciting process for you?
We always push to change not only formulas and patterns of ourselves, but of music. There may be new material surfacing far faster than typical with us quite soon.
You mentioned before that the choice between using a 6-string and a 7-string on stage tended to be a 'gut' feeling. When taking the new album on the road, has that changed at all? Do you like to experiment with switching things around?
The gut feeling is usually right; when decisions are over-thought, things get forced whether speaking of songs or instrument choice. Vengeance Falls needed to be 6-string just due to a feeling. Some of the material I've been experimenting with for the future have called out needing 7-strings. It's really whatever seems right without over-thinking, I've found.
Has the success of "Vengeance Falls" along with having an enthusiastic new producer helped to alleviate the pressure a bit?
Early on, I feel we didn't exactly know how to deal with pressure. On Ascendancy, we had no fans before the release, so we hadn't encountered any form of pressure yet. Thanks to the pressure we learned about on The Crusade, and then later on learning to deal with all the ups and downs we'd encounter over the years, we learned how to just do what we do and evade any form of distraction like pressure from any angle.
For long-time fans who want to know the inspiration behind your style and your musical outlook, who are some of the artists that you look up to?
Early on, it was bands like Metallica, Megadeth, Pantera, Slayer, Testament, Iron Maiden, Black Sabbath and Judas Priest that helped show us the path we wanted to take. The Melodic Death Metal scene from Sweden was a pivotal turning point of inspiration for me, with bands like In Flames, At the Gates, Dark Tranquillity and Soilwork. The Swedish bands showed me how else Metal can be done. My biggest heroes in life have always been James Hetfield, Bruce Dickinson, Ronnie James Dio, Freddie Mercury and John Petrucci to name a few.
I've found that an open mindedness to all forms of music is incredibly important. I spend much of my time listening to Classical and traditional world music - everything inspires everything.
Some of our Epiphone artists are also painters or work in other mediums as a way of bringing fresh influences into their work. What other artistic outlets do you pursue outside of music and how does that inform your guitar playing and writing?
Food is a huge source of inspiration for me. I love to delve headfirst into the cuisines of all locations of the world. I've found that an open-mindedness to all sorts of food will open that sort of outlook to all forms of creativity in the world. I eat everywhere I can that has food created from the heart and soul. I cook whenever I can at home. I am a bit of a hobby photographer for food and random things I see around the globe.
Yoga has played a big part in my life and my newest passion is in Brazilian Jiu Jitsu. Beginning these two things at different points in my life have shown me how to start from nothing and build it into something - like guitar playing, like singing, like being in a band.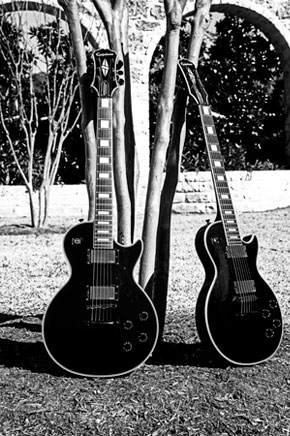 You've probably got a lot of bands that want to support Trivium on a tour. Who are you listening to now and is there anyone you'd like to work with in the near future?
We've had the privilege of touring with most of the greats in Metal across our career. We've done shows with Metallica, toured with Iron Maiden, toured with every Swedish Metal legend and we've played shows with thousands of bands spanning all genres.
As far as bringing bands out, I've always wanted to bring our Martyr from Canada, or Mercenary from Denmark. A few of the bands I've been listening to lately are: Ihsahn, In Vain, Sigh, Altar of Plagues, Ulcerate, and Myrkgrav.
When we spoke with you earlier in the year, you had just done some acoustic performances, which was a new endeavor. Where are you with that now? At first you were doing them for charity events.
I have only done a handful of the acoustic shows now. They're always incredibly fun and nerve-wracking at the same time. I don't have anything currently setup, but I'd love to get more under my belt.
So if you had an Epiphone signature acoustic guitar someday, what would it be like?
Oh yes! I want to do this as soon as possible (hint, hint Epiphone)! I would apply the same ethos that I did with the Matthew K. Heafy Les Paul Customs - minor tweaks to something I find perfect, with a minimalistic aesthetic, the highest quality and playability and maximum affordability.
Any work with Mrityu planned in the next year?
The music is being worked on between the producer Ihsahn and me. Plans are in the air and roughly being etched. It's hard to lock either of us down due to everything on our mutual horizons. Ihsahn has Emperor reunion shows happening, whilst working his production gigs; I obviously have a show or two with Trivium coming up. Ha!
What else can we look forward to in 2014? You must have a full schedule already.
We currently have the plans built all the way up to the middle of next year as far as touring goes. A couple of us are already creating new music as well.
Do you have any other ideas for Epiphone electric models? Here's your chance to take over the company!
Tons! I have several ideas for axes my friends at Epiphone! Let's get on the next couple models!