Matt Skiba: The Problems Blink-182 Had While Making Latest Album 'California'
UG exclusive: "The songs were good. It was cool but it didn't sound like Blink."
jomatami
Ultimate Guitar

jomatami
UG News editor since early 2013. King Crimson fan. I handle the 'news' around here.
Posted May 17, 2017 07:49 PM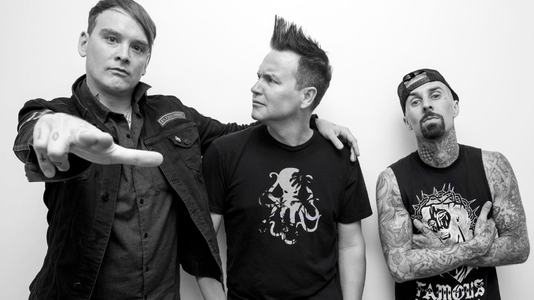 Guitarist Matt Skiba discussed the creative process behind Blink-182's latest album "California," telling UG interviewer Steven Rosen:
"I was trying to write a song a day.

"I would bring a song into the studio, we'd work on it or I would send a very crude demo to Mark and Travis and then go in the next day and kind of learn it and everybody bring their own thing to it. We would track it at Travis' studio.

"We were doing this for several months. The songs were good. It was cool but it didn't sound like Blink. The songs I was bringing in sounded like [Alkaline Trio].

"I've been playing in my own band for so many years and writing songs for so long that I have a sound and a style and you can't just shake that. I was listening to a lot of Blink and obviously learning a lot of those older songs.

"Listening to them and thinking to myself, 'What made this band so popular? What made these songs so great and these records so good?' I tried to write from a different perspective, which I think I accomplished to an extent. Mark and Travis both had ideas and we were jamming for several months and it was starting to take shape.

"But it was still missing something. Both Mark, Travis and I have had the pleasure of working with Jerry Finn over the years who is unfortunately no longer with us [Finn passed away in 2008 and was both Blink's and Alkaline's longtime producer].

"None of us had really worked without Jerry or worked without a producer. Some bands can do it on their own but for me I think it's good to work with a producer. I think it's good to have somebody in there that isn't afraid to hurt people's feelings.

"[The music we made up to that point] was good but it wasn't mind-blowing and it wasn't great and it wasn't quite Blink yet. It was like, 'If we are going to make a new Blink record with a new guy and really go for this, it has to be at least in our minds the best Blink record that's ever been made.'

"It has to be something special, powerful and something the fans are going to absolutely love and we just weren't really getting that. We were talking about different producers to work with and John Feldmann was one of them. He was the first guy we went into work with and the first song we wrote together was the first single off of 'California,' 'Bored to Death.'
"We left the studio that day and were like, 'This is the guy.' Something clicked and we just wrote that song from scratch together with John and from that day forward for the next two months, we wrote and recorded sometimes two songs a day.

"So there was something really magical that happened and things just really clicked. At that moment it really felt like, 'OK, here is the guy we need to do this record with' and we all really started to feel it gel that this is the new Blink and this is what it's supposed to be and this what hopefully the fans are going to love.

"Luckily they did up ultimately loving it. It turned out pretty well.