Matt Skiba: What Was It Like to Replace Tom DeLonge in Blink-182
UG exclusive: "Some Tom loyalists were like, 'Fuck you! This is terrible.'"
StevenRosen
Ultimate Guitar

StevenRosen
I've written thousands of stories and each one I do blows my mind all over again.
Posted Apr 03, 2017 02:27 PM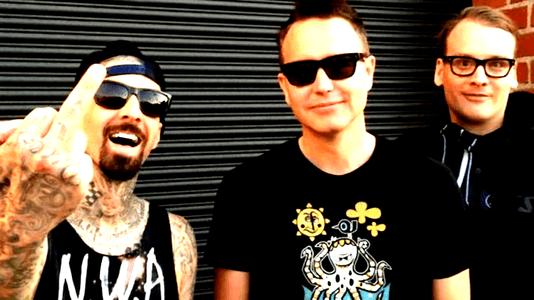 Blink-182 guitarist Matt Skiba talked about replacing Tom DeLonge in Blink-182, telling UG interviewer Steven Rosen:
"The guys couldn't have made it easier [at the first rehearsals].

"I had never played any Blink. I may have been listening to 'em and had a guitar in my hand just by happenstance but I never sat down to learn any Blink songs or try and figure out Tom's guitar playing until I was asked to fill in for the shows.
"When the guys asked me to play with them, I went straight home after that lunch meeting and just started learning the songs. I had 30-something songs I was familiar with but it's one thing to hear music and another thing to learn how to play it."
Asked on how fans of Alkaline Trio - a band he founded and has been fronting since 1996 - reacted to the big news, Matt replied:
"It was a bit of both. Some people were, 'What the hell? What does this mean for Alkaline Trio?' In a very positive way it was, 'It's crazy. Is this going to work? Congratulations!'
"There were some people who were like, 'This is an amazing fit,' and some Tom loyalists who were like, 'Fuck you! This is terrible.'
"But mostly, I'm very happy and grateful to say that Alkaline Trio fans have been very, very supportive even when they do get a little homesick missing the band. It's still very supportive and it's not like I'm not Alkaline Trio for some selfish or no good reason."
The musician added: "It's a great opportunity for me and I think most of the fans realize that. Not only that, it's great for everyone. Travis and I have become great friends and they're amazing guys to be in a band with and our entire crew is amazing.
"It's a really amazing thing to be part of this family and I very thankful to the Trio fans for backing me for the most part and being so supportive and loving through the whole thing."
Talking about how he landed the Blink gig, Matt said: "Two years ago, Travis' Musink Festival that happens annually, Blink was scheduled to play it and shortly before the show Tom dropped out as far as I know. Tom quit the band just before the show and the guys hit me up and asked me to fill in so they didn't have to cancel their Musink Festival.
"Mark called me and asked me to have lunch with him, which wasn't necessarily out of the ordinary and when Travis showed up I thought the three of us having lunch together was kind of peculiar."
He continued: "I very enthusiastically said, 'Yes, absolutely. I would love to fill in.' The shows went great and from there we decided to go into the studio and see how that went and clearly the record ['California'] has done very well and apart from that it's just something we're very proud of and had a very great time making. It's been an incredible journey with these guys that started two years ago to the date actually."