Schecter Guitar Research
, as the company was originally named, began as an operation producing replacement parts for
Fender
and
Gibson
. Started by David Schecter in 1976, the company was based in a small repair shop in Van Nuys, California. Three years later they were building their own guitars, custom shop instruments based around Fender designs. The guitars wee only available in two shops across the country including
Sunset Custom Guitars
. It was there that
Michael Ciravolo
- the future president of Schecter - was working. In 1996,
Hisatake Shibuya
- owner of the company - brought on Ciravolo to run the operation. Michael had a long and challenging road in front of him. During the 1980s, Schecter was carried away on the wave of heavy metal when guitar music was at its peak. They experienced a lot of success by producing these quasi-Fender copies and in fact the popularity of these instruments began to pigeonhole the company. That's the image Michael Ciravolo had to refashion when he came onboard.
"Everybody was looking for ways to start making cheaper and more mass-produced guitars,"
Ciravolo explains.
"I think the bottom fell out of a lot of those companies (referring to other guitar builders like Charvel and B.C. Rich) Schecter included. I think the owners of Schecter had no direction anymore and made some pretty awful guitars. And not just Schecter but a lot of companies. I think the mentality was just take your logo and headstock and if Vivian Campbell played it onstage or Jake E. Lee or fill in any 80s guitar hero, no matter what ended up at the store people would buy it."
But they didn't. Companies began disappearing so Schecter had to find a way out of the jungle. Ciravolo took the lead and introduced the Tempest, Hellcat and Avenger, original models that had nothing to do with the
"expensive Fender knockoffs"
the company had been building. Here, Schecter's president talks about the art of guitar building and the tactics required in surviving the guitar wars.
UG: You worked at Sunset Custom Guitars before becoming president of Schecter in 1993. What were you doing there?
Sunset Custom
actually did custom guitar repair and building so we did have some Schecter parts. We also were one of two Schecter U.S.A. Dealers at the time. The current owner Mr. (
Hisatake
)
Shibuya
bought the company and moved it back from Dallas.
Schecter wasn't doing too well at that point?
It was kind of bottom of the barrel and there was only two dealers both of which he (Shibuya) actually owned, which was
48th Street Custom Guitars
in New York and also Sunset Custom.
Did you know about Schecter before working there?
I was always a kid very familiar with Schecter and attempting to modify my own guitars. I still remember all the old Schecter ads and all the replacement parts and stuff like that.
When you came to work for Schecter in 1993, what was the company like?
In 1993 I was still working at the store and Schecter was actually being run out of a small office in the back of the store. That shows how far actually it had fallen from its heyday. There weren't very many Schecter endorsers at that point. The biggest name on the roster was probably
John Norum
, the guitarist from
Europe
. He was the biggest player on the roster and actually
Robert DeLeo
whose still an endorser from
Stone Temple Pilots
.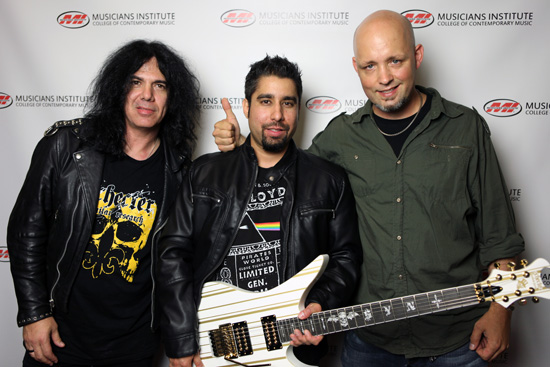 I was always a kid very familiar with Schecter and attempting to modify my own guitars. (Schecter Guitar Research President Michael Ciravolo, Mark Duran, MI Guitar Program Director Jude Gold)
What happened to Schecter?
If you look at that time, a lot of those great American guitar companies in the late '70s and early '80s -
Charvel
,
Hamer
,
B.C. Rich
and
Kramer
was another great example of it - had their peak at that time. The way I look at it is everybody's popularity and guitar music was at its peak in the '80s.
You thought Schecter had gained a reputation as a company building "expensive Fender knockoffs." You wanted to change that perception?
Those ads we talked about with all those parts and everything, Schecter started as a replacement part company. Between
Dave Schecter
and his pickup-winding ability and that time in the '70s where it was kinda Schecter, Mighty Mite and Boogie bodies, everyone who bought an off-the-rack
Fender
or
Gibson
would immediately upgrade. They'd upgrade the pickups, tuners, pots and change everything because no one really wanted to play an off-the-shelf guitar at that point. Right now '70s Fenders are looked at as vintage because most people cant afford the '60s but in the '70s a lot of Fender guitars were looked at as pretty crappy as far as the old quality and things like that.
That's where companies like Schecter and other replacement part businesses were able to thrive?
That kind of made it where Schecter got their name in replacement necks. It was almost a heavier is better mentality. Everything was made out of brass and some of those exotic wood bodies Schecter was popular for in the '70s like zebrawood. It was stuff that looked great but some of it wasnt the most beautiful-sounding wood but some of 'em were magical.
Some of those very early Schecter guitars were special?
That's sort of what got Schecter going. They were making the parts and some boutique stores across the country -
Rudy's Guitars
in New York and
Rockin' Robin's
in Houston and probably a few more - had the big repair departments and were hot rodding guitars. They started buying all the Schecter parts and putting 'em together and making Schecter completed guitars.
Was anyone buying these guitars built entirely from Schecter parts?
The story goes that (
Pete
)
Townshend
kind of stumbled into
Rudy's
in New York and saw the bound, two-humbucker Telly guitar. He bought a couple and used 'em on the
Who
's "
Eminence Front
" video and kind of put down his
Les Paul
s and
SG
s for probably three, four or five years and played those guitars.
Pete Townshend put Schecter on the map?
That along with
Mark Knopfler
and using a Schecter on the first two
Dire Straits
records kind of put Schecter on the map as a guitar company as opposed to one that made hot rod parts for upgrades.
Was that a difficult transition to make?
That did come with a price. I took over the company and could feel the mentality that other companies had a shitty feeling about Texas. They couldn't get replacement parts for 'em anymore and they made tremolos and I don't even know who designed them. Or people knew 'em from being kit guitars and that sometimes came across as not the greatest moniker. It wasn't like you bought stuff in a box and followed a diagram and put together a guitar or like a Heathkit or something.
But you did have to try and erase the negative connotations Schecter had developed?
It did have this negative thing and Schecter was known for mainly being a
Strat
and
Telly
-styled company. No one really tried to take it beyond what they had known from the replacement parts era. Kinda when the job sorta got dropped on my lap, I had to use common sense to know that being pigeonholed in that, Schecter would always stay this little custom shop. Growing up I was never a Fender player. I grew up playing
Les Paul Special
s,
SG
s,
Melody Maker
s and
Flying V
s. I guess I was more of a
Gibson
guy.
That's the mentality you brought to Schecter?
When I worked out what we offered, I went,
"We gotta change something."
That's when we started with my early days in the company and we came up with the Tempest, Hellcat and the Avenger. Three styles that have still kind of stayed through the years and have been through incarnations. But that was sort of the turning point from us just being an upscale Strat company to having our own identity.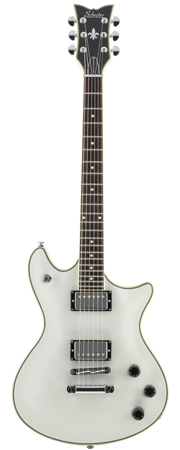 With my early days in the company we came up with the Tempest, Hellcat and the Avenger. Those were the first three things that were a total departure from what people had expected from Schecter.
The Tempest, Hellcat and Avenger were the first budget model guitars you offered?
Those were the first three things that were a total departure from what people had expected from Schecter. If you look in our '96 catalog those are the first three shapes. I purposely tried and made a conscious effort to separate ourselves from the '70s and '80s super
Strat
s, which Schecter was a big part of. There are several guitar companies that have made their living that had started at Schecter that kind of carried that super Strat torch and do it well. Schecter,
Charvel
and
Valley Arts
were the pioneers of that style of guitar.
In 1998 you created the Diamond Series?
Yeah, we showed it at either the '97 or '98 summer
NAMM
Show. It came out mid-year. It was just knowing again that for Schecter to grow and have a future, it wasn't $3,000 guitars. That wasn't what was selling then. Japan and Korea actually started making really good guitars at that point. We knew the market was going to be a younger market for us to become a legitimate contender in the business. Those three original guitars were more designed for a late teens, 20- or 30-year old player as opposed to a dad.
Going for a different demographic?
Yeah, and finding a factory (Incheon, South Korea) we still use today was a big important step for Shecter in designing the series. And us having the foresight to make an affordable 7-string also put us on the market at that time.
That was the A-7 Avenger?
Yes, we did that and that was the first 7-string we did. At that time in music,
Korn
and
Limp Bizkit
were the big things on the radio and that whole dropped tuned thing was everywhere. Even though both of those bands had played
Ibanez
guitars and at that point Ibanez was a bigger company, they just didn't react to the market quick enough. They didn't get it. Their 7-string at the time was all
Steve Vai
-based and it was all the high strings. In the whole concept that actually wasn't the hip thing.
What was the hip thing?
Bands wanted the low B string on it and we jumped on it. We made it affordable and made it where a dealer actually had to buy into our complete
Diamond Series
as opposed to just taking the 7-string. We just didn't want to live and die by that. To this day we still sell 1,000 7-strings a year in a bad year so it didn't go away. It was a big thing at that point.
It was a combination of marketing 7-strings to the metalheads and producing a quality and economical instrument that lifted Schecter's reputation?
Yeah. There would be dealers walking around the
NAMM
Show going,
"Oh, I remember Schecter from those days. Must be somebody else owning it and now making guitars in Asia."
People would tend to walk by those booths. I was a buyer for a store when I lived in New Orleans and I walked by those booths. Us having a 7-string was sort of a calling card so people would stop because they heard about it and it made 'em put the guitars in the store. We kinda had a great string of luck because MTV still played videos and they were responsible for helping break bands. In that first year besides the
Stone Temple Pilots
being big, we had
Papa Roach
,
Alien Ant Farm
,
Powerman 500
and bands that were playing Diamond Series guitars on TV.
MTV provided an unexpected marketing tool for Schecter?
Suddenly it was accepted and it was kind of like grab onto the rock at that point. We were an overnight success (laughs).
In building the 7-string guitars, did it require any rethinking in your approach to constructing instruments?
We looked at the Ibanez and we looked at some custom-built guitars. It was just figuring out the scale length. I think at that point it was kind of hard getting a pickup made. I think the first ones might have had a bar magnet across. It's not rocket science. It was just making it look cool and where it was actually functional and affordable were the big points for us.
Who was the first endorser you actually brought onboard?
Wow, again it was
Robert
from
Stone Temple Pilots
. Back with
Sunset Custom
, we worked with
Sean Yseult
and
Jay Yuenger
from
White Zombie
. But probably the artist I have to give credit to for putting Schecter through a reincarnation with the Diamond Series era and now would be
Jerry Horton
from
Papa Roach
. If you look back at that first Papa Roach record with "
Last Resort
" ("
Infest
"), it sold five, six or seven million copies worldwide. Jerry played a
Schecter C-1
in that video that skyrocketed the band. That was a $599 retail guitar and it was kind of a testament to the quality, our design and things like that. I would have to say Jerry deserves a big nod for kind of getting Schecter back on the map.
Subsequently a lot of musicians have become Schecter endorsees including the three guitar players from Avenged Sevenfold: Synyster Gates, Zacky Vengeance and Johnny Christ.
In talking to
Zacky
when they did their first indie record, I think he stumbled on playing a Schecter. They might have been doing a show with the
Transplants
with
Tim Armstrong
. I don't know what Zacky was playing at that point but his guitar was either stolen or broke or something. Tim had a couple of
Schecter S-1
s at the time that he played in the Transplants and Zacky picked it up and liked it. I think he bought a cherry red S-1 in 2005 or something like that.
This was obviously before Zacky got his own Signature Schecter?
That was the basis of his
6661
model. He came to us and we thought the band definitely had kind of an underground rabid fanbase and started working with him and
Brian
(
Haner, Jr.
) way back then and
Johnny
recently this year. We worked real hard with Johnny to get a bass he was happy with.
What was Johnny Christ playing before the Schecter?
Johnny played
Music Man
and they make great basses. The
Stingray
is one of the best rock basses in the past two or three decades. When you deal with artists, it's a relationship, a friendship and kind of a give-and-take thing. When
Nikki Sixx
left
Gibson
- and the
Thunderbird
is an iconic bass - neither he nor Johnny came to us for money. It wasn't like,
"Hey, we'll pay you more than them."
It was like,
"Look at the bands that play our guitars. Jerry Horton still plays our guitars and the guys in Seether still play our guitars from their first record."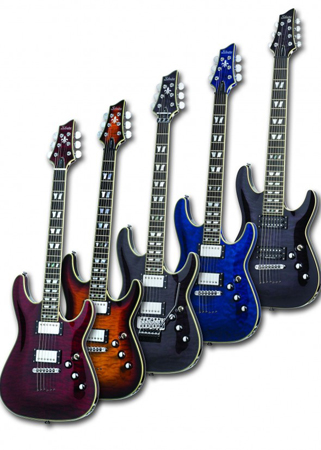 Half the people think we make just metal guitars and that drives me crazy.
Allegiance is hard to find in rock and roll.
That's a testimony not only to the instrument but to the relationship. The way people get treated here when they walk in from the girl at the front door to setup and myself. These are people that play in bands and it's just a different vibe and I think I would gravitate to that if I was still in a band that was touring and attempting to get a deal and all that.
You try and develop one on one relationships with your endorsees?
I think people feel at home here and they stay. Since myself and
Marc LaCorte
(executive vice president) have been doing that, we have lost very few bands. It isn't that revolving chair where a person says,
"I play Deans and I moved to Ibanez and to B.C. Rich and to Schecter."
We don't have that. I would say 95 percent of our bands stay very loyal and they're hit up constantly.
Do other companies try to grab your endorsees?
If you walk backstage at a show (laughs) and even now that this industry is even more competitive, it's like there are companies throwing themselves at bands. There's a weird air of desperation and everybody's trying to get the next thing. That sounds pretty nasty. There aren't a lot of guitar heroes and guitar music isn't all over the radio either. So companies are gonna do whatever. It's kinda backstabbing because some of those people that do that six months later are asking me for a job. I have a long memory.
I'm sure you do. What has it been like working with Dan Donegan?
You know what? Dan is a professional and a nice guy.
Very nice guy.
A really good player. I didn't know a lot about
Disturbed
; that wasn't really my cup of tea. But when sitting down with him one on one, we had similar music influences and the guy can really play guitar. Again an extremely nice guy and that goes a long way with us. I love having people that are actually human and still love music that are not jaded. I love it when we've had Dan do autograph signings and I'll see him interact with fans. When you can still be that other kid on the side asking somebody for an autograph and actually taking care, it's kind of cool to watch.
Prince has played some pretty iconic Schecters. Have you ever met him?
I don't know if I've ever talked to
Prince
(laughs). A friend of mine,
Takumi
(
Suetsugu
) was his longtime tech for almost a decade. We did guitars for him on the
Jam of the Year
tour. We made the
Cloud
guitar, the infamous
Purple Rain
guitar, which they actually sold. I would get calls from
Paisley Park
.
From management?
They'd say,
"You could have talked to the dude, man. He does that. He changes his voice and does his own bookkeeping and stuff."
(Which is why
Michael
was never certain if he actually spoke to
Prince
). We built that one and we built a bunch he played onstage. We built him four of the big
Symbol
guitars and he was using that as his name. Actually one's here now and it's gone from being all purple to three of them being gold and he's added
Floyd
s to 'em. We've repaired the big long horn, which has been knocked a bunch of times on falling video monitors. A couple of years ago when he played and was fantastic at the
Super Bowl
(
XLI
in 2007) at the halftime show, he played our Symbol guitar and he also played a
Strat
that we had actually made the neck for.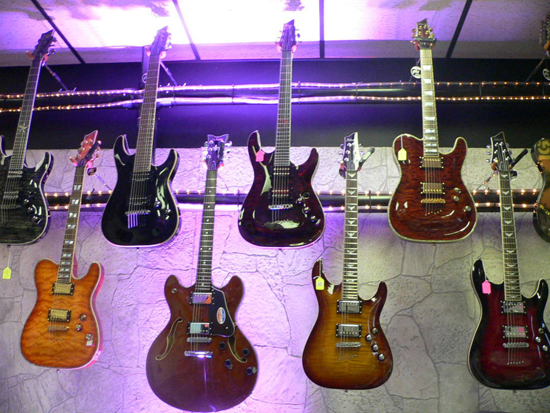 The cool thing with Schecter since I took over is we've had a real variety of guitars.
Why did you make the neck?
Because the guy has small hands and it's amazing when you pick up those
Cloud
guitars they almost have this
Melody Maker
feel to 'em. I think we do a.40 millimeter or a.38 millimeter nut on 'em. I guess Takumi said he wanted a couple of Strats and was telling Fender he'd played one at the
Super Bowl
and they just sent him a stock guitar. They didn't seem to want to do anything special on the neck so we built a replica of the same neck we did on his other guitars just with a Fender headstock and it says Schecter on the back of it. But it was kinda cool watching him play in the rain at halftime and people going,
"It's a Strat but it's actually a Schecter neck."
Jeff Loomis has been playing Schecters for a while now.
Jeff
is probably one of the scariest guitar players I've ever seen. Again I grew up in a different realm. My guitar heroes were like
Johnny Thunders
,
Robert Smith
and these non-notey guys. But I could sit and watch Jeff play and go,
"Man, I want to put the guitar down."
He's so fluid. We've done a bunch of clinics and I've gotten to stand on the side of the stage and watched him through the monitors and the guy is so clean and so precise. He's probably the best unknown guitar player in the world.
Jeff is an amazing player.
We'll be doing a lot of stuff with him this year. He walked away from
Nevermore
for whatever the reasons were and I think he's gonna do a lot more clinic stuff and have a lot more to do with us with R&D and everything. Nicest guy, humble, and again, great with fans and really the ultimate clinician. That's not a knock. But really takes the time and explains it to people and answers any question:
"What's good and bad about the music business? What he does to practice?"
He just really opens up to people. I love Jeff.
How did you start attracting bigger name players to Schecter?
It's been a very incestuous thing from starting with Papa Roach in '97 and '98. I think that's when Schecter started being a company to be reckoned with. Jerry would tell this guy or this band would tour with them. Suddenly the guys from
Powerman 5000
and
Mike Tempesta
(
M.33
) was playing one. Another band went out on tour with them and would say,
"Hey, I played Mikey's guitar. He said you guys are great and I should talk to you."
So we had this very kind of grass roots approach. I would say 99 percent of the bands come to us basically being referred by a friend or a band they've toured with.
When these various guitarists started approach you, did they have an idea of what they wanted in a guitar? What they wanted it to sound like?
Most guys do their research. They're like,
"That guy had a C-1 and I played that and I really liked that. But I'd like this."
The cool thing with Schecter since I took over is we've had a real variety of guitars. I like to look at it if I had a music store and the only brand I could carry was Schecter, I think I could probably make 80 percent of the players happy as far as stylistically. I think when I look back at our roots and doing those upscale Fenders, there is almost nothing we can't try.
That is an intriguing philosophy.
We do an 8-string guitar with a
Floyd Rose
yet we do a
Corsair
, which is kind of a big hollowbody 335-style guitar - and I make a 12-string version of that. The yin and yang of what we offer and everything in-between, I think is probably one if not the most varied and versatile line on the market right now. We just really didn't want to get pigeonholed into,
"Schecter makes only this style guitar."
How do you think people perceive Schecter?
Half the people think we make just metal guitars and that drives me crazy. There is that whole retro, kind of nichey, cheap cool side that I love designing. I guess my point is usually there is a guitar that's a great starting point for someone to start working from. Then we can modify it with pickups and designs and things like that.
Players have usually played a Schecter before and the customizing develops from there?
That's how the
Johnny Christ
bass came about. He brought in some of the stuff he liked and we looked at things we had and we came up with a great hybrid. Oddly we worked with
Robert Smith
and were doing that over the Internet. Sending body styles he would describe and it was kind of a unique working process that way. There's usually a starting point where we've put a guitar in someone's hand and that's the beginning.
Do you have a favorite guitar that Schecter has built?
I still love our
Tempest
guitar. It's a double cutaway and like I said as a kid I grew up loving
Johnny Thunders
. He played a
Les Paul TV Special
and I played a
Hamer
double cutaway so I've always liked that style guitar. I think the Tempest to me being that we did that first in '96 or '97 and still has been through various incarnations, is still a test of what I think is a lasting design.
You're kind of an old school guy.
That would be my favorite guitar but certainly everything I like doesn't translate into the best seller. But again that's the cool thing about us and the variety of our line. Being president, something doesn't have to sell 1, 000 guitars to stay in the line. I won't say,
"Oh, we've got to get rid of that."
I mean we have cool guitars and we make up 50 all year because we fill this niche that I think balances Schecter and kind of gives it an identity against our competition.
Is that difficult to create a unique character for a guitar company?
The
C-1 Hellraiser
, which is the basic archtop super Strat, which we sell by the boatloads in so many incarnations: 6-string, 7-string, 8-string, 7-string with a Sustainiac, 6-string with a Floyd Rose and a Sustainiac. Every combination that you can dress up. But then every guitar company in this business when something becomes popular, it's almost like running a record company. You get a band and every other record company wants to get a band that sounds like your band and suddenly where it almost dilutes the sound. That's sort of how I feel it's become with what we did with the Hellraiser.
That guitar became sort of a benchmark for other companies to emulate?
We didn't reinvent the wheel. But those early years of the reinvention through the early 2000s, we were the company that was kind of building guitars that were affordable that you didn't have to do that much to. I was the kid that walked in the store and went,
"I love this guitar. I love the color but the pickups squeal and the bridge doesn't intonate and the tuners slip."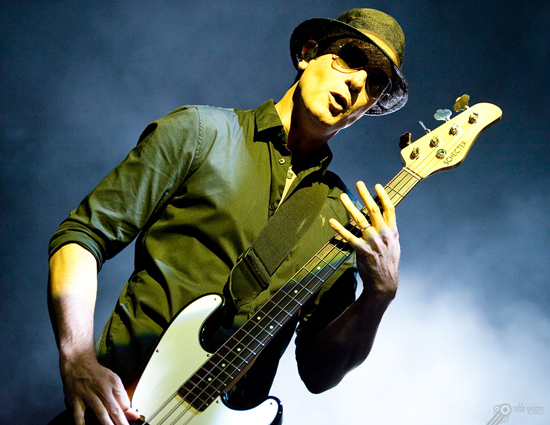 Robert from Stone Temple Pilots was [the first endorser].
That always happened - a guitar looked great but played terribly.
So we did
Schallers
and
Grover
tuners and
Seymour Duncan
and
EMG
pickups. We started using
TonePros
(bridges) on guitars in '98 and '99. We used American parts on the Korean productions. It made it where the guitars could come out of the box and be pretty much played onstage. It's such a testament that we did something with a band like the
Cure
who I grew up listening to. 40 millions record later and never having endorsed a guitar company, they're playing our guitars onstage and playing a guitar out of the box that anybody could buy.
Simon
(
Gallup
) playing a Schecter bass, a Signature model onstage.
That must have felt like validation for you that you'd really turned Schecter around.
That was metal's bait and switch mentality. Like,
"Hey, we'll build you four custom guitars but in the picture hold this Japanese one and say that's what you play. But we'll build something custom."
It's kind of tricking the public and it's such a different ballgame now and it's great to see kids playing the same guitar. A kid walks into the store and he buys it and it's a different ballgame.
You like the idea of a young guitarist walking into a shop and being able to buy the same guitar he sees his heroes playing.
I like that side of things so much more than that kid guitar companies are trying to con.
If I'm a guitar player in a band and I have a small following and have released a local CD, how would I approach Schecter in trying to land an endorsement?
We listen to bands and we try to work with as many bands as we can. It's a catch-22of course we want a big signed band. But the other side of me is still a kid that grew up in a small band in a small town. The people that really need us here are the bands that can't afford it. We do try to work with those people. We call them our B Level bands and it's not a knock. But you know what? Those bands that we have like that work so freaking hard and are the ones that really spread the word about Schecter.
Today's B Level band is tomorrow's rockstar.
It's a fine line because we can't work with every band obviously because we don't have the budget to give guitars out to every band that comes to us. I'd love to but we do have to keep the lights on.
Should a band start by sending a CD?
They send tapes in and we don't try and do it like we're an A&R company judging bands. It's,
"Stylistically are we looking for a band in that genre?"
Or it could just be bands that are hardworking and would be a good match for one of these guitars I talked about. That isn't a typical,
"I want a Hellraiser."
It's like,
"Yeah, well so does everybody."
But it's the bands looking for something a little bit different and I love to work with a band like that.
Any new bands that excite you?
We're working with this band now called
Prima Donna
that is a fantastic band and has a great look and kinda like the music I grew up with. They kind of have this real cool
T. Rex
,
Mott
the
Hoople British Invasion
thing.
What guitars are they playing?
They play the
Ultra (III)
and one of the semi-hollows and they come across with really great, poppy songs. They showcase a different side of our line. When we do ads that actually has them, people go,
"Who are the fuck are these guys?"
But it's just showing that kind of non-metal side of Schecter.
Are there some newer guitars on the horizon you're excited about?
Every year we try to come out with different things. I sat down and I had my sales department going,
"Man, we gotta cut some stuff."
I look at it as each year technology changes and trends change. We'll probably have 20 or 25 percent new models and we seem to be producing these collections. Mean if get a shape or it's something visually or sonically that works, we try to do a 6-string, 7-string and 8-string. It's amazing how many of these multi-string guitars we build now.
Are there a lot of guys playing 8-string guitars?
It's kind of crazy. I can't play an 8-string to save my life but there is a huge market. There are people that do some really interesting musical stuff with the multi-string instruments. Yeah, at
NAMM
there will be some new models. This is the time of year we are looking at prototypes and we always try to work new colors in. We give black to these dealers and they say,
"You do everything in black and black cherry."
So we said,
"Here's a blue, here's a green, here's a purple."
The dealers will look at them and go,
"Oh, those are so cool. I'll take the black."
It is pretty impossible to know what people want.
It's interesting. I have to juggle my love for certain things and try new things with inventory dollars and what's gonna sell. I think last year we had 62 left-handed kids. I defy any company building a production guitar to cater to left-handed players on that level.
Is it really difficult maintaining quality versus price in today's market?
Yeah, it is. The easiest thing to do when you grow and the biggest temptation is to go,
"Wow, if we just cut the guitars in setup halfway. Instead of them being 30 minutes, they spend 15 minutes on the bench, we can ship double today."
That's typical
Business 101
. There's a part of Schecter that's taken so much hard work in being that we were at the bottom of the barrel when I kinda took over and started bringing in people like
Marc
(
LaCorte
) in the beginning infancy days.
It took a lot of work and rethinking to turn Schecter into what it is today?
It was so much hard work that you want to punch people in the head that say,
"Well you guys just got lucky."
Yeah, there was some luck. I defy anybody that's had any success in business to say there hasn't been a degree of luck. We locked into some great bands playing our stuff and then telling some other great bands and getting coverage and those songs selling. Yeah, that was all luck but it has taken a lot of hard work to rebuild this.
When a company's reputation goes, it seems almost impossible to resurrect it.
When I worked at
Sunset Custom
and
Kramer
- I don't know if it's still owned by
Gibson
or whatthat was a big guitar name. We had the
Nightswan
and
Vivian Campbell
played it and there were a lot of people that played
Kramer
guitars. That was the big, single pickup, Floyd Rose shred guitar. And that company has gone through a couple owners and I don't think you can revise that name anymore. I think it's been up/down, up/down, down, further down and now really far down. I don't think you can revive it.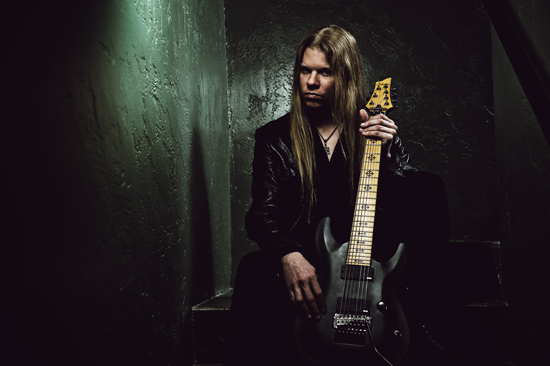 Jeff Loomis is probably one of the scariest guitar players I've ever seen.
Do you see other companies in that situation?
I think companies like
Dean
to a certain extent,
B.C. Rich
and
Hamer
and all those companies that were kind of out during the '80s and made great guitars and really gave
Gibson
a run for their money, have gone through some tough times. It's hard to revive a guitar name. You just can't go,
"OK, someone's gonna run it. We'll pay somebody to play it and now its accepted again."
Schecter has been one of the few companies to survive those guitar wars.
I think we put that extra care and probably over think with our styles. We'll be damned if we're gonna let it fall or bleed or something like that. There are exceptions that have to be made.
For instance?
It's a different world dealing with big music chains and small independent stores and money's tight and all the sh-t that's in this business right now. It's a little different than it was five years ago. But I think the model we try to keep here is not removing yourself from being the kid on the other side of the counter. It's being that guy that walks in the music store and asks for help. And there was somebody that gave a shit about you and just didn't want to take your money and actually kind of tutored you a little bit. Took the time and created a relationship. If we do that in every part of it, I'm confident we will be OK.
We just went through a huge recession and are now recovering. Is the guitar business affected by those types of things or do people buy guitars even when they don't have money?
Historically it's supposed to not hit the entertainment industry. Oddly we didn't feel it in the big real estate crash. I think some of that has to do with we do have a market from the 17- and 18-year old to the 25- and 26-year old, which is a big core of our
Diamond Series
. If you think back when you were a kid, your parents were the ones that dealt with the bills and you weren't worried about,
"Wow, I'm upside down in my house and my credit cards just went 16 percent to 29 percent interest."
Even if mom and dad can't pay the rent, they'll come up with money for Johnny's new guitar.
Kids seem to find a way. Now it's starting to affect some of the stores and their ability to pay. There are companies now being forced to discount really heavily to make enough sales and they think that's the way to get a store to take a product.
You think that's the wrong approach?
If I would ever get in a roundtable discussion with the contemporaries in other companies, I would go,
"You know when everybody's doing this sh-t it's kind of eroding the business model that we have. Everybody at this table needs to make money in order to continue to make a good product and advertise and keep the magazines going. To endorse bands, which in turn is supposed to sell the product and make the kids go into the store and buy the guitars so the store can reorder."
It's all connected.
That's not what's happening?
Companies are starting to throw music discounts and extended terms at stores. You almost start going,
"Wow, didn't the banks do this in 2008 in the housing market? Maybe you have someone that shouldn't have bought an $800, 000 home? Did they budget the numbers and everything to make it seem like that person should be able to get that?"
You can see that mentality happening in the music business?
I think they're doing that with some stores. Again it's all connected and if the independent stores falling, it's gonna change the landscape. It's already changing with people willing to point and click and buy a guitar. That's so foreign to me from the way I purchased a guitar as a kid.
The joy of buying a guitar back in the day was going into a store and holding it in your hands.
I certainly have no trouble clicking on Amazon and buying an iPad case. But the idea of buying an instrument is really foreign. That wasn't around when I was a kid. I think the big thing was mail order and you had 48 hours to return it. I mean the industry has changed but you can't fight it. I think you have to make it work within the confines of where you can still hold your head up and go,
"Hey, we're offering a great product for a fair price."
So yeah, it's different and it's hurting the guitar business actually now more than it did during the big real estate crash.
You'd think it would be the other way around.
I think there's just a lot less disposable income to go around. We sell people not only their first guitar but Schecter's line because of the variety, we sell that third, fourth, and fifth guitar. I think maybe that's where people are having a little less income. You might have to go,
"I got four guitars. I know I've looked at that fifth one but I haven't got a raise all year. Blah blah blah and maybe I can't buy that."
That's a little tough.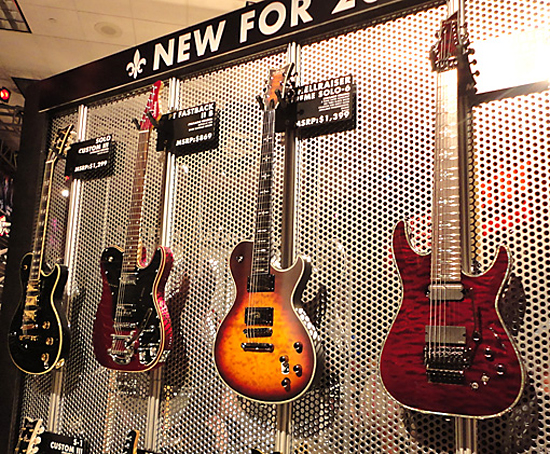 I think if you don't try different things you get pigeonholed into becoming a one-trick pony.
What other changes has Schecter instituted?
In January we reinvested and relaunched our Custom shop and we started a USA-made amp line. So we did kinda keep this
"Damn the torpedoes, full speed ahead"
attitude (laughs).
Building guitars in America has become pretty rare.
Yep, they're built right here in Sun Valley (California). That was Schecter's heritage and we've always made handmade guitarsone builder and one setup guy dedicated to each guitar. We basically were making two or three really expensive handmade guitars a month.
You used to build just a couple of guitars per month in the Custom shop?
That's what used to come out of the shop. Now that we've moved and invested in some key links to our production line of guitars. Right now we build about 35 production guitars all made in the USA, which have limited specifications. You can pick A, B, or C and you can pick this or that. To be able to do something in a production style means you can't have every option under the sun. I still have that side and I still have my same builder that can deal with the discerning guy that wants this exactly like this and wants nine strings or wants three strings. Whatever. There's nothing we can't build but to actually have a USA-made guitar (is amazing).
That's remarkable.
Having these guitars and being great players guitars at an affordable price and made in America, that's my happy spot when I walk over there. It's great to have that as a part of what we do.
What does one of those USA Production Series guitars cost?
One of those guitars start at probably $1, 499.00 or $1, 599.00 for that same guitar
Pete Townshend
used in that '82 "
Eminence Front
" video. It's kind of odd in that we were talking in the beginning and I really tried to purposely step back from that era of Schecter and tried to launch something new. Now that we're doing this Custom shop and really into it with both feet we're going,
"You know? That was actually some pretty cool stuff Schecter did back then."
Kind of embracing what you did rather than trying to run from it?
There is that nod to the past and the current Schecter is finding that cool balance between both styles, which I think is great. 'Cause now I've actually heavily established the
Diamond Series
and everything else and to have that market is kind of cool. To be able to go back and work on some of that classic stuff.
How are you revisiting those guitars from the past?
We're winding our own pickups again over there so we've been able to go back to some of those
SuperRock
,
MonsterTone
and
Z-Plus
pickups. They were a big deal when everybody was going with
DiMarzio Super Distortions
,
Seymour Duncan JB
and
Bill Lawrence L-500
s. Everybody had just a few choices but Schecter was in there with SuperRock and MonsterTones. To go back to some of those pickups and kinda reverse engineer 'em and actually hand wind something there, the little pickup room we got going looks like a high school science lab with old machinery and wire. The stuff that's coming out of there sounds great. So it's kinda cool to actually have these guitars coming out that are really a big part of Schecter's past.
Is it more difficult building a guitar today and meeting the demands of players - a super fast neck, big-sounding pickups, whammy bars that stay in tune and perfect intonation - than it was for instance building a Les Paul in 1959?
What are we? The electric guitar is 55 or 60 years old and no one really reinvented wheel. Steinberg didn't revolutionize it and there's nothing that has really changed. No one reinvented the wheel though some people claim they have (laughs). I think there's just been so much when you're trying to combine affordability, functionality, versatility and looks. The girls have to like it; the guy has to like it standing in front of his mirror. Things have to be piled into a guitar.
Were those the same requirements of instruments built back in the day?
Back then if you were a session player, you had your
Les Paul
and you pulled out your
Strat
or your
Telly
. You kinda had your two sounds. Now can you imagine going to a session with one guitar and going,
"I have this rack of effects. I have a Fractal that does everything. I have a Line 6 modeling amp."
It sounds like you're saying it is more difficult making a guitar today?
I would guess it is more difficult now because I think there's such a higher expectation out of what a guitar is. On top of it it has to be affordable but yeah, it is a little bit different. Kids' tastes and interests and everything changes so quick you're trying to stay a step ahead.
Video games and texting are momentary activities that provide immediate gratification.
That is a part of it. We've made some mistakes with our guitars. I looked at one and went,
"Holy shit. What were we thinking there?"
I think in 10 years there will be some Schecters that are in those classic guitar circles.
Which guitars?
I think the
Schecter C-1
has kind of changed what people expect and I think that's a milestone. I think the
Synyster Gates
guitar is a combination of our
Avenger
and the stripes and everything makes it a kind of guitar that people will look at and go,
"That's this period of time."
The
Sustainic
system, the Floyd, that guitar did a lot of stuff. So I think we'll have a few things that are milestones. But yeah, it's certainly not as simple as it was I would think. If I was running
Gibson
in 1950 or
Fender
in that time, it was very cut and dry about what a guitar was supposed to be and as your brand what it was supposed to be. I think if you don't try different things you get pigeonholed into becoming a one-trick pony.
Interview by Steven Rosen Ultimate-Guitar.Com 2013