D'Addario
is welcoming a diverse group of new endorsees to the
D'Addario
and
Planet Waves
artist rosters,
Trevor Gordon Hall
,
Cass McCombs
, and
Tash Neal
.
Hailed as a musical genius, D'Addario is also pleased to welcome
Cass McCombs
to the roster. McCombs' music is generous, the melodies always infectious, and the production and musicianship first-rate. Influenced mostly by American folk music and
The Beatles
, he is a folk artist, telling the stories of his native land in a modern tongue. "
Humor Risk
" his sixth-and-a-half record was released in 2011, following "
Wit's End
," which featured the tragic song "
County Line
." Both were compiled from recordings made over the course of three years, in various places such as New York City, New Jersey, Chicago, San Francisco, and Los Angeles and mixed in a single session and divided into albums.
McCombs plays D'Addario's
EXL110 Nickel Wound Electric Guitar Strings
and
EJ16 Phosphor Bronze Acoustic Guitar Strings
, and uses Planet Waves'
Micro Headstock Tuner
. He comments, "
D'Addario strings are what I've always played and practically all I know. They've stood the test of time, sound great, and are long lasting, even through the grease and grime.
"
Trevor Gordon Hall
 is an acoustic musician whose compositions range in style from driving rhythms to soft melodic phrases. Hall has collaborated with various builders to redesign an instrument called the Kalimba, which mounts to the surface of the guitar. Compositions inspired by the pairing of the two instruments can be heard in Hall's debut recording, "
Entelechy
." This album climbed the iTunes Singer/Songwriter charts. Hall's music has been featured on various national radio stations including NPR and television networks including NBC. He even caught the eye of nine-time Grammy winning producer
Joe Nicolo
, who produced two of his releases, "
Finding My Way
" and "
Let Your Heart Be Light
." These releases garnered high reviews and gave him such opportunities as recording with bass virtuoso Michael Manring as well as continuing to share the stage with artists such as
Pat Martino
,
Phil Keaggy
,
Don Ross
,
Andy McKee
,
Alex Skolnick
,
The California Guitar Trio
,
Billy Cobham
, and many others.
Trevor Gordon Hall plays
EXP16
and
EXP17 Phosphor Bronze Coated Acoustic Guitar strings
and raves about D'Addario strings saying, "
There is no other way to say it than I simply LOVE D'Addario strings and accessories! The consistency, reliability, feel, tone, everything. It just so happens that their other products fit the same description! I need to look no further. These guys do it all!
"
Also recently signed,
Tash Neal
is the guitarist for
The London Souls
, whose unique reinterpretation of classic hard-hitting rock and roll formulae recalls elements of the past with an ever-present boundless energy, fit to cement their place in the future. London Souls have been nothing short of a best-kept secret among New York City concertgoers since the band's formation in 2008, building a fervent and dynamic fan base leveraged by their impassioned, explosive live performances. The band's celebrated sound and spirit draws significant influence from British rock pioneers
Cream
and
Led Zeppelin
to billowing and bouncing funk and soul, to the harmonies and hooks of The Beatles and The Hollies, and even the contemporary psychedelia of
My Morning Jacket
.
Neal simply says, "
I use D'Addario products because they work for me and my sound.
" He plays D'Addario
EXL115 Nickel Wound Electric Guitar String
s and Planet Waves'
NS Micro Tuner
.
"
Bringing on Cass, Trevor, and Tash is a testament to the quality and diversity of D'Addario strings,
" says
Hugh Gilmartin
, D'Addario Artist Relations. "
We're humbled that they've chosen D'Addario to share their passion with the masses.
"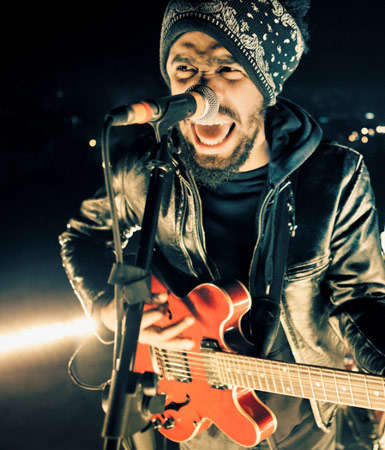 For more information, please visit
www.daddario.com
.