Tab Author Day Special
The ultimate thank you to the real rock stars of UG.
tarasenko_91
Ultimate Guitar

tarasenko_91
I've always enjoyed tabbing out difficult one string solos
Posted Oct 18, 2017 01:54 PM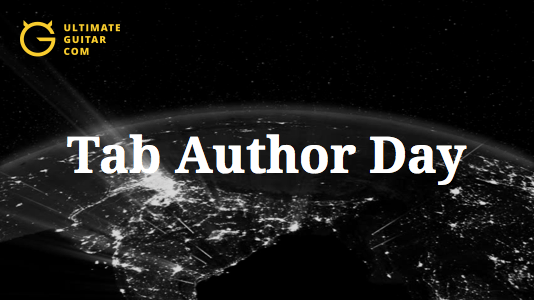 Today UG is celebrating the Tab Author Day!
Many years ago zappp started Ultimate Guitar as a place to share his passion for music with the world. Today UG is the largest community of guitar enthusiasts in the Universe (here is a bold statement for you), and we're very happy that you are a huge part of it.
Needless to say, Authors have a special place in our community.
It is still amazing to us that 200k Tab Authors from all over the world decided to contribute their time and energy into making music approachable for everyone! Their tabs make people feel better about troubles in life, reunite with their loved ones, troll their neighbors, make new friends (and lovers), remember the good old times, dream about tomorrow, better their playing, declare their love, and be inspired.
We asked the UG users to leave a feedback for the authors under their favorite tabs, and we received thousands and thousands of amazing comments! Here are a few of them.
'No Reply' by The Beatles, tab author cblank423
Comment from Nokomis209:
'I was seven when Beatles 65 was released in the U.S. and my sister had just bought the record. She would play it over and over and it still resonates with me and is still one of my favorite albums. My sister is now 65 and she just picked up a Taylor Mini GS to learn guitar. She wants to learn No Reply so I looked up your chords to show her. It will be fun to share that memory. Thanks, Rob'
'Hallelujah' by Leonard Cohen, tab author Pencom
Comment from sherpa:
'My family's been through some hard times these past years .. I wanted to learn this song to play at our next family gathering. We can't necessarily all sit down and talk about our feelings, but I reckon this song will hit the spot. thanks.'
'Live Wire'by Mötley Crüe, tab author spectre1123
Comment from eseith:
'Learning this one for an audition and REALLY didn't want to bring a 2nd guitar tuned to D standard. This is a solid workable alternative without having to figure it out myself. Thanks!'
'USA National Anthem', tab author aaron8a
Comment from ArtBekk:
'Greetings from Siberia! Big thx for the tabs. Even though I'm not American, but it's perfect way to wake up my neighbors in the morning'
'Strangely Dim' by Francesca Battistelli, tab author radioshack
Comment from rachelm98:
'I want to go to the hospitals around Las Vegas and bring the healing of music and the ultimate power of the Gospel. '
'1234 1234' by Streetlight Manifesto, tab author zeebrah
Comment from Llottieda:
'I listened to a lot of streetlight manifesto & catch 22 when I was in highschool. Now, years later, I am finally actually learning guitar ( after several failed attempts) and I know 6 chords! Still just barely getting started. But I was so excited to see that this was a song I could play with the limited repertoire I have so far. Thanks for sharing this!!'
We'd like to thank all the UG users that left their feedback for Tab Authors. Your awesome comments made this day a thousand times more special!
And now to the surprise we've been talking about!
We've prepared a small gift to all of our Tab Authors to show the deepest love and respect we have for you, guys.
From now on, each and every Tab Author in UG has a special personal page where they can see what impact their tabs make to the world.
Check out your 'My Stats' page!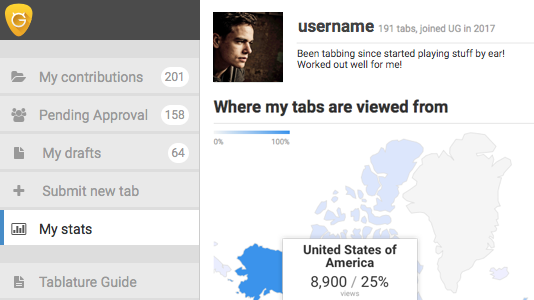 You can also share your achievements on social networks to let your fam know that you're an ambassador of guitar music to the world and thanks to you this Ball keeps rock 'n' rolling!
Special thanks to Stefan_P, dolphinsrule01, and mendace for helping us out with beta tests.