Arcade Fire Reveal 'Reflektor' Tracklisting
Meanwhile, check out the album tracks previews from the Salsatheque gig attendants.
UG Team
Ultimate Guitar

UG Team
UG editorial team. A group of people who are passionate about guitar and music in general.
Posted Sep 24, 2013 02:42 PM
Arcade Fire revealed their upcoming fourth record's tracklisting.
The information was tweeted as the picture of the blackboard with song titles written with chalk. See the picture and the tracklisting below.
The album, titled "Reflektor," will be released on October 29. It will be band's the first double album.
"Reflektor" tracklisting:
CD 1 01. Reflektor 02. We Exist 03. Flashbulb Eyes 04. Here Comes The Night Time 05. Normal Person 06. You Already Know 07. Joan of Arc
CD 2 01. Here Comes the Night Time II 02. Awful Sound (Oh Erydice) 03. It's Never Over (Oh Orpheous) 04. Porno 05. Afterlife 06. Supersymmetry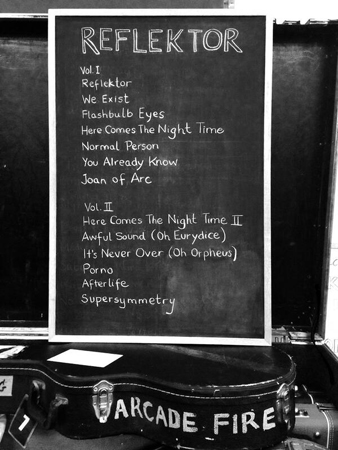 Meanwhile, the band gave the concert on the album's title track release date. They performed a tiny gig at Montreal's Salsatheque under the name of the Reflektors and played, as well, a bunch of new material. Read the review here (via Stereogum):
"Reflektor:" Anyone who watched the Internet on 9/9/9 knows what this song sounds like by now. It came across every bit as thumping, dark, and moody as the album cut, with the loud guitar bursts hitting especially hard and bringing an extra level of urgency that doesn't come across over an MP3 stream. Unfortunately, this performance featured one fewer David Bowie than on the single. However, what did make the live version particularly different and interesting was the addition of a long salsa percussion jam at the beginning.
Unknown (believed to be "Flashbulb Eyes"): Next they transitioned into to a simpler, less syncopated percussion jam, which slowly morphed into this melodic guitar and keyboard-driven tune that recalled "Born In The USA"-era Springsteen. Jeremy Gara and the other two percussionists provided a thick mid-tempo beat while Owen Pallett played synths and Regine Chassagne accompanied Win Butler on a soaring and yearning lead vocal melody.
Unknown (believed to be "We Exist"): This whole song was grounded by a synth bass line that sounded like the love child of "Billie Jean" and the very beginning of "Livin' on a Prayer." Needless to say, it was an upbeat, charging disco number, and inspired more hands-in-the-air dancing among the crowd than anything else after "Reflektor." It was also one of the more Talking Heads-y moments of the night (that bass line sounded kind of like "Naive Melody" too, though less friendly), but it fell back on Arcade Fire's trusty guitars for release in the chorus.

Win addresses the crowd: "We are called the Reflektors, and we are from Montreal, Quebec, Canada," thus indicating how far they went with the whole pseudonym thing. At no point in the night did they refer to themselves as Arcade Fire.
Unknown: Richard Reed Parry started into a slow, bluesy guitar riff, and the band added layer after layer of slap bass, clavichord-style synth, and more guitar. It all built into a swampy, funky groove that would have felt at home on the loudest Dr. John record ever. More so than any other song they played last night, it was hard to picture how this one would sound on record, since it worked perfectly as an in-concert jam and pace setter but didn't have a clear structure.

Win: "We haven't played together in a while, so thanks for being so into this."
Unknown: Everything up until now had been pretty awesome, but the next three songs totally killed and were the highlight of the night. They brought another level of nuance, melody, and experimentation to the sounds we had heard so far, hinting at the possible depth of the album as a whole. This one began with a guitar line straight from the Cars and kept its promise by moving into a fun, shout-along song for driving in the sun during the year 1978. The guitars grew louder and more snarling around a four-chord progression, exploding into an awe-inspiring state of controlled chaos.
Unknown (believed to be "It's Never Over (Oh Orpheous)"): They transitioned into a dark, cascading electro song, with Win and Regine's dual lead vocals propelled forward by Gara's rolling toms.
Unknown: Whatever this was, I thought it was the best song of the night. It sounded something like New Order's "Bizarre Love Triangle," but happier, bigger, and more rhythmically nuanced. The crowd's reaction was infectiously positive, as if everyone was shocked and elated to be hearing their new favorite song.
"Here Comes the Nighttime:" As Win strapped on a twelve-string acoustic guitar, he uttered the least trustworthy statement in rock: "This is our last song!" It began with a fast and energetic mariachi-style beat and transitioned suddenly into something more beachy. This seemed like a bit of a novelty tune, designed to get people dancing, but the chorus was irresistible and had everyone singing along right away.