Hellyeah's 'Blood for Blood' Album Artwork Unveiled
UG Team
Ultimate Guitar

UG Team
UG editorial team. A group of people who are passionate about guitar and music in general.
Posted Apr 03, 2014 02:38 PM
Hellyeah's fourth studio album, "Blood for Blood," which will be released on June 10 via Eleven Seven Music, now has a cover art, Blabbermouth reports. Take a look at it below.
The CD was helmed by producer Kevin Churko (Ozzy Osbourne, Five Finger Death Punch, In This Moment) at his the Hideout Recording Studio in Las Vegas, Nevada. On the cover artwork for "Blood for Blood," Hellyeah vocalist Chad Gray collaborated with renowned tattoo artist Paul Booth, who has been tattooing for over twenty years, and in that time he has worked on many celebrities and rock bands, including Slayer, Slipknot, Sepultura, Soulfly and Lamb of God.
"The last project that Chad and I worked on together was the Mudvayne blacklight design," says Paul. "I had such a great time working on that art, when Chad called on me to design Hellyeah's 'Blood for Blood,' I jumped right into it as I knew it, too, would likely be a fun one. Chad always gives me the freedom to explore and interpret his ideas. It always makes for great collaboration. I look forward to seeing it all in print!
"It's a defining record for Hellyeah and for anyone on the fence," the band founding drummer Vinnie Paul declared, describing the record as "focused and with a clear direction."
In the other news, Hellyeah has finished filming a video for the song "Sangre Por Sangre (Blood for Blood)" with director Robert Sexton in Hollywood, California. The track is the first single from the record.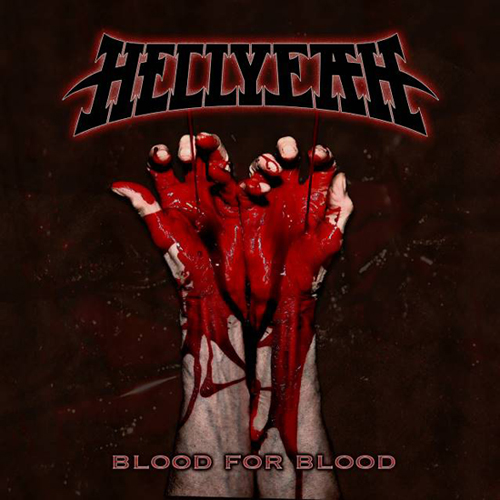 "Blood for Blood" track listing:
01. Sangre Por Sangre (Blood for Blood)
02. Demons in the Dirt
03. Soul Killer
04. Moth
05. Cross to Bier (Cradle of Bones)
06. DMF
07. Gift
08. Hush09. Say When10. Black December
The band will head out on a mix of festival gigs and shows with Avenged Sevenfold starting on April 12 in Dawson Creek, British Columbia.