Jack White and Neil Young Cut Tracks in Third Man Vinyl Booth
Seems like the fans won't be the only contributors on the special Third Man vinyl for Record Store Day.
Unregistered
Ultimate Guitar
Posted Apr 24, 2013 02:28 PM
As NME reports, Jack White has recorded a cover version of "Coal Miner's Daughter" by Loretta Lynn in the Third Man Records recording booth that was set up for Record Store Day. The booth, which was set up at Jack White's Third Man Records store in Nashville, is a 1947 Voice-o-Graph. The booth is the only public vinyl recording booth in the world, and allows for up to 111 seconds of audio to be cut to a six-inch phonograph disc.
Across the Record Store Day weekend, a number of fans queued to use the booth, including rock legend Neil Young. It is as yet unknown what Neil Young recorded, although a photograph of him exiting the booth has been posted on the Third Man website.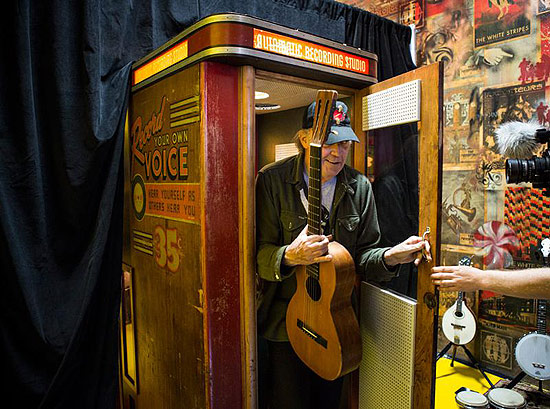 Third Man Records has released the following statement:
"The dozens of people who waited in line to record their very own 111 seconds of vinyl magic walked away with one-of-a-kind audio mementos that we (and they) will never forget. Whether it was a marriage proposal, folk song, last will and testament, poem, one act play, a Sir-Mix-a-Lot cover or birthday greetings, accompanied by everything from a vintage 1920's Gibson mandolin, a boombox or an iPhone, every last recording from the booth was inspired and fulfilling."