Listen: QOTSA Streaming New Single 'The Way You Used To,' Share Full Album Details
"Villains" coming your way August 25.
jomatami
Ultimate Guitar

jomatami
UG News editor since early 2013. King Crimson fan. I handle the 'news' around here.
Posted Jun 15, 2017 05:30 PM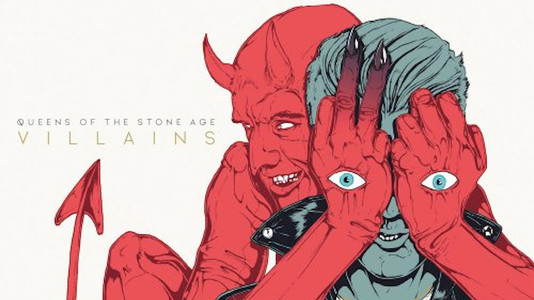 Queens of the Stone Age will release their new album "Villains" on August 25 and are streaming "The Way You Used To" as the lead single.
Frontman Josh Homme stated:
"The most important aspect of making this record was redefining our sound, asking and answering the question, 'What do we sound like now?'

"If you can't make a great first record, you should just stop - but if you can make a great record but you keep making records and your sound doesn't evolve, you become a parody of that original sound."
Asked by NME about the reported "super-sexy vibe" of the new single, Josh replied:
"Well it's about screwing so I guess that answers that question!

Asked how the song compares to rest of the album, Homme replied:

"They all have this shared philosophy, which has always been my philosophy, but it seems ever more urgent and it's that now is all you'll ever get. You need to not wait and do whatever you want to do now.

"That is inside every moment of the record. It's got an urgency without an emergency, you know what I mean?"
The record was co-produced by Mark Ronson (Adele, Duran Duran) and Mark Rankin (Bloc Party, Adele).
The gang also unveiled the record's full track listing, cover art, and announced North American tour dates. All goods below, pre-orders here.
QOTSA 'Villains' track listing:
1. Feet Don't Fail Me
2. The Way You Used to Do
3. Domesticated Animals
4. Fortress
5. Head Like a Haunted House
6. Un-Reborn Again
7. Hideaway
8. The Evil Has Landed
9. Villains of Circumstance
QOTSA North American Tour 2017
09/06 Port Chester, NY – Capitol Theatre
09/07 Philadelphia, PA – Festival Pier at Penn's Landing
09/09 Toronto, ON – Budweiser Stage
09/10 Grand Rapids, MI – 20 Monroe Live
09/12 Columbus, OH – Express Live!
09/13 Pittsburgh, PA – Stage AE
09/15 Cleveland, OH – Agora Theater
09/16 Cleveland, OH – Riot Fest
10/09 Salt Lake City, UT – The Complex
10/10 Morrison, CO – Red Rocks
10/12 St. Louis, MO – Peabody Opera House
10/13 Kansas City, MO – Crossroads KC
10/14 Saint Paul, MN – Roy Wilkins Auditorium
10/15 Milwaukee, WI – Eagles Ballroom
10/17 Detroit, MI – Fox Theatre
10/18 Indianapolis, IN – Murat Theatre at Old National CEntre
10/20 Washington, DC – TBA
10/21 Boston, MA – Agganis Arena
10/22 Portland, ME – State Theatre
10/24 New York, NY – Madison Square Garden