Motorhead Begin Work On A New Studio Album
Hard rock legends officially start recording their 21st release and reveal several new album details.
Unregistered
Ultimate Guitar
Posted Mar 01, 2013 01:54 PM
Hard rock legends Motorhead have officially entered the studio to start recording their 21st album, a follow-up to 2010's "The World Is Yours".
With Cameron Webb once again at the helm of production, the release will feature a total of 11 new tracks. Some of the song titles include "Outsider" and "Silence When You Speak to Me".
"We've got eleven songs so far. I'm just writing words to them at the moment, and putting bass and vocals on the tracks. So we'll see - it will take a little while. It's going all right though. I did two tracks yesterday," frontman Lemmy Kilmister tells Brave Words.
As for the release date, the album should be expected during the current year, with Lemmy saying that they've "got to get it out by the end of the summer." You can check out a part of the studio atmosphere in the photo below.
Latest Motorhead record, "The World Is Yours", was released in December 2010 via Future PLC/Motörhead Music, debuting at No. 94 on The Billboard 200 chart with 7,000 copies sold within the first week.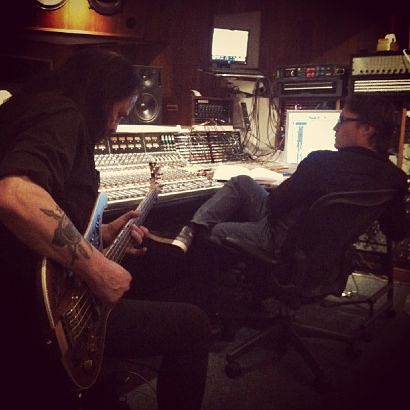 So are you glad Lemmy and the guys are back in the studio again or what? With over two years since the last album, the timing seems just right. Post your thoughts in the comments section below.