Ronnie James Dio Tribute Album 'This Is Your Life' Will Be Released on April, 1
The record features covers by Metallica, Halestorm, Tenacious D and Anthrax.
UG Team
Ultimate Guitar

UG Team
UG editorial team. A group of people who are passionate about guitar and music in general.
Posted Mar 11, 2014 10:39 AM
Ronnie James Dio is one of the most beloved figures in rock history. His gifts, both as a singer and songwriter, are instantly recognizable, whether he was with Rainbow, Black Sabbath, Heaven & Hell, or leading Dio. Sadly, Dio lost his battle with stomach cancer in 2010, but his towering voice and legacy live on.
To celebrate Dio's life, an all-star group of his friends and fans recorded 13 of their favorite tracks for a tribute album, entitled "This Is Your Life," to raise funds for the Ronnie James Dio Stand Up and Shout Cancer Fund. This non-profit charitable fund, which is dedicated to supporting cancer-prevention research, raising awareness and educating the public about the vital importance of early detection and prevention, was co-founded by Dio's longtime manager and wife, Wendy Dio. 100% of the funds received from this album by the Ronnie James Dio Stand Up And Shout Cancer Fund goes directly into cancer research.
The first track to be released from "This Is Your Life," a cover of Rainbow's "Starstruck" re-recorded by the legendary Motörhead featuring Biff Byford of Saxon, is available for streaming on the web now exclusively via Yahoo! Music.
Would you like to join Wendy Dio, Rob Halford, Corey Taylor and others in celebrating this release and the life of Ronnie James Dio? Join the celebration at the 3rd Annual Awards Gala and This Is Your Life pre-release listening party on Monday, March 17, 2014 at The Avalon in Hollywood, CA. The gala begins at 6:00PM, and tickets (VIP and GA) are available via the fund's website. The event will include live performances of songs from the album by Halestorm, Corey Taylor, Jason Christopher, Christian Martucci, Roy Mayorga, Oni Logan, Jimmy Bain, Rowan Robertson, Brian Tichy and more surprise guests!
Produced by Wendy Dio, "This Is Your Life" includes contributions by such metal heavyweights as Metallica, Scorpions, Anthrax, and Rob Halford, as well as appearances by many of the musicians who performed with Dio over the years. "This Is Your Life" will be available from Rhino on April 1, 2014, in physical and digital versions.
See below for an the amazing track list, which includes Metallica's epic, nine-minute "Ronnie Rising Medley," which combines the Rainbow songs "A Light In The Black," "Tarot Woman," "Stargazer," and "Kill The King," Rob Halford's collaboration with frequent Dio collaborators Vinny Appice, Doug Aldrich, Jeff Pilson, and Scott Warren for "The Man On The Silver Mountain," Anthrax and Adrenaline Mob's takes on "Neon Knights" and "The Mob Rules," Corey Taylor's (Stone Sour, Slipknot) cover of the classic "Rainbow In The Dark," Tenacious D's (Jack Black and Kyle Glass) spin on "The Last In Line," and many, many others.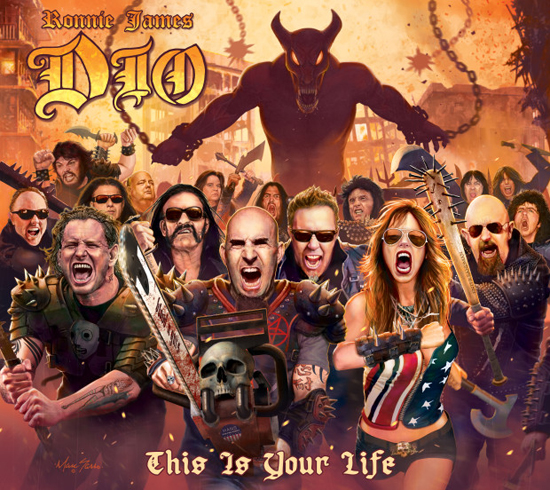 Ronnie James Dio "This Is Your Life" track listing:
"Neon Knights" – Anthrax
"The Last In Line" – Tenacious D
"The Mob Rules" – Adrenaline Mob
"Rainbow In The Dark" – Corey Taylor, Roy Mayorga, Satchel, Christian Martucci, Jason Christopher
"Straight Through The Heart" – Halestorm
"Starstruck" – Motörhead with Biff Byford
"The Temple Of The King" – Scorpions
"Egypt (The Chains Are On)" – Doro
"Holy Diver" – Killswitch Engage
"Catch The Rainbow" – Glenn Hughes, Simon Wright, Craig Goldy, Rudy Sarzo, Scott Warren
"I" – Oni Logan, Jimmy Bain, Rowan Robertson, Brian Tichy
"Man On The Silver Mountain" – Rob Halford, Vinny Appice, Doug Aldrich, Jeff Pilson, Scott Warren"Ronnie Rising Medley (Featuring A Light In The Black, Tarot Woman, Stargazer, Kill The King)" – Metallica"This Is Your Life" – Dio