Airbourne: That Time We Accidentally Exited the Venue Instead of Going Onstage & Couldn't Get Back In
"I don't know what country we were in at the time."
jomatami
Ultimate Guitar

jomatami
UG News editor since early 2013. King Crimson fan. I handle the 'news' around here.
Posted Jul 14, 2017 12:50 PM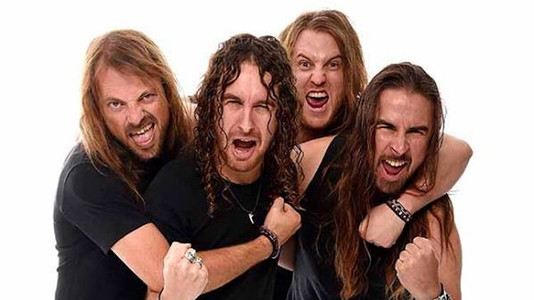 Airbourne frontman Joel O'Keeffe was asked by Guitarist Magazine whether the band ever had any Spinal Tap moments during tours, to which he replied:
"It actually happened!

"I don't know what country we were in at the time, but we were about five or 10 minutes late to the stage.

"We ended up accidentally going out an exit door backstage and we couldn't figure out how to get back.

"We ended up going back in through the ticket stalls with the guitars and we walked through the crowd and got back on the stage.

"We couldn't work how to get to the stage from the backstage area - and they almost didn't let us in.

"They were like, 'Have you got tickets?' I'm like, 'We're going to play a gig... We haven't got guitars and no shirts on because we're just into the high life!'

"But I think our guitar tech had his triple A and then they went, 'Ah cool, no worries.'"
Asked to single out a "non-musical item could you not do without on tour," Joel replied:
"I've got a couple of those Bose speakers that I set up and I've also got one of those Marshall things that you plug into like a dock - it's more of a speaker thing.

"I couldn't really do without my hotel room sound. I take it everywhere I go to get the tunes going. Touring would be hell without that!"