GC Clapton Crossroads Collection, Pt. 2: 'Lucy' Gibson Les Paul
Gibson has reproduced a clone of the cherry red Les Paul Standard that Clapton purchased as a second-hand instrument from a music store in New York City back in 1968.
Unregistered
Ultimate Guitar
Posted Feb 28, 2013 11:33 AM
Legendary guitarist Eric Clapton has teamed up with Guitar Center to offer a selection of five super cool and exclusive limited-run instruments from Fender, Gibson, Martin, as well as a selection of signature guitar straps from Ernie Ball. The collection will be available to purchase starting March 21, 2013 and proceeds from all sales will benefit Clapton's Crossroads Centre in Antigua, which the drug and alcohol treatment facility Clapton founded in 1997.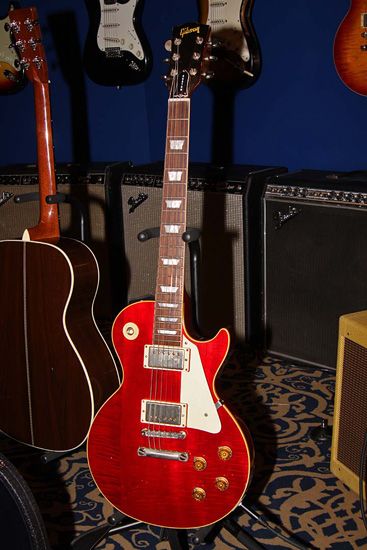 Gibson has reproduced a clone of the cherry red Les Paul Standard that Clapton purchased as a second-hand instrument from a music store in New York City back in 1968. Every feature seems to be done to look and feel exactly like the original, including the three-piece maple top, along with all of the same style hardware, electronics, appointments, and wear marks in the same places.
It is believed that Clapton bought the cherry Les Paul because he had never seen one finished in that color, and it caught his eye. The guitar had originally started life as a goldtop '57 Les Paul Standard with a factory-installed Bigbsy. The guitar had previously been owned by John Sebastian of the Lovin' Spoonful who traded it to McCoys' guitarist Rick Derringer. Derringer felt it was a bit too beat up and decided to have it refinished, as well as to remove the Bigbsy and replaced with a more practical stop tailpiece. Derringer sent it back to Gibson's factory in Kalamazoo, Michigan, where the work was done in '67. During the process, the big neck that is characteristic of a '57 model was sanded down and made noticeably slimmer. When it was returned to Derringer he did not like the way it felt or sounded, so he brought it to Dan Armstrong's shop in New York City and traded it for a sunburst Les Paul Standard. Shortly after it left Derringer's possession, Clapton found it in the same shop. Somewhere along the way, the original Kluson tuners were replaced with Grovers, which was a very common modification done for better tuning and a "Custom" truss rod cover was also added, though it is uncertain if that was done while it was back at the Gibson factory.
Clapton gifted the guitar to his good friend George Harrison in August of '68 and Harrison named it "Lucy", in honor of redheaded actress Lucille Ball. At the time, The Beatles were working on the "White Album", and Harrison began using it on the recording sessions. He invited Clapton to come in and play on a song he wrote, and loaned the guitar to him for his performance on "While My Guitar Gently Weeps". Harrison also played the guitar during the sessions for "Let It Be", and can be seen playing it in the "Let It Be" film.
In the early '70s, the beloved Lucy was stolen from Harrison's Beverly Hills home during a burglary, but the guitar was tracked down and recovered, then returned to Harrison. He later loaned out to Clapton, who played during his '73 "Rainbow Concert".
Lucy has quite an interesting and extensive pedigree, and the original instrument is still owned and revered by the Harrison family. A total of 100 Clapton-Harrison "Lucy" Les Paul replica guitars will be offered for sale (50 for the US and 50 worldwide) at $14,999 MSRP. The guitar will include a reproduction hardshell case, a certificate of authenticity hand-signed by Clapton, a special remastered vinyl edition of The Beatles "White Album", and a DVD featuring an interview with Clapton discussing his history with Les Paul guitars and footage of him inspecting the first "Lucy" prototype.