Gear of the Gods: Randy Rhoads
You wanted it so you got it! This week's Gear of the Gods focuses on legendary Ozzy Osbourne guitarist Randy Rhoads.
UG Team
Ultimate Guitar

UG Team
UG editorial team. A group of people who are passionate about guitar and music in general.
Posted Mar 03, 2016 04:12 PM
Spending most of his career rocking out with a classic Les Paul/Marshall combo, Randy Rhoads went on to pioneer an iconic Flying V style guitar that would become an industry standard for years to come. The mind boggles as to what else he might have introduced us to had he not died so young.
As always, buyer's guide is included for all you would-be-shredders out there.
So without further ado, all aboard for the crazy train!
1974 Gibson Les Paul Custom
For most of his career, Randy Rhoads' weapon of choice was cream-colored Gibson Les Paul Custom. Acquired for him by his Quiet Riot bandmates in the late 1970s, Randy initially thought it was a 1963 model, but later discovered it was from 1974.
Built with a four-piece body - two layers of mahogany, a thin layer of maple in the middle and carved maple top - it was rocking a pair of T-Bucker pickups, which were standard in Les Pauls of the era. Randy made a couple of cosmetic changes to the instrument including replacing the brass toggle switchplate, switching out the Grover tuners for Schallers and engraving his name on the pickguard. But, he largely kept the instrument set up as it had been bought.
The distinctive cream color of the guitar was actually due to aging. The instrument was white when bought new, but the nitrocellulouse lacquer had yellowed over time.
Karl Sandoval Custom Polka Dot Flying V
Randy Rhoads' distinctive Polka Dot Flying V was actually inspired by an instrument owned by George Lynch of Dokken Fame. Both active in the late 1970s LA scene (Rhoads with Quiet Riot, Lynch with Xciter), the pair bonded over their love of guitars. Lynch had a custom Flying V guitar built, featuring a single pick-up, flat radius fretboard and tremolo bar. Impressed by the uncommon design - a Gibson style shape with a Fender made mechanism - Randy was keen to know where he could get one. Dokken told him to give Karl Sandoval a call and the rest, as they say, was history.
Much thicker than a standard V to accommodate for the Fender tremolo bridge sustain block, the guitar was one-piece and included a modified Danelectro neck. Pick-ups were a DiMarzio Super Distortion in the bridge position, and a PAF in the neck position. The distinctive Polka Dot pattern was Rhoads' idea.
Jackson "Concorde" Flying V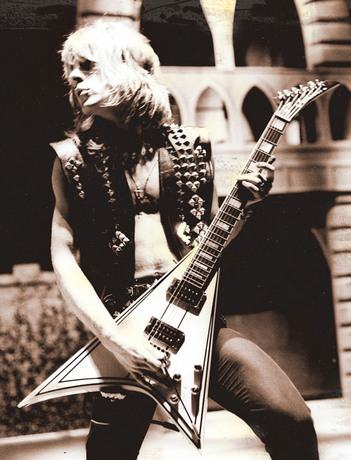 In December 1980, while playing with Ozzy Osbourne, Randy Rhoads met Grover Jackson - the new head of Charvel Manufacturing - to discuss the plans for a new flying V guitar. Rhoads' designs, drawn on a scrap of paper, featured an asymmetrical V shaped body, with bottom wing shorter than the top. Like the Sandoval V, Randy wanted a neck-thru-body design. He also wanted to name the guitar "The Concorde" after the aeroplane of the same name. The design for the headstock was intended as an aggressive, modern update on that of the Gibson Explorer.
Pick-ups in the V were a Seymour Duncan Distortion at the bridge, and a Jazz model in the neck while the tremolo was made by Bill Gerein. The neck shape was thick and based on a fifties-era Gibson Les Paul.
The first ever Jackson guitar, the new name came about because Grover Jackson was concerned that calling it a Charvel would confuse customers accustomed to the company's bolt-on Fender-style guitars.
A second resigned Concorde, with a leaner, more angular body was delivered to Rhoads in December 1981. Unfortunately - the guitar would not see much use - Rhoads was killed in a plane crash two and half months later.
Amps and Pedals: Marshall Vintage Super Lead Plexi 100w, Crybaby Wah, MXR Distortion +
When it came to amps, Randy kept things classic, rocking a pair of vintage Super Lead Plexi 100w amp heads, cranked up to the max. He ran each amp head through a pair of 4x12 cabinets with Altec Lansing speakers
As with amps, Randy didn't mess around too much when it came to effects. Using a fairly simple rig, his pedal mainstays during the Ozzy Osbourne years were a Crybaby Wah and an MXR Distortion +
Buyer's Guide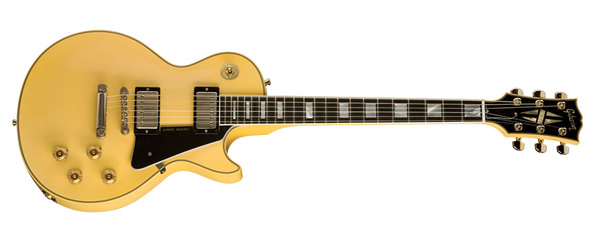 Gibson did a limited edition Randy Rhoads custom Les Paul a couple of years ago. It's a thing of beauty and replicates the original instrument pretty much perfectly down to every detail. Unfortunately, it's currently out of production and you can expect to pay a few thousand on a used one on the rare occasion that one comes up for sale. Alternatively, it is possible to pick up a genuine 1974 White Les Paul custom for somewhere in the region of $3000-4000.
Alternatively, a more budget conscious option is the Epiphone Les Paul Custom Black Back Pro. A 1970s inspired LP in antique ivory finish with excellent ProBucker pickups, it feels like Randy Rhoads signature model in all but name and comes in at an affordable $600.
Kal Sandoval is still making guitars and started doing a limited edition run of Polka Dot Flying Vs a couple of years ago. If you can afford one, they're probably amazing. Head over to his website for more information.
If it's a Jackson you're after, you've got plenty of options. The company does everything from a USA Select RR1 Randy Rhoads at around $3,500 to a more entry level JS32T Rhoads coming in at $270. A great mid-range option is the Rhoads RRXMG, which costs a very affordable $730.
Amp wise, Marshall produced a 1959 RR Superlead Signature amp a while ago that sounds the business. It was a limited edition though, and tends to sell for around $3000 these days. Alternatively, if you're in the UK, a Hayden Lead 80 is the nuts and can be picked up for about £1000 if you shop around.
If you want something for bedroom use, you could do a lot worse than picking up a Marhsall DSL 40 Watt Valve combo for around $700.
Pedals wise, a Jim Dunlop GCB95 Cry Baby Wah will cost you $80. An MXR Distortion + around the same.
So that's it for this week's edition. But who do you want us to cover in next week's Gear of the Gods? Vote and we'll make it happen.
By Alec Plowman