Here's a Metal Song Using 45 Different Instruments
Theremin, sitar, shovel, you name it...
Ultimate Guitar

jomatami
UG News editor since early 2013. King Crimson fan. I handle the news around here.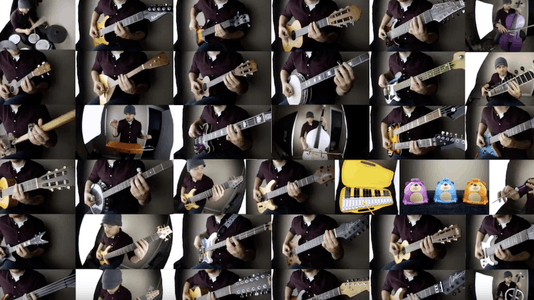 In his latest video, Rob Scallon crafted a metal tune using 45 different instruments.
No further intro, full list of instruments and the clip await below.
Electric drumset
Signature 8 string
Signature 8 string prototype
Stiletto 5 string bass
2 string bass
9 string
Chowny bass
Fender P bass
Fretless bass
U-bass
7 string
Ghost Fret
Omen 8
Tradition guitar
Washburn
Double neck
Electric cello
Fender Strat
Hockey stick
Hotrod Chapman
Shovel
Signature 6 string
Theremin
Sitar
Berimbau
Cowbell
Idiopan
Recorder
12 string acoustic
Balalaika
Bear Bells
Dean Uke
Guild acoustic (in recording. Borrowed guitar on screen)
Harmonica
Harp
Nylon string
Purple cello
Slide whistle
Upright bass
Xylophone
Banjo
Acoustic electric banjo
Guitarlele
Uke small
Uke medium