Hypocrites: Taylor Swift and Madonna Are Shamelessly Stealing Artwork of Unknown Artists
The artists even approached them, but to no avail...
UG Team
Ultimate Guitar

UG Team
UG editorial team. A group of people who are passionate about guitar and music in general.
Posted Dec 21, 2015 09:11 PM
The music world has been buzzing with plagiarism stories these days, as two of the biggest pop stars, Madonna and Taylor Swift, have been accused of ripping off several artists.
Both singers have taken the work of unknown artists without permission or without giving any credit whatsoever.
So, Taylor first: she stole a piece by New Orleans artist Ally Burguieres and used it to promote her latest album "1989," which sold 8.6 million copies worldwide.
You can check out Ally's open letter to Taylor at the bottom of the article.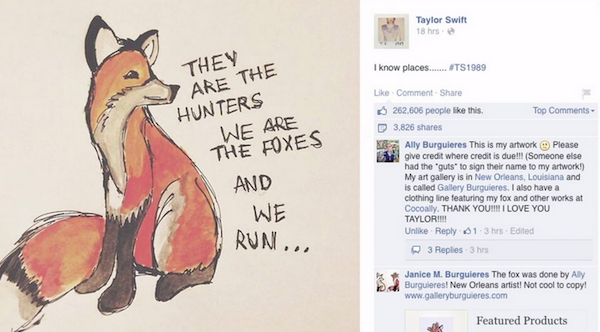 Now, Madonna: She ripped off an artist called Danny Quirk by apparently using MS Paint to paste her face on one of his pieces, and did a similar thing to Jonas Jödicke, except that face-pasting was done with a tad more taste.
Last year, when someone stole her stuff, Madonna said that music piracy and stealing art is "artistic rape" and "a form of terrorism."
Taylor on the other hand, was very vocal about how artists need to be paid and recognized. She penned an open letter to Apple Music about the whole matter, and pulled her catalog from Spotify.
And while it's obvious that there's a very strong chance that neither Madonna nor Taylor personally stole the stuff, and that it was their employees who fucked up, the whole thing makes the two ladies look quite hypocritical.
You can check it all out below.