Mastodon, Slayer and Ghost Bikinis Announced
Metal beach wear anyone?
Unregistered
Ultimate Guitar
Posted Jul 12, 2013 02:36 PM
If you're female metal fan and short on swimwear that shows off your appreciation for heavy music, then fret no more!
Mastodon, Slayer and Ghost have all announced branded bikinis in time for the summer season. As Metal Sucks notes, the cost for this hard rockin' swimwear is $35 dollars a set, with Mastodon selling a bundle that comes with a beach towel and sunglasses for $80.
Mastodon, somewhat brilliantly, have rebranded their logo as A-STODON for the bikini bottoms. They're not cheap, but we guess that's the price you pay for keeping it metal on the beach.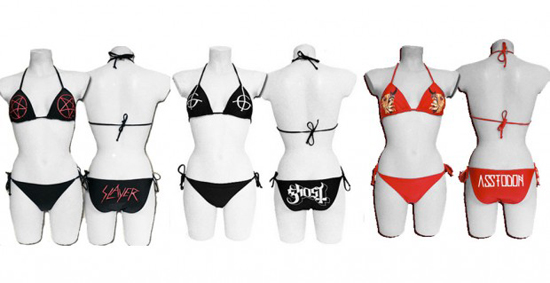 Personally we're surprised that Kiss haven't gotten in on the swimwear act already. As we reported last year, the band has released some of the strangest merch ever, from Kiss Kaskets and Kiss Biking Shorts to Kiss Kondoms branded with Gene Simmons' trademark tongue.