Metalhead Dating Site Connects Single Metal Fans
Find your metal soulmate (or rapist) at MetalheadDating.com.
UG Team
Ultimate Guitar

UG Team
UG editorial team. A group of people who are passionate about guitar and music in general.
Posted Mar 03, 2014 11:48 AM
If you're a metal fan in need of a partner, MetalheadDating.com offers you a chance to find your very own metal soulmate with merely a few clicks of a button.
Pointed at by the Metal Sucks guys, the website offers a vast array of guys and gals to meet for a $32 three-month subscription. They also did some browsing of their own and singled out some of the contestants listed below.
"Are you in search of a place where you can meet metal heads such as yourself?" the website asks. "And possible ask someone out on a date? Well, you've found it! Become a member of our community of heavy metal fans and you're bound to meet a ton of like-minded people.
"This is all but impossible in real life, so you should grab this opportunity and don't let it go! Hurry up, your membership awaits! Enthusiasts of heavy metal are here and waiting to get in touch with and date metal head singles. No one can really understand their way of life, except for other men and women like them."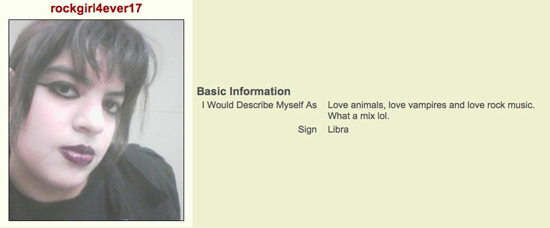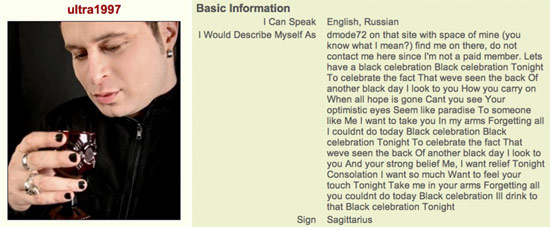 Do you like what you see? And did you ever give dating websites a go? Let us know below.