Metallica Rocks Glasto: Fox-Hunting Jab, Video Footage, 'Sh-te' T-Shirts and More
"We'd love to headline Glastonbury again," the band adds.
Ultimate Guitar

UG Team
UG editorial team. A group of people who are passionate about guitar and music in general.
follow
Posted Jun 30, 2014 03:12 PM
Following the biggest controversy regarding any music festival headlining act we got to see in a while, Metallica has finally played Glastonbury, and guess what - rocked the place.
But it wasn't just any set, as the band made sure to spice up the whole thing with a healthy dose of humor.
Fox on the Run
Right before kicking off the 14-song set, the band presented an exclusive video, interrupting the regular "Ecstasy of Gold" intro with a short fox hunting movie. A clever jab at all the protestors, "What Does the Fox Say?" "Fox on the Run," masked bears killing everyone, and then the grand finale...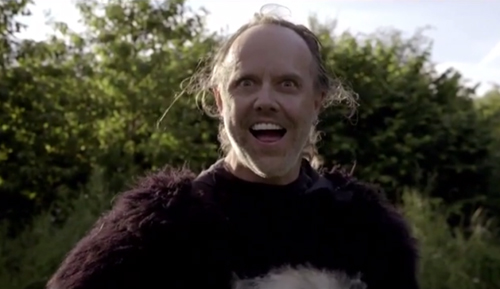 Anyhow, check out the film below.
The Show!
The most important part, or at least the part that should be the critical one. The guys still have it, and they've proven it with a 90-minute set. As always, the crowd comments have varied, going from praising "Looks like Metallica had a great time as did the crowd - f--k the Glastonbury snobbery!" to complaining "Why did they only play 14 songs?" or more creative ones like "Jesus christ, Lars even f--ks up 'The Unforgiven.'"
Right before kicking off "Sad But True," frontman James Hetfield dedicated the tune to all the metal bands from the UK that dream of headlining Glasto, but never got the chance. The video of the full show is available online, check it out below.
'They're Just Sh-te' T-Shirts
Remembering the big fuss prior to the show, the band took the creative approach and issued a special series of "Glastallica - Peace, Love & Metal" t-shirts, including some of the most memorable quotes from the media on the back side.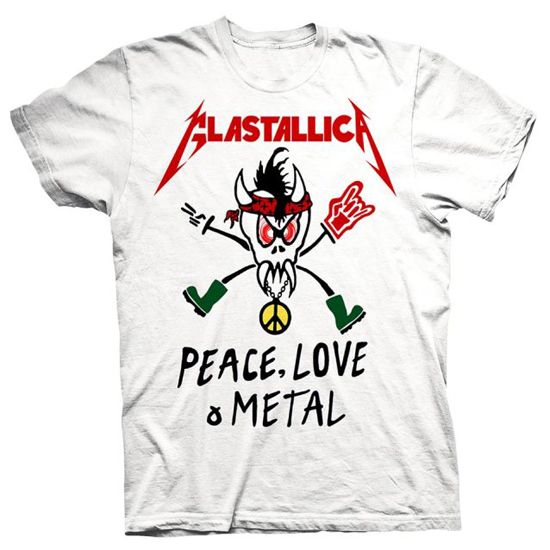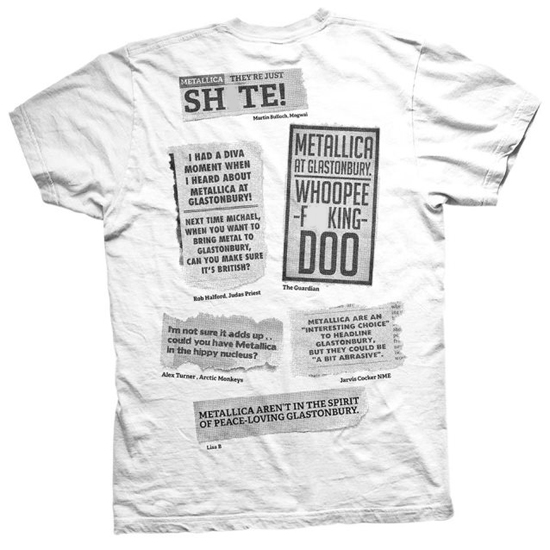 'We'd Love to Headline Again'
So to sum it all up, Metallica became the first metal band ever to headline Glasto since the festival's 1970 inception. Also, they'd love to do it again.
"That was sensational. I don't remember much of it ... the energy was fantastic," Lars Ulrich told BBC. "We have one shot, you never know if you'll be invited back. I want to soak up every second of this thing. We would love to come back."
"Metallica. Glastonbury. Together at last," said James Hetfield. "That felt good."
Finally, here's an epic photo of Lars, Noel Gallagher and Bradley Cooper just hanging out.