Neil Peart Voted Greatest Drummer of All Time
Rush drum master crushes John Bonham in the finals, full showdown inside.
Ultimate Guitar

UG Team
UG editorial team. A group of people who are passionate about guitar and music in general.
follow
Posted Jun 04, 2014 03:24 PM
Rush drum master Neil Peart has been crowned the greatest drummer of all time in a recent fan vote over on Consequence of Sound.
Throughout the playoff, Neil has triumphed over Mitch Mitchell of The Jimi Hendrix Experience, The Who's Keith Moon, Mike Portnoy of Dream Theater, finally meeting late John Bonham in the finals.
Crushing the Led Zeppelin drummer with 87% to 13%, Neil has easily claimed the No. 1 title.
As for Bonzo, the second finalist went up against Bill Bruford, Buddy Rich and Tool's Danny Carrey in the semi-finals.
Among other notable figures, Dave Grohl dropped out against Portnoy in the second round, while Ringo Starr and Ginger Baker didn't even make it through the first round. Check out the full competition below.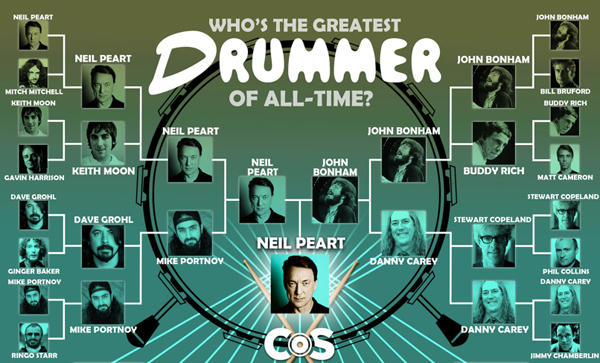 Make sure to also check out Neil's rockin' solo in the embedded video and share your thoughts on this one - is Mr. Peart truly the greatest drummer of all time?