One Direction's Harry Styles Is Apparently A Rush Fan
Boy band singer caught rocking out the prog-rock legends t-shirt.
Unregistered
Ultimate Guitar
Posted Feb 25, 2013 11:05 AM
Bet you didn't see this one coming, but the "1/5 of One Direction", 18-year-old Harry Styles seems to be into prog-rock. On several occasions, the singer was spotted wearing a Rush "Presto" t-shirt, probably the last thing you'd expect from a boy band member.
On one of such occasions, Styles was found getting a new tattoo in West Hollywood by TMZ with his girlfriend Taylor Swift. Another photo we discovered via Metal Hammer magazine shows Harry in that very same t-shirt posing with a clown nose.
The band has recently made chart history by becoming the first British group ever to have both the first and the second album topping the US sales chart. Their second release, "Take Me Home", has sold 540,000 copies worldwide in it's first week, reaching No. 1 position in 30 countries.
Rock community is generally not too fond of these guys. After comparing themselves to The Beatles, some were even offended, with Van Halen bassist Wolfgang Van Halen being among that crowd.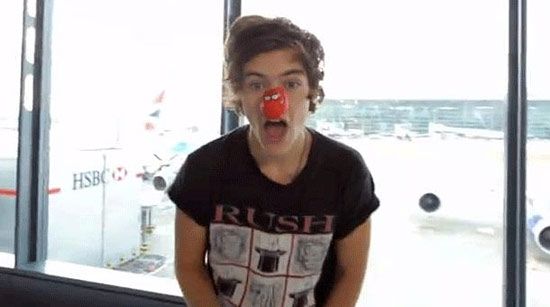 So how about that t-shirt? Will you be giving One Direction more respect from now on, or do you think the guy is just posing around and deserves even more hatred? Let us know in the comments section below.