Sonisphere Laugh Off Glasto Metallica Swoop
Knebworth promoters publish spoof setlist containing farming puns - as Maiden confirm special batch of Trooper ale for festival bars.
UG Team
Ultimate Guitar

UG Team
UG editorial team. A group of people who are passionate about guitar and music in general.
Posted May 12, 2014 12:04 PM
Sonisphere promoters have responded to confirmation that headliners Metallica will also be playing at Glastonbury by poking fun at the rival event.
As Classic Rock notes, they've published a spoof setlist that contains a series of puns emphasising Glastonbury's roots as a working farm – adjusting the title of classic Metallica tracks including "Enter Ploughman," "Some Kind of Tractor" and "The Call of a Culled Ewe." See the full setlist below.
James Hetfield and co last night confirmed long-standing rumours that they'd play Worthy Farm's Pyramid Stage on June 28, a week before headlining at Knebworth alongside Iron Maiden and the Prodigy.
Sonisphere bosses said: "It was only last week that the band were officially asked. They immediately asked Team Sonisphere what we thought about releasing them from their exclusive appearance at Sonisphere.
"But remember Glastonbury is already a sell-out, and so the only chance to buy a ticket to see Metallica in the UK is at Sonisphere."
The last batch of Glasto tickets sold out at the end of April. A small number of returns will go on sale on May 12, but they won't be announced.
Meanwhile, Maiden have confirmed their acclaimed "Trooper" ale will the official beer of Sonisphere, with a special batch to be brewed and delivered to festival beer tents in fresh condition.
Frontman Bruce Dickinson says: "Trooper will be brewed and transported at the very last minute to ensure fans get it as close to perfect as it can possibly be. Add in the fact that they will be chilled and this really will be a special festival pint of ale.
"We've also worked on the way it will be served to minimise queues, and give the best pint in the glass that we possibly can. I know we'll convert some non-ale drinkers too.
"Ultimately we're delivering a special beer for the very last show of our Maiden England tour. What could be better?"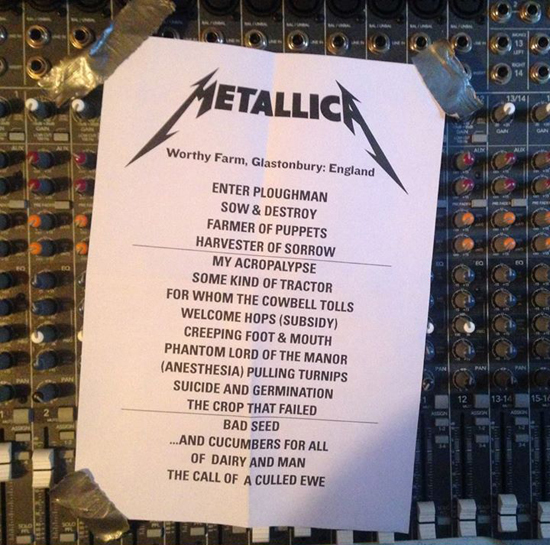 The light-hearted Metallica set list in full:
1) Enter Ploughman
2) Sow & Destroy
3) Farmer of Puppets
4) Harvester of Sorrow
5) My Acropalypse
6) Some Kind of Tractor
7) For Whom the Cowbell Tolls
8) Welcome Hops (Subsidy)
9) Creeping Foot & Mouth
10) Phantom Lord of the Manor
11) (Anesthesia) Pulling Turnips12) Suicide and Germination13) The Crop That Failed
Encore:
14) Bad Seed
15) ...And Cucumbers for All16) Of Dairy and Man17) The Call of a Culled Ewe