Ten Most Notorious Rock Star Crimes
From DUI to ruthless murder, they've done it all. There was even one guy who regularly smeared feces on his face.
Unregistered
Ultimate Guitar
Posted May 26, 2013 02:18 PM
Rock music and trouble with the law sometimes just seem to go hand in hand, as there are so many cases of rockstars getting arrested it's easy to lose count.
Possesion of illegal substances and DUI are expectedly the most common type of misconduct, with notable mentions stretching all the way from the Beatles and Jimi Hendrix to Chad Kroeger of Nickelback.
Recently, the case of Tim Lambesis and his arrest on charges of soliciting the murder of his wife stepped into to the center of public attention, making us remember some of the past cases of musicians getting arrested.
As you might have guessed, the more specific, you might say shocking stories were the first ones that popped up. Some of them are disturbing, others just plain ridiculous, but they all inarguably stand out. So buckle up and check out our picks of 10 most memorable arrests of rock and metal musicians.
Chuck Berry arrested for transporting a 14-year-old girl across state lines for "immoral purposes"
It's only right that the ultimate rock 'n' roll bad boy, the one and only Chuck Berry, gets to kick off our list. More than a decade before he rocked the world with "Johnny B. Goode," Berry started getting in trouble with the law way back during high school years. In 1944, he robbed three Kansas City stores and then stole a car at gunpoint with a group of friends, just to be arrested and convicted afterwards. But his most well-known run-in with the law occurred in 1959 when he was arrested on charges relating to transportation of a 14-year-old girl across state lines for allegedly "immoral purposes." Following a two-week trial, Berry was convinced to five years in prison, but ended up serving only one and a half after filing several appeals.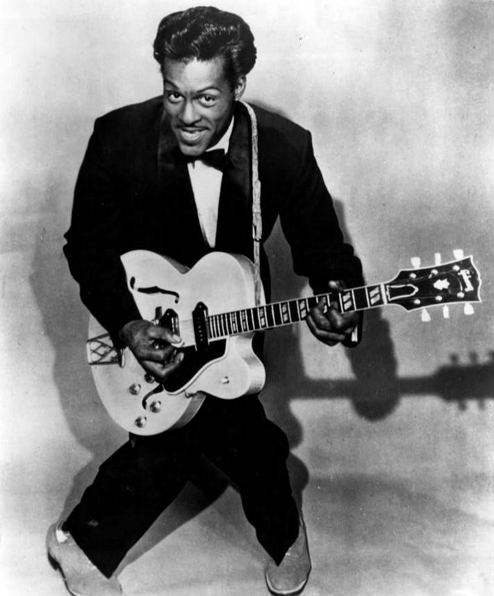 "Layla" co-author Jim Gordon stabs his mother to death
Although he isn't exactly a household name, Jim Gordon was one of the most renowned session musicians of his time. He worked with such greats as Eric Clapton, Frank Zappa, Steely Dan, Joe Cocker and the Beach Boys. During the '70s, he was a part of Derek and the Dominos and is listed as a co-author of the legendary "Layla" tune, alongside Clapton himself.
But Gordon was also severely mentally ill, as he developed schizophrenia and started hearing voices, including the one of his mother. Unable to sleep or function normally, he even went on to starve himself, but the biggest outburst was yet to come. So in 1983, he attacked his own mother with a hammer and ended up fatally stabbing her.
During the trial, drummer was not allowed to use the insanity defense and was sentenced to 16 years to life in prison. According to the latest Rolling Stone report, Gordon was denied parole until at least 2018 after last month's (April 2013) hearing.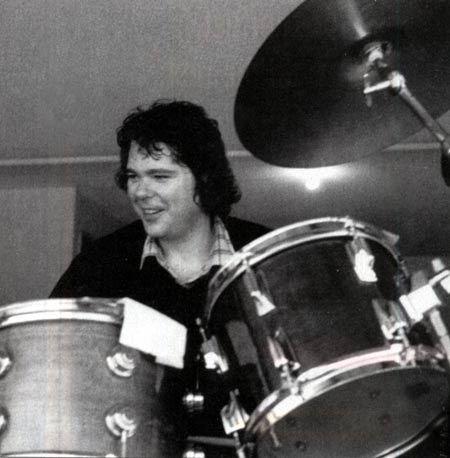 Sid Vicious of Sex Pistols allegedly murders his girlfriend Nancy Spungen
The case of the infamous Sex Pistols bassist Sid Vicious who allegedly stabbed his girlfriend Nancy Spungen to death is shrouded in mystery. As the story goes, Vicious supposedly woke up on the morning of October 12, 1978, to find Nancy dead on the bathroom floor. Her death was caused by bleeding from a single stab wound in the abdomen area.
The bassist was arrested on murder charges but didn't live long enough to see the end of trial as he died of heroin overdose on February 2, 1979. Many stories circulate Vicious' death, one being that his mother Anne Beverley injected him with a fatal dose of heroin on the night before his passing, which she supposedly confessed right before her own death in 1996.
After Sid was cremated, his mother allegedly found a suicide note in his jacket, saying, "We had a death pact, and I have to keep my half of the bargain. Please bury me next to my baby. Bury me in my leather jacket, jeans and motorcycle boots. Goodbye."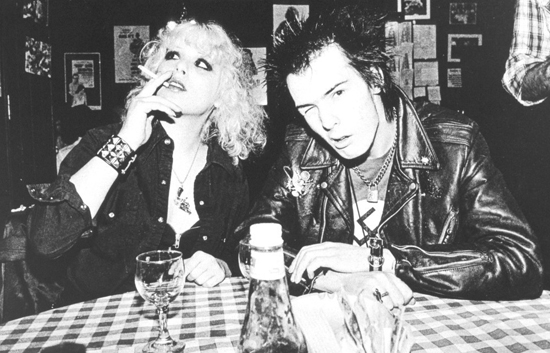 Ozzy Osbourne arrested for urinating at the Alamo dressed like a woman
It's just one of those things that can only happen to Ozzy. The year was 1982, and the legendary Black Sabbath frontman was drunk. Very drunk. He was also wearing a dress. Why? Because his future wife Sharon has hidden all of his clothes, of course. So anyway, as it often happens when you're drunk, Ozzy had the urge go to the bathroom.
As you might have expected, he picked the worst possible place and ended up urinating on the memorial erected in honor of those who died at the Alamo, right across the actual iconic building. Once he was arrested, Osbourne got banned from San Antonio for a decade.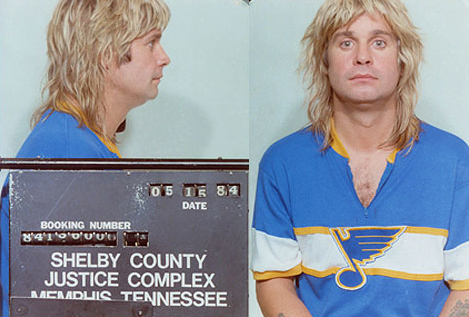 The disturbing story of GG Allin
GG Allin was definitely one of the most vile and sinister musicians in the history of rock music. Born as Jesus Christ Allin (just the name pretty much tells you all about his father) in 1956, his life was all but normal from the very beginning. He performed with several bands, including the Murder Junkies, the Jabbers, the Scumfucs and many more, but remained best know for his degenerate live performances, which included physical and sexual assaults on members of the audience, as well as Allin swallowing laxatives and defecating on stage.
Possibly the most disturbing aspect of his shows was the fact that he used to smear the vomit and feces he excreted over his face, which would shock the audience to say the least. During one of his performances in late 1989, Allin was arrested and charged with "assault with intent to do great bodily harm less than murder" of his female acquaintance. After pleading guilty, GG spent over a year in prison, but continued with the same behavior once he was released.
This can clearly be seen in the "Hated: GG Allin and the Murder Junkies" documentary, which shows Allin stripping, defecating on the floor, throwing feces on both himself and the audience, as well as breaking a woman's nose during a New York performance. Although he kept promising he would take his own life onstage, Allin died of a heroin overdose on June 28, 1993.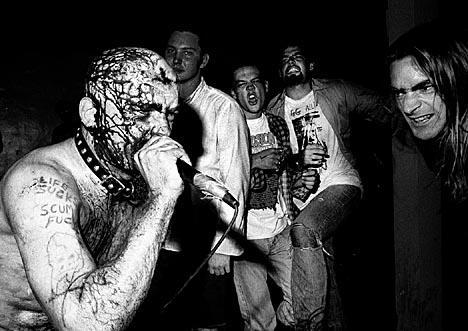 Varg Vikernes convicted for murder of Mayhem guitarist and the arson of churches
As possibly the most notorious metal musician of all time, Varg Vikernes took musician misconduct to a whole new level. Apart from being involved in numerous church burnings, Burzum mainman committed his biggest crime on August 10, 1993, when he murdered Mayhem guitarist Euronymous by stabbing him 23 times.
Although he entire story behind the murder will always remain unknown, Vikernes gave his own explanation via official website, saying that Euronymous was planning to kill him on the night of the murder, making his actions self-defense.
Varg was ultimately found guilty and sentenced to 21 years in prison, a maximum jail penalty in Norway. As the verdict was pronounced, he was photographed with a malevolent grin on his face, with the photo itself becoming his best-known image.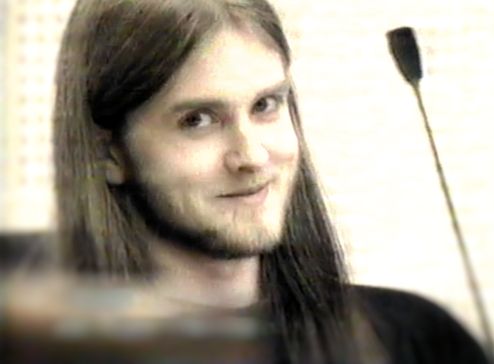 Marilyn Manson charged on sexual assault after rubbing his crotch against security guard's head
During a 2001 concert in Oakland County, Michigan, shock rocker Marilyn Manson gave security guard Joshua Keasler quite an experience. Dressed in a panty hose, Manson jumped the guard by wrapping his legs around Keasler's head and then started rubbing himself against it.
It goes without saying that the guard wasn't thrilled, so the fact that he sued the singer comes as no surprise. After pleading no contest, Manson paid a $4,000 fine and settled the lawsuit under undisclosed terms.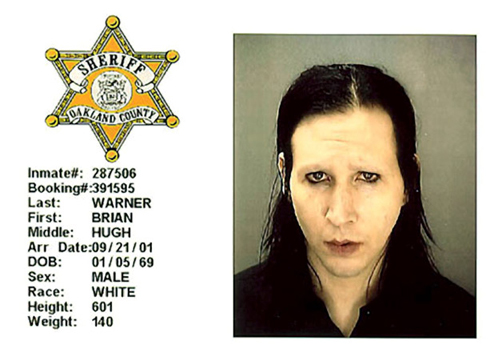 Sebastian Bach arrested after biting a pub owner
If Sebastian Bach wants to have a glass of wine, you'd better let him have it, or you might end up getting bit. Back in 2010, former Skid Row frontman got into a dispute with the pub owner in Ontario, Canada, after being asked to leave shortly after midnight. The singer wanted to take the glass of wine with him, and when he was told he couldn't, he responded like a real man by biting the owner's left hand.
Actually, he first smashed the glass against the floor, but those are just details. Anyhow, Bach was detained by the staff until the arrival of police, who found a small amount of marijuana on him, ultimately resulting in charges of marijuana possession, mischief and assault.
Lostprophets singer Ian Watkins charged with child sex offences
In one of the more recent stories, Lostprophets singer Ian Watkins got arrested in December 2012 on charges of six child sex offenses. The charges included conspiracy to engage in sexual activity with a one-year old girl, as well as possession of indecent images of children and extreme animal pornography.
The shocking arrest left both the fans and the band speechless, while the singer went on to deny all charges. The case has later been adjourned until May 2013, with the trial date set for July 15. Not many new details have surfaced recently, so there's definitely more to come on this one.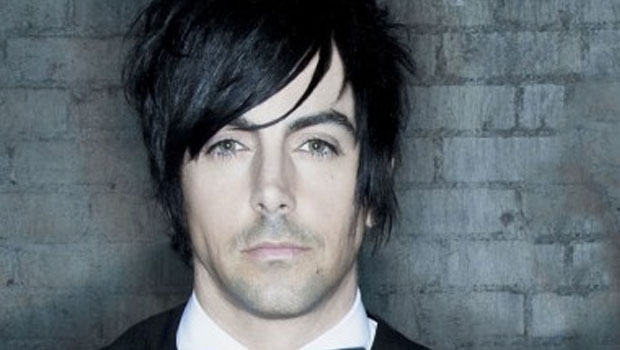 Randy Blythe's manslaughter trial
The story of Randy Blythe is likely the one you are most familiar with here. As one of the biggest stories of both the past and current year, the case of Lamb of God frontman started back in 2010 in Prague, Czech Republic when a 19-year-old fan named Daniel Nosek stormed the stage. Once the singer threw Nosek back into the crowd, the fan landed badly and sustained injuries which proved to be fatal.
Blythe was arrested on June 27, 2012 on manslaughter charges, while the trial began on February 4, 2013. The entire rock community gave a great deal of support throughout the case, demanding the singer's release. Blythe was ultimately found not guilty after the three judge panel has acquitted him of all charges on March 5, 2013.
The entire trial had a great impact on Blythe, who said that he is "in no way, shape or form a happy man." The verdict was expectedly met with immense relief, while Blythe earned a great deal of respect for the way he handled his case.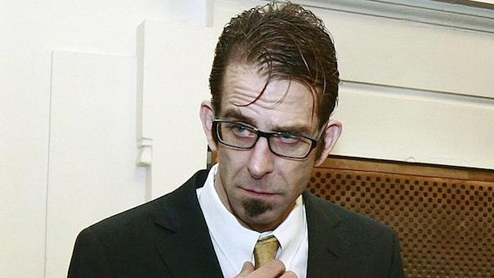 So as we said, these stories are bound to grab almost anoyone's attention and just make you wonder what exactly has been going on in their heads. There are probably a few more cases worth mentioning, so if you know any, feel free to share them in the comments.