The Simpsons Apologise for Calling Judas Priest 'Death Metal'
Bart Simpson responds to outrage by the metal community with style. Watch the full clip here.
UG Team
Ultimate Guitar

UG Team
UG editorial team. A group of people who are passionate about guitar and music in general.
Posted Jan 14, 2014 03:28 PM
The Simpsons have responded in record time to complaints that they mistakenly referred to Judas Priest as "death metal" on a recent episode - by having Bart write an apology on the blackboard in the latest intro.
The first episode titled "Steal this Episode" was aired on January 5, with Homer landing on the wrong side of the law when he gets involved in illegal downloads. He ends up in a Swedish government building, and the FBI bring out Judas Priest with Rob Halford singing a twist on one of their classics "Breaking the Law." You can see the segment featuring Priest in the player below.
The moment of controversy to some metal fans, as evidenced in the YouTube comments to the video below, comes when a Swede says this (admittedly brilliant) joke:
"Swedes love death metal. It reminds us of death!"
The metal community was quick to point out the error, with some highlighting the time South Park referred to Slayer as death metal. It seems the Simpsons creators had their ear to the ground, because Bart's infamous blackboard intro corrected the error with "Judas Priest is not death metal" this week.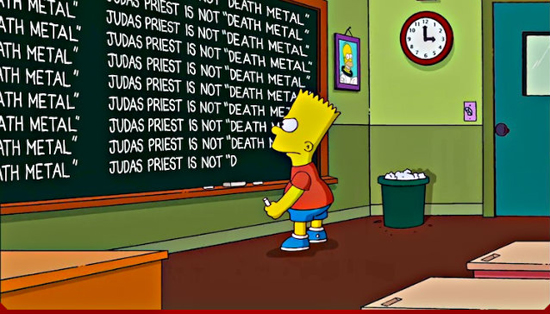 Props to the Simpsons team for responding to metal fans in such quick time!
Watch Judas Priest appear on the Simpsons here: