Top 7 Ridiculously Long Band Names
The longer, the better (no).
Maria_Pro
Ultimate Guitar
Posted Oct 23, 2017 03:52 PM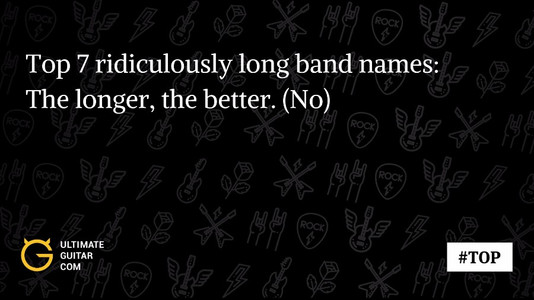 Paracoccidioidomicosisproctitissarcomucosis
1 word, 43 letters
These Mexican gore-grinders managed to put the entire medical dictionary into one word.
All of their songs are dedicated to different diseases: paracoccidioidomycosis, proctitis, inflammation of the mucous membrane of the rectum, sarcoma, malignant tumor, etc.
Vaginal Penetration of an Amelus with a Musty Carrot
9 words, 44 letters
This is an Austrian goregrind/slamdeath band, which is known for their groovy, dance-along tunes, duck-squealing vocals and (duh!) a ridiculous name. The members' aliases (Wolfgang Ott, Werner Kniesek, Franz Stockreiter, Max Gufler) are not their real names but those of infamous Austrian murderers/serial killers.
Dicephalustetrapusdibrachius Anthropohagolagnia
2 words, 46 letters
It seems like this goregrind band from the United States used all its creative forces to come up with this long weird-ass name. Well, we guess they win, because here we are mentioning them on one of the biggest music-related media platforms.
The Silver Mt. Zion Memorial Orchestra & Tra-La-La Band
8 words, 47 letters
This Canadian post-rock band belongs to the members of the Godspeed You! Black Emperor band. Since their inception in 1999, the group has undergone almost yearly personnel changes. Silver Mt. Zion's music has been described as "post-rock," though the band members are hesitant to use the term.
The World Is A Beautiful Place & I Am No Longer Afraid To Die
14 words, 48 letters
TWIABP is an American indie rock/emo band formed in Willimantic, Connecticut in 2009. According to their Facebook page, their 'lineup is constantly expanding and contracting. Recording and live performance lineups vary.'

Eximperituserqethhzebibšiptugakkathšulweliarzaxułum
1 word, 51 letters
This band from Minsk, Belarus claims that its name, when divided into fragments, creates the magic spell of the formless Lords of the prior Darkness.
One of the members explained the meaning of the name:
'An author's individual agglutinative neologism. In its creation, there were used some Latin, Ancient Egyptian, Akkadian and Sumerian terms of the Chaosatanic tradition. It entirely reveals the unutterable name of the anti-universe. When divided into fragments, it creates the magic spell of the formless Lords of the prior Darkness.'
The band sounds exactly like you'd expect it to sound.
xAxVxLxExGxBxMxAxOxFxFxFxAxSxSxSxSxIxTxIxMxIxWxOxAxMxNxDxUxTxRxOxAxBxCxWxAxPxWxAxExIxIxPxPxOxHxFxFxFx
101 letters


The title of this South African brutal death metal band stands for:
'Acidic Vaginal Liquid Explosion Generated By Mass Amounts Of Filthy Fecal Fisting And Sadistic Septic Syphilic Sodomy Inside The Infected Maggot Infested Womb Of A Molested Nun Dying Under The Roof Of A Burning Church While A Priest Watches And Ejaculates In Immense Perverse Pleasure Over His First Fresh Fetus.' Well, this says it all.
What bands with ridiculously long names do you know? Are they worth checking out? We want to know them all!