Ease of Use:

9

Sound:

10

Reliability & Durability:

9

Overall Impression:

10

Reviewer's score:

9.5

Superb

Users' score:

9

(

3 votes

)
Price paid: € 699
Purchased from: BAX shop
Ease of Use — 9
This amp came with a good and clear owners manual, but if you know just a tiny little bit about amps you don't need it to operate this beautiful device... except for the biasing procedure, read that bit attentively for best results. With good cables connected to a decent (bass)cab and a quality (bass)guitar it will prove to be impossible to get a bad sound out of the Ampeg PF-20T. My amp came stock with two RUBY 12ax7wbc balanced pre-amp tubes and two JJ 6V6S matched powertubes. Played that set-up for a few weeks and, as I'm not a fan of re-labled tubes decided to change the pre-amp tubes for two JJ ECC803 S (12ax7) balanced long plate/high gain pre-amp tubes and set the bias a little hotter. Man... I love the sound of the JJ long plates in conjunction with the JJ 6V6 S tubes.

NOTE: This amplifier needs a properly grounded outlet, if the grounding is poor or nonexistent it will humm and buzz like a badly tuned AM-radio... however, if your grounding is adequate this lovely amp will sound like heaven.

See a picture of the Ampeg Portaflex PF-20T without the protective grille below: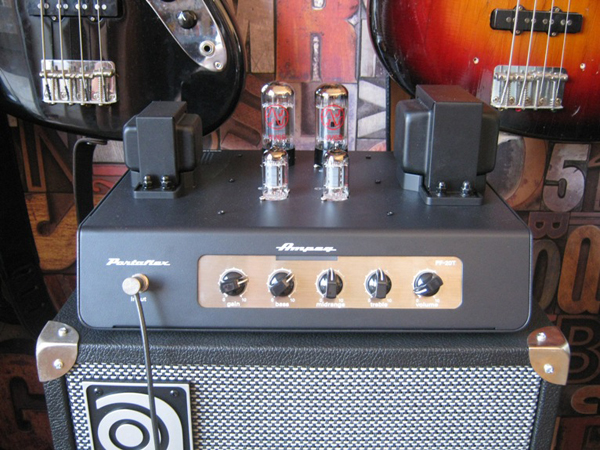 Sound — 10
For a while now I use small amps (like the HoTone Thunderbass and the Vox Lil' Night Train) for bass practice at home. But as we all know you need some serious output power for proper bass reproduction, so the Gear Acquisition Syndrome (GAS) struck again... As I'm a fan of the Ampeg bass sound it's no surprise that I bought myself an Ampeg amplifier... the Portaflex PF-20T, 20 watts all tube head. A no nonsense high quality amp with only the bare necessities on board, all you need for practice and high quality studio standard recording. And the sound... connected to my Ampeg SVT-210AV cab (or my DIY 212 Ampeg clone cab) and fed with my classic '60s RI Jazz Bass it gives gorgeous warm and deep bass, superb lower and higher mids, magnificent highs. The harmonics and response... earcandy! Connected to a passive bass guitar your sound will stay clean till about 3 o'clock on the gain control, after that the signature Ampeg growl kicks in. With an active bass you've to dime the gain down a bit for clean tones.
Reliability & Durability — 9
Here are the specs:

RMS power output: 20W @ 4 or 8 ohms (selectable)
Preamp: All-tube [2] x 12AX7
Power amp: All-tube [2] x 6V6
Controls: Gain, Bass, Mid, Treble, Volume
Preamp balanced line out / ◦Pre/Post EQ / ◦Ground lift
Transformer balanced line out / ◦Ground lift
User adjustable bias control (!!)
Dimensions (HxWxD): ◦7.3 x 13.0 x 10.4 in / ◦185 x 330 x 264 mm
Weight: 15.2 lb / 6.9 kg
This Portaflex amp is, as noted previously, usable for practice, HQ studio recording and small band rehearsal or small live settings. It it lacks the power for medium or bigger stages. I've got it for a few months now and it works like you expect it will do, no problems so far. The finish is exquisite and looks very nice, although this is not an amp for the road. If you plan to travel with this baby you should get a custom flightcase for it or stow it in the Portaflex PF-112HLF cabinet. (or one of the other Portaflex cabinets :-)

Overall Impression — 10
I play some pop but mostly older rock stuff and all kinds of blues and reggae so the Ampeg sound in combination with a decent bass cab and a good jazz bass fits me like a glove. I own a few classic Fender bass guitars and build one or two myself and they all sound incredible through this amp, in fact they all never sounded better! (but that's subjective of course). I love the design and the plain and simple control set-up, the pre-amp - and transformer line outs and the fact that it has an user adjustable bias... not to forget the glorious sound ;-) If it was stolen... I'll hunt you down and kill you and your kin. If it was lost... who am I kidding, if you lose this amp you're not worth living.