Unossofrus
Still campaigning for equal rights for Ukuleleists
Features:

10

Sound:

9

Action, Fit & Finish:

8

Reliability & Durability:

8

Overall Impression:

10

Reviewer's score:

9

Superb

Users' score:

8.7

(

7 votes

)
Price paid: £ 248
Purchased from: www.gak.co.uk
Features — 10
My new bass is a fresh-from-the-factory late 2015 model of the SR305 5-string bass built in Indonesia. It has 24 frets to cover 3 octaves on the 34 inch scale. The bolt-on neck is a 5 piece maple with a rosewood fingerboard. The body is apparently agathis but the Ibanez website says it is mahogany. I purchased the Iron Pewter finish which is like a dark grey metallic with a clear gloss finish over the top. The body is also available in "Root Beer Metallic."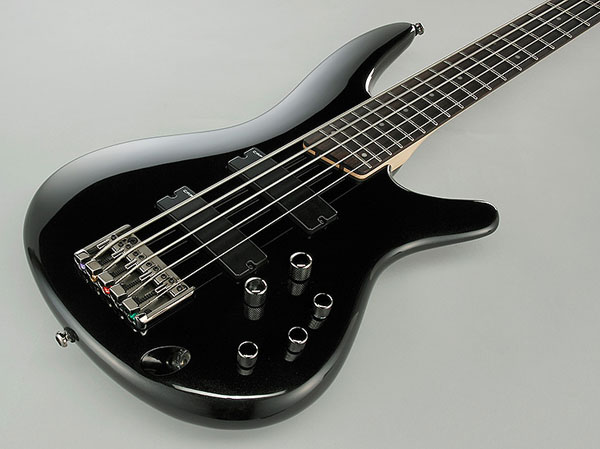 It is fitted with CAP EXF-N2 passive neck and bridge pickups (these are humbuckers) which are curved to match the fretboard radius so that all 5 strings are volume balanced. The bridge is an Accu-cast B125 with extra-wide string slots to accommodate the heavy gauge B string. The bridge plate has channels engraved in it to keep the saddles straight. It has a built in 3-band EQ, master volume and pickup balance controls. Each control has a click at the halfway point which is useful on the EQ and the balance. All the metal hardware on the bass is "Cosmo Black" which is a very dark chrome effect and looks really cool. The bass did not come with any other accessories or a gig bag but at this price, I cant argue. (this bass requires a 9V battery).

Sound — 9
I chose a 5-string just because I wanted to try out the sub-E-String range of frequencies in my own music. I play nearly every style of music on bass so I needed something with a very wide tonal range at a low cost. This fit the description quite nicely. The humbuckers do a very good job of removing unwanted noise at the guitar end but there is still a faint bit of fuzz from my old amp (getting a new bass amp soon). The overall sound when everything is set to zero boost and both pickups is a punchy but not too loud tone. Turn up the bass boost, and things get wild. I can make the house shake with just 25W output from the amp (impressive). Turn up the boost for the bass and the treble and you get a very good slap tone (my personal preference for slap is +10 bass, +0 mid, +7ish treble). If you cut the treble and boost the bass and mid then you can get a very smooth tone which is what i tend to use for most flowing bass-lines in my own music. With an acoustic simulator pedal and a compressor, you could probably make it sound like an upright bass. Overall, best value for money based on sound variety. It's a shame there is no tone control like on my old bass (Rocktile Fatboy II), that would complete this instrument.

Action, Fit & Finish — 8
Guitar arrived at my door fully set up with low action, virtually zero fret buzz (once I got used to the heavy B string), and perfect intonation. The body finish is very smooth with no ripples from the wood beneath the paint. The body is small and slim with nice body matching contours making it very comfortable to play. It's heavy for its size but still a sensible weight so you wont get back pain when using a strap. The neck is perfectly straight thanks to the 5 laminated maple strips. There are no large gaps where the pickups and the bridge rest so it looks well made and measured. The only flaw in the finish is the gap in which the input goes, it has not been sanded smooth and is rough to the touch. Not a major problem, just slightly annoying.

Reliability & Durability — 8
This guitar is perfect for both live and studio playing due to the sound quality. The bridge is cast very thick and is unlikely to suffer major damage. The strap buttons are very small compared to my other instruments so I suggest a new strap if you buy this. Older straps will have worn larger holes and may slip off too easily. I would happily use this at a gig with no backup but only if I transport it in a hard case to prevent damage to the beautiful bodywork (Ibanez recommend the W100SR hard case). That said, the gloss on the body is rather thick so there is little chance of the finish wearing off, which is probably a good thing as this bass has no scratchplate.

Overall Impression — 10
This bass is a good match for my varied styles of playing. Tone control would be nice but that effect can be added with a pedal. This is my third bass in my 4 years of playing (others are Fortissimo AB-01 and Rocktile Fatboy II) and it cost me more than both old basses put together. In fact it is probably the most money I've ever spent on a single instrument. It's totally worth a weeks wages and I would buy it again if I need to. With 24 frets I have 120 different finger positions and the same notes will produce different tones depending on the string gauge they are played on. I was originally going to buy an Ibanez GSR205 for £20 less but that instrument was not in stock until June (4 months away) so I had to spend a little extra as I don't think I could live without a bass for 4 months!