Features:

8

Sound:

7

Action, Fit & Finish:

9

Reliability & Durability:

7

Overall Impression:

8

Reviewer's score:

7.8

Good

Users' score:

8.5

(

2 votes

)
Price paid: C$ 799
Purchased from: Used
Features — 8
Warwick RockBass is their entry level basses, most of which are made in Korea. This bass is a 6 string with 24 "frets" with a natural finish. It has a tigerstrype ebony fingerboard, maple neck, and alder body. This bass has active MEC soapbar pickups and has volume, pickup, treble and bass knobs. All the hardware is Warwick signature hardware. It doesn't have all the features of high end Warwicks such as active/passive switch, and high end tone-woods however it still does fine in this category. It still has a lot of Warwick standard features like being able to adjust the nut, and the angled ergonomic tuners. My favourite features is that the electronics covers snap on and off without screws, making easy access for when you have to change batteries or check electronics.
Sound — 7
This is a very versatile instrument, I have used it in a lot of death metal and melodic metal. I also use it for jazz and pop music. The bass has a characteristic fretless growl to it especially on the neck pickup, and a more upright sound on the bridge pickup. I usually run it through a Hartke or Warwick amp. The only issue I have is that it can sound a little thin at times, compared to other basses like a P-bass or other higher end Warwicks. I have fretted 5-string Bubinga standard Warwick which I often choose over this one due to it having a richer, warmer sound.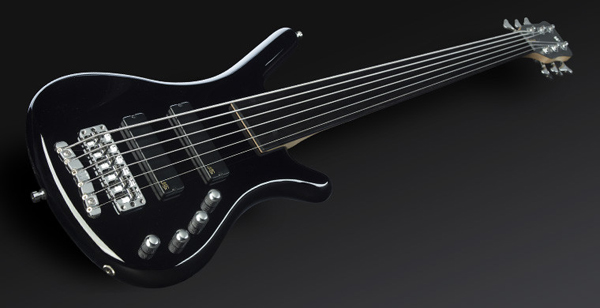 Action, Fit & Finish — 9
I got this bass used but it still had excellent set up and I've never really had to to adjust it very much. A lot of detail was put into this instrument and everything even the insides seemed very well done. Overall this bass is very easy to play and was set up very well. It has good action that you can set pretty low without fret buzz (or "wood buzz" since it's fretless). As I've said it's held its setup over time, even tuning is very reliable from day to day. This is a really solid bass that has great playability.
Reliability & Durability — 7
This bass has given me some trouble in live playing, particularly punk music. When I slapped the strings too hard the pickup popped out. After this the screw inside was stripped and I couldn't screw it back in. Other than that the hardware is solid, and the body and construction is especially solid, I'm not worried about snapping it. Also the natural finish makes it resistant to scratches and scuffs. That being said most of what I do with this bass these days is either studio work or less aggressive gigs such as jazz quartets or R&B music.
Overall Impression — 8
Before buying this bass I would have liked to try it out more on my own amp (I tried it on a small practice amp) to see what kind of sound I would get, as I mentioned its not quite as powerful as I would have liked. As a professional session player, I have very high standards for my instruments. That being said this has been a reliable instrument that has gotten me through gigs of many radically different styles. I love how easy it plays, and that characteristic growl it gets. It is a lot better than my last fretless (a Yamaha) and it plays and sounds similar to other fretlesses on the market (ESP for example). If I had a chance to get this bass or another I would probably go for either a higher end Warwick with better woods or look at other high end fretless basses. For such a quality instrument I wish they had of built it with better materials rather than the Alder body.