Features:

10

Sound:

10

Action, Fit & Finish:

10

Reliability & Durability:

10

Overall Impression:

10

Reviewer's score:

10

Gem

Users' score:

5.5

(

4 votes

)
Price paid: € 430
Purchased from: MitrosMusic
Features — 10
It was made in 2011 in Indonesia. It has Alder body, Bolt-on maple/nato neck (clear satin finish, very smooth and easy to play) and rosewood fingerboard. It is 34" scale with 21 frets. It is 4 string version. The electornics are passive and contain a bar single bridge pickup and a split single neck pickup. The controls are volume knob, tone knob and 3-way toggle switch. I really like this switch because I can change sounds easily during playing. Bridge is standard and stringing can be 45 degree string-thru body and standard through bride. It weighs 4.4 kg.
Sound — 10
I play rock, punk, pop rock and I play loud and heavy. Used it with Crate 15w, Vox 60w, Marshall box and head (don't remember which one), Hartke 4x10+1x15 with Hartke head, Mark Bass 2x10+1x15 with Mark Bass head and it sounded better and better as amp progression goes. If the amp is stronger, the bass sounds better.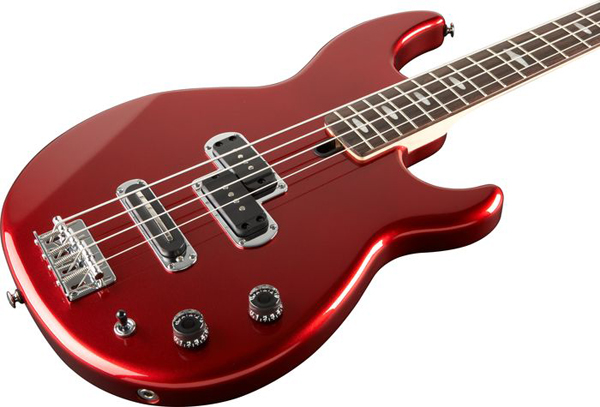 I compare this bass with Yamaha BB300, Yamaha BB414, Squier Jazz Bass Standard, Squier Prec Affinity, Aria IGB-30 and it is blowing away every one of them. BB414 has similar pickup configuration but the sound of BB424 is clearer and more powerful. Older BB have more muddy sound. Split P pickup is prec sound, but with piano dynamics. It is not like Fender's woody sound. It is very strong and powerful (I'll be using these adjectives many time) There are a lot of sound samples on YouTube and those that are HQ are very much correct. They can help you figure out the sound pretty good, but when you plug the bass into an amp and start playing with a band... I was extremely surprised how much power does this bass have and by power I do not think of decibels but of presence in the band. You are there and heard. Bridge pickup is strong and useable. It has more definition and low end than Squier Jazz which sounds weak and transparent even with the both PU full on and can not cut through mix (I really did not enjoyed this bass, not a second of my time with it). This trait of character of BB424 to sound like a piano is completely different than anything I have heard so far.

BB424 can be used for playing pretty much anything. Play with a pick the sound is sharp and has a great attack, with fingers is rich and full, and if you want to slap, with half wound or flat wound strings, you get completely new sounding instrument but a little brighter than standard dull flat sound. Also, this very much depends on the type of strings you are using. Either way it is suitable instrument for funk also.

Action, Fit & Finish — 10
Set up from the factory is not something I look at because I always change everything to better adress my type of playing. I had to rise the action and lower the pickups because I dig really hard, and people I know always lower the action, for example. It is a matter of personal technique and taste and I strongly recommend everybody to learn to adjust the instrument they are playing because it will connect you deeper with it. But everything was on it's place and ready for standard player. I would give it 9 because the truss rod was lose but it was not a problem at all, so it is 10 :)

Reliability & Durability — 10
This instrument s rock solid and I think it will last for years to come. It can withstand live playing, hardware is very nice, finish is good… No problem with it so far. My friend has BB300 for 20 years and it is still in fantastic shape. I hope to witness that with my shotgun BB also. This is the type of bass that I personally would like to use for the rest of my life. It is not expensive so one would not be in constant fear when gigging with it but it has GREAT sound and killer looks. Mine is X version with pickguard.

Overall Impression — 10
It is not possible to simplify the amount of excitement I have toward this instrument. It has the low end I love, the sharp tone, killer looks, it is easy to play and I would not change anything on it. If I have had more money I would have for sure bought 1024 version, because it is more sophisticated regarding finish job and sound. I have tried a remarkable amount of basses in different shops and this Yamaha left me with strongest impression. When searching, I stumbled across a lot of good comments and reviews for Squier basses, but they didn't made a good impression on me. Yamaha is by far a better instrument.