UG Team
UG editorial team. A group of people who are passionate about guitar and music in general.
Released: Oct 28, 2016
Sound:

9

Lyrics:

8

Overall Impression:

9

Reviewer's score:

8.7

Superb

Users' score:

8.4

(

7 votes

)
Sound — 9
The promo picture says it all. Four guys standing stoically with some white light shining on their faces, as if they were holding flashlights to themselves at a campfire. The men have beards, some graying. One ­has a mustache that makes him look like a character in "Pirates of the Caribbean." These guys look imposing and scary, like they could just come out and roar at you without notice. That's the vibe that this almost thirty-year-old thrash metal band wants to exude.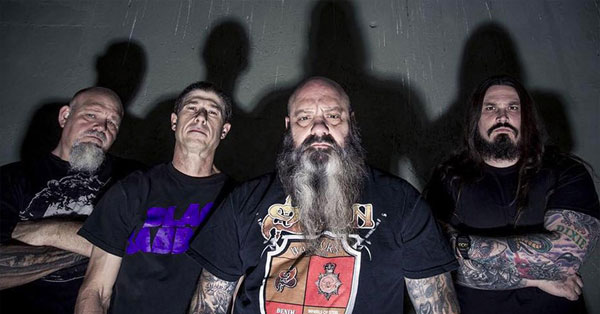 Crowbar's primary songwriter, Kirk Windstein, describes this album as a journey back to the band's origins. For inspiration, he claims to have listened back to the band's early catalog, including their gold-selling self-titled album. To get his mind as close as possible to what it was thirty years ago, Windstein even went back and analyzed the band's primary influences, listening to those bands' best albums as well.

What are the fruits of his effort?

A kickass album, an absolutely kickass album. For thrash (notice I didn't say sludge) metal, this could be one of the albums of the year, Metallica's new album included.

First, the guitar tone. Clear as day. For metal guitar work, this is a real accomplishment. Too often these types of bands sound like they recorded themselves in a trash bin or got their guitar tone by turning their Metal Zone pedals on maximum distortion. Windstein and lead guitarist Matt Brunson have a Marshall crunch tone that would not sound out of place on a hard rock album and it is awesome.

Another exciting aspect of the clear guitar tone is its percussive sound. You can hear every time the guitarists move their fingers on the fretboard. Every big E string thump feels like a deep punch to the stomach. This percussive sound also adds to the rhythm of the album, which makes headbanging easier and more fun.



The bass plays a different, but just as important role in creating the guitar tone. Namely, you can't hear it. That doesn't mean that it is too thin. No, it really means that the bass is backing up the low end of the guitars and doing such a good job that you can't separate them.

A little trade off with this type of strategy is that the bass lines don't exactly sound like something Geddy Lee would write. Bassists who serve to thicken the guitar tone usually don't play interesting parts. On the other hand, the guitars sound that much better so it's a fair choice: good guitar tone and good bass chops or great guitar tone and nothing else.

Next, the songwriting. It's nice to see that Crowbar try to vary their songs into fast headbangers, epic long headbangers, ballad-ish headbangers, and super riff headbangers. Basically, at a Crowbar show you're gonna do a lot of headbanging. Yes, headbanging is more or less just the same motion repeated over and over. But being able to headbang to different types of songs is so much more fun.

But wait, there's more. Not only are there different types of headbangable songs, they're actually all good. The guitar riffs AND the vocals are catchy. Not only does this make the album more fun, but it also adds replay value because the songs sound better the more you memorize them.
Lyrics — 8
Lead singer Kirk Windstein's voice is standard for the thrash/sludge genre. It's deep yet scratchy. When he sings, his voice sounds more like a screech than a growl. Nothing too impressive but it fits the album well.

Somewhat of a surprise, the melodies are catchy. Instead of just sitting there to take up space, the melodies mesh with the guitars to make something that neither of them could completely do alone. Again, that type of interaction is not a given, especially in thrash or sludge metal.

The lyrics are decent. They cover a wide range of issues but aren't anything out of the ordinary. Most important of all, Windstein's voice is clear enough that you can understand the words (well, most of the time).
Overall Impression — 9
If an album has great songwriting, that's usually more than enough in my book. But if it has, in addition, good vocals/drums and some epic guitar tones/riffs, well then the album becomes something really worth checking out.

To pin Crowbar as a sludge metal band does not do them justice if this album is any indication. For example, the album's opening song might start off with some slow sludge. But it sure gets fast and furious in a hurry. Crowbar mix the two together well throughout the album.

The slow parts are so good that they don't feel like "sludge" but rather "heavy headbanging awesomeness." The fast parts are so good that not only can you mosh to them, but you can also jump to them too.

In conclusion, Crowbar are back (by the way, so is original bassist Todd Strange) and they're better than ever.