Parker_Abt
I write reviews for UG. I joined the team in 2012. Best team in the world! As we say here, play it fucking loud!
Released: Jan 1, 2009
Sound:

6

Lyrics:

3

Overall Impression:

10

Reviewer's score:

6.3

Neat

Users' score:

10

(

9 votes

)
Sound — 6
Dear diary,

Life moves on as normal. Of course, the arrival of the dinosaur aliens (or maybe they're alien dinosaurs?) has maybe changed things a little bit. But after some time, I've learned to adapt. What choice is there? Aside from conquering the world, the aliens have left day-to-day life mostly untouched. Maybe a few things missing here or there, but no big deal. The aliens say they're here "to serve man." I'm a little skeptical, but things have been going well so far.

The aliens have been trying to make us listen to their music for the longest time. They wanted us to hear the music from their homegrown instruments, but they emitted frequencies too high for humans to comprehend.

Eventually they gave up and decided to change their music to fit human instruments. Much to my delight, they decided to use drums and electric guitars, kind of like the metal bands from before. They actually sound like a metal band too! I've heard a couple of their songs. Nothing incredible. But good on them for trying to bring back metal music.



///

Dear diary,

I checked out one of the aliens' concerts to see how they do it. They're not just trying to bring back metal music. They're trying to bring back concerts as well. They drag their big alien bodies up on a stage, attach human hands to the end of their alien arms, and then play some human-sized guitars just like a normal band would.

They do more than that to seem like a real band. They have a band name: Hevisaurus. They even have an official fan club. All the members seem to be little kids... a little creepy but I don't see what's so bad about it. The kids all get to dance near the front of the stage. They seem to be having a good time. I don't see why I shouldn't as well.

Maybe the kids like the band's stage presence. Because their bodies are so uncoordinated, all they can do is hop around the stage. It would be funny except their humongous jaws still scare the hell out of me; I'm not partying with this band anytime soon.

///
Lyrics — 3
Dear diary,

Oh my god, they've come for the children! This morning, everyone woke up and all the little kids were missing. We don't know what happened; no one in town saw anything. The aliens are no help. We can't prove that they still the children but we have begged them to help us find the children and they pretend like nothing is wrong.

I'm also thinking... yes! The children who are gone, they all joined the Hevisaurus fan club! I knew there was something weird going on with those little kids, practically toddlers, all dancing around to metal music. They must have liked the music so much they got hypnotized or something.

Oh well, I suppose there's nothing to be done. It's not like we humans can fight the aliens for our children back. We tried fighting when they came the first time and they turned Finland into Finishedland... no one's gonna try that again.

Besides, the aliens haven't done much to the rest of us. All we have to do is not get hypnotized by their music. And how hard than that be? I mean, kids are easy. But me, how can I get hypnotized when I can't even tell what they're lyrics are saying? Seriously, they're speaking some language I've never heard and no one else in the world seems to be able to translate it either.

Still, the music is pretty good. I've been listening to it more in recent days. Its catchiness is infectious, like how one of those pop songs sounded from the time before the aliens.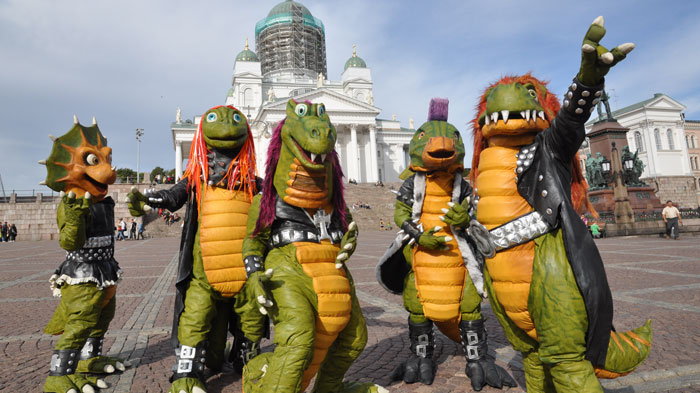 ///

Dear diary,

Wow, it's amazing how much Hevisaurus has grown on me. They keep putting new songs on YouTube and they're all great. I would have never guessed that dinosaur aliens playing music for humans would ever work. It just keeps getting better and better. The band is playing another concert in town next week. It should be a fun time. And I'm not a little kid.

///
Overall Impression — 10
Dear diary,

OMG! The show is in three hours and I can't wait! I've been jamming on their songs all week. It's, like, the only thing I've been thinking about. It's great that for a few hours I can just stop worrying about all this stuff with humans and the dinosaur aliens and the children. I can let the rest of the world fall away and just be myself. I can only imagine what I'll be feeling later. But that's what you're here for, diary!

///

[end of diary]

Note: Hevisaurus is not a bunch of men in dinosaur outfits playing baby metal. Even Babymetal can't play metal that babies like. It's a trap. First they come for the children... and then they come for you. You have been warned.