UG Team
UG editorial team. A group of people who are passionate about guitar and music in general.
Features:

8

Sound:

7

Action, Fit & Finish:

7

Reliability & Durability:

8

Overall Impression:

8

Reviewer's score:

7.6

Good

Users' score:

8

(

3 votes

)
Price paid: $ 299
Purchased from: www.rondomusic.com
Features — 8
This is a 12-string Les Paul copy made in South Korea. The body is solid mahogany, with a set maple neck and rosewood fretboard featuring trapezoid inlays. The tone controls and hardware are the same as you would find on a Gibson Les Paul. It comes stock with Grover tuners. It comes stock with some very nice humbuckers that create a nice tonal range for the guitar.
Sound — 7
This guitar sounds really good for the price I bought it for. Does it sound as good as a Gibson Traditional Les Paul 12-String? No. But it's not far off. My original plan for this guitar was to buy a cheap guitar and slap some nice Gibson Classic 57 pickups in there (the same ones used in the Gibson 12-strings). But I was happy enough with the sound of the stock pickups to just leave it alone. From low tones to high tones, they ring out clearly and with great resonance. The tone is bright but without robbing the bottom end. Even without pedals, it creates a lush wall of sound yet at the same time, sounds great when picking out leads. I've played it through solid state (Marshall MG 100HDFX) and tube amps (Vox AC30) and it sounds good through both. If it's the acoustic 12-string sound you're going for, it does sound very good through an acoustic simulator pedal like the Boss AC-2 or AC-3. I have an old Epiphone acoustic 12-string and this Agile through a simulator can be dialed in pretty close to that. I may be a bit picky about my tone so I wouldn't consider this a professional quality sound but it is very fun to play.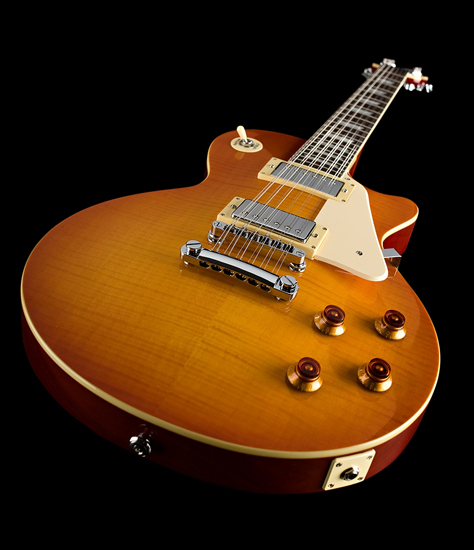 Action, Fit & Finish — 7
This guitar is heavy but pretty well balanced - I think the Grover tuners add some heft to the headstock. Still though, it's pretty uncomfortable if you want to play for a while - you may want to get a padded guitar strap if you're going to play it for a long time. The neck is fairly thin and wide and very comfortable to play chords, even if you have smaller hands. The string spacing is pretty tight but manageable to pick out individual notes. It is one of the most comfortable 12-strings I've ever played. I did have to adjust the intonation a little bit when I first got it so I wouldn't say it was "stage ready" when it arrived.
Reliability & Durability — 8
The big worry with 12-string guitars is always the string tension warping the neck. This guitar does have a truss rod for minor tweaks if needed but I've had mine strung to standard tuning (a lot of people will tune them down to save the neck - I don't) for six years and the neck has held up very well to the drastic climate shifts we experience every year in Northern Minnesota. Humidity and temperature reach extremes and I have not had to adjust anything yet. The intonation is always spot on.
Overall Impression — 8
Compared to the Gibsons, this guitar measures up better than any other 12-string I've ever played and considering the price, you can't go wrong. The best application for this guitar would be for someone who is looking for a cheaper 12-string to experiment with to see if you like it. Its super fun and comfortable to play. If you're playing Led Zeppelin or Eagles covers in bars, I like the durability of this guitar and chances are, no one is going to be able to tell the difference between the Agile and the Gibson. Keep in mind that although the Gibson's are nice, a Gibson 12-string will cost you about $1400. Epiphone makes a 12-string model too, and they are comparable in price (around $400 depending on where you look) but come with cheap plastic tuning knobs and probably the same pots and selector switch the Agile comes with. The Agile may not be the holy grail of tone, but at the end of the day, this guitar is solid, reliable, and totally worth the money.