Features:

9

Sound:

10

Action, Fit & Finish:

8

Reliability & Durability:

9

Overall Impression:

10

Reviewer's score:

9.2

Superb

Users' score:

8.6

(

9 votes

)
Price paid: € 700
Purchased from: Thomann
Features — 9
Great gear. Great mics.

Construction: Neck-through
Material: Mahogany
Neck
Material: Mahogany
Finish: Painted
Binding: Single-Ply White
Fretboard: Ebony
Fretboard: Radius 12"
Fret Size: Jumbo
Inlays: Pearl Clouds
Headstock: Traditional
Nut Type: Standard
Nut Material: Synthetic Graphite
Nut Width: 1-11/16"
Tuning Keys: B.C. Rich Diecast
Bridge Type: Quadramatic
Hardware Color: Chrome
Control Knobs: Dome Knobs
Electronics: 2 Volume, Master Tone, 3-way Toggle, Phase, Coil Taps, Varitone
Neck Pickup: Duncan Designed HB-102
Bridge Pickup: Duncan Designed HB-10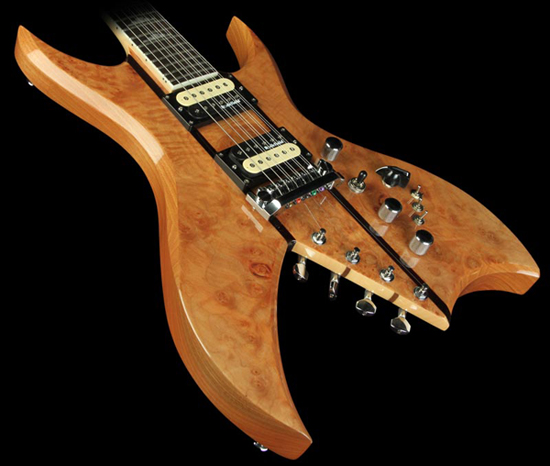 Sound — 10
Great sound. Yo can make powerful powerchord with the 2 low strings. The high strings have a shiny sound, like a 12 strings of course. Very Inspiring guitar. Lots lots lots of button. I guess there's mic selection, phase/dephase and all kind of stuff. You can surely have the sound you want. I just love it!
Action, Fit & Finish — 8
The head is too big, the guitar lean. You have to purchase a new nut, either-wise you have a "8-string packet." Neal Moser guitar got some. Bought mine for 50$ + shipping. Expensive but compulsory. Maybe too much buttons. The red colour is perfect. Of course, it is a PERFECT Bich!
Reliability & Durability — 9
B.C. Rich is proud to introduce a handcrafted inspired imported version of the 10-string - the Perfect 10 Bich 10-string guitar. These guitars feature B.C. Rich's neck-through design, and a solid mahogany body and contrasting wood stringers. In addition to their eye-catching appeal, these instruments are designed for function.

The Perfect Bich 10-string guitars have a comfortable 24-5/8" scale on the 24 jumbo fret ebony fingerboard, headstock and neck binding, string-through-body design, Tune-o-matic-style bridge and two Duncan-Designed HB-102 pickups. The Perfect 10 is the model most faithful to the classic Bich 10-strings players remember. Its controls include 2 volume knobs, a tone knob, a 3-way toggle, 5-way chickenhead tone filter, two coil-tap switches, and one reverse-phase mini-switch.

Years ago B.C. Rich introduced the 10-string guitar to the world. Revolutionary in that it had the typical 6-string headstock, but it had an additional four strings that terminated in reverse at the headstock and went to tuners on the end of the body. Due to its totally huge sound and construction, the B.C. Rich 10-string has been seen on rock stages adorning pros such as Slash and Joe Perry. However until now, these 10-string instruments were only offered as handcrafted B.C. Rich instruments.
Overall Impression — 10
I would not recommend this gear as it is fucking awesome and wan't to be the only musician to got one! Got it since 3 years, played in big venue with it, everyone loved it!