Features:

9

Sound:

10

Action, Fit & Finish:

9

Reliability & Durability:

9

Overall Impression:

9

Reviewer's score:

9.2

Superb

Users' score:

7.6

(

24 votes

)
Price paid: £ 699
Purchased from: Andertons.co.uk
Features — 9
- Korean made in 2016.

- 22 "extra jumbo" frets, 24.75" scale, ebony fretboard with glow in the dark dots along the side (very useful!)

- Neck through with a thin C-neck contour maple neck and mahogany wings, very pretty from the back and a very smooth neck (no gloss) to aid faster playing.

- The body style is an explorer, takes a bit of getting used to if you're like me and used to playing telecasters and Les Pauls seeing as there's no body above the pickups to rest your hands on and a huge wing under your armpit. That being said, it really isn't an issue once you're used to it, couple of hours of playing and it feels natural. The guitar is well balanced in terms of weight, but again this wasn't something I was used to and every time I let go of the guitar stood up, it would slide so that the headstock was pointing (almost vertically) towards the floor, whereas I'm used to a Les Paul whereby the weight of the body keeps it at least horizontal. Not really an issue - just something to get used to.

- Pickup jack is angled upwards so a straight jack lead can be wrapped around the strap without stressing it at 90 degrees (I already use a 90 degree jack so this was a bit irrelevant for me but still works with it).

- Pickups themselves are Chapman Passive Aggressives (lots of ghost frets online are fitted with Seymour Duncans, this was only the first batch produced that had Duncans in - Chapman had them fitted in the first batch only, so you will most likely only buy new ones with Passive Aggressives in now) - twin humbuckers, with one volume knob and one tone knob with coil tap (very useful!). Standard three way pickup selector, sits nicely out of the way. I've read some people complaining about the volume knob being too close to the strings and catching it while playing, but I haven't done this once. Not a problem.

- Fixed Chapman bridge, I really hate floating bridges and since I don't use a trem this is perfect for me. No complaints at all.

- Tuners are hipshot locking tuners, very sturdy and useful. Pretty standard, good tuners.

- The guitar comes in a Chapman hard case. Very good/sturdy case. Again, I've read about some people complaining the case isn't protective enough, but it protects the guitar brilliantly, no problems from where I can see. I'd happily put the guitar in that case on a plane. The guitar also comes with strap locks, which are very sturdy although can be a bit fiddly. But a nice compliment to the guitar, courtesy of Chapman. Also comes with a big cleaning cloth - very handy! Although the guitar itself doesn't really seem to get fingerprints or dirt stuck to it easily, since it's a wood top and not a gloss finish.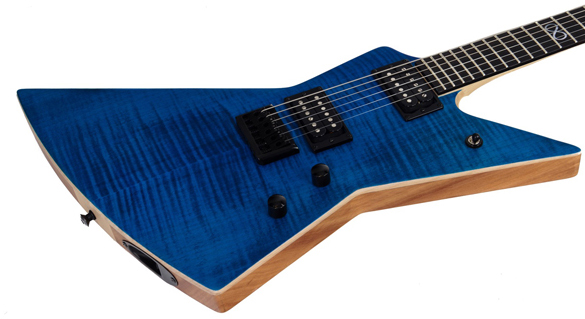 **Criticism of the case - it fits the guitar perfectly, but it doesn't fit the strap locks - so you have to take them off if you want the guitar to fit in the case. They're easy to take off but can be a bit fiddly to put back on, so that could get annoying (only reason this isn't a 10/10!).

Sound — 10
This guitar covers everything. With the coil tap you can go pretty much anywhere with it. The pickups are designed (I believe, from watching videos) to be able to go from very clean, bright tones to nasty snarling distortion - hence the name Passive Aggressive. They do that perfectly. The coil tap is brilliant in taming back the humbucker and brightening up the sound.

My style of music is everywhere from clean blues to heavy metal, and this guitar covers all of it - seriously. I've not had a better sounding guitar yet, and that includes Les Pauls and telecasters costing over £1000. I wouldn't go as far to say this covers distortion as much as active EMGs would, but you REALLY DON'T NEED TO PAY HUNDREDS TO UPGRADE THE PICKUPS! I REPEAT: I was close to paying £150 for the fitting of Seymour Duncans instead of the Chapman pickups, but I'm so glad I didn't. These pickups are much more versatile and just as mean as any other passive pickups in the market. I seriously love them.

Using this through an Orange Crush amp at first, with OCD and tube screamer pedals, amongst a variety of high quality effects pedals - it handles them all perfectly. The range of tones I can get out of the pickups is astounding and it suits every genre I play. I could literally sit for hours and still find new output from the guitar I hadn't got yet - definitely not a one trick pony.

Action, Fit & Finish — 9
The guitar was set up to D standard with 11-56 NYXL's by the technicians at Andertons and they did a fantastic job. Little bit of tuning out of the box on delivery and it was perfect to go. All Chapman guitars are shipped in standard with 10-42 NYXL's (at Chappers' request), and rightfully should be. The strings are the best I've played yet, much more resonant and clear than standard D'Addarios and as far as tests and reviews online have showed they're proven to "last" longer too. The strings complement the guitar perfectly and from now on I'll be using NYXL's on all my guitars. The intonation, action, pickup adjustment, bridge etc. were all perfect.

As for flaws on the guitar, it's finished almost to perfection too. There's slight gaps in the wood around the dot inlays down the side of the neck, but nothing huge or noticeable. Other than that, all wood joints, top, wing joints etc. are pristine and very well put together.

The switch for the pickup-selector was a tiny bit loose - but just a half turn screwing it back in solved that, nothing to worry about. The control knobs and tuning pegs are all perfect.

Reliability & Durability — 9
This guitar will definitely withstand live playing. Chapman himself used a Ghost Fret on his last tour and you can see why. It's just a strong, meaty, war machine. Very durable. You always need a backup, but I'd feel very comfortable with this guitar if I for some reason didn't have one.

The hardware seems like it will last, only time will tell. Although nothing feels loose or flimsy so I can only assume the guitar's solid. The finish seems durable too - really no complaints. Perhaps would chip easily, but as for fingermarks and such there's no signs of it getting grotty like a gloss finish would. Giving this a 9 for now, but if it's still around in a year or so's time I'll revisit for the 10.

Overall Impression — 9
For this guitar I'll play anything from melodic hardcore to full metal - the guitar works perfectly for that genre. It could cover a lot more, but it sits in that realm without fault. I've been playing for about 7 years now and I've got a Les Paul Black Beauty 3, '72 Custom Deluxe Tele and an ESP LTD MH-1001 and this sounds nothing like any of them and is by far the most versatile in terms of sound. There are a few idiosyncrasies with the guitar in terms of the strap locks not fitting in the case, defects on the neck and such, but overall these are very minor flaws in what's otherwise a phenomenal guitar. Takes a bit of getting used to the balanced weight and the body's shape, but it's more than worth it.

My favourite feature is the coil tap, something which is new to me, as it opens up a completely new guitar in terms of sound. I can't stress enough how good the Chapman pickups are. There's limited content online reviewing them, but they really are fantastic. The Seymour Duncans are nowhere near as versatile.

I really can't think of anything I wish this guitar had instead. Maybe a wider choice of colours? But as of now, this is my favourite guitar I own. I can do the most with this just say in front of my amp and jamming to myself and finding new sounds and tones.