Purchased from: Musician's Friend
Features: I got this as "Stupid Deal of the Day" a few years back, and the box had a date of manufacture stamped inside. In my stupidity I didn't write it down. But it was new old stock. Maybe a 2011, something like that. "Crafted in China."

Frets: 24 jumbo
Scale: 25.5"
I find the neck profile fairly comfortable, and I've played Ibanez' since day 1. Maybe comparable to the Wizard-II.
Neck wood: 3 piece Maple
Construction: Neck-thru
Body wood: Mahogany
Finish: Gloss Black
Body-Style: Star
Bridge: Tune-O-Matic and stopbar
Active Electronics
1 Volume
No Tone
3-way toggle (N, N+B, B)
HH configuration
Neck: EMG 85
Bridge: EMG 81
Tuners: Locking (no brand stamped)
Included accessories: The typical 6' straight-to-right-angle cable, and Allen key for the truss rod
Mother of pearl-like synthetic inlays (Pyramid shaped)
Hardware has black nickel finish.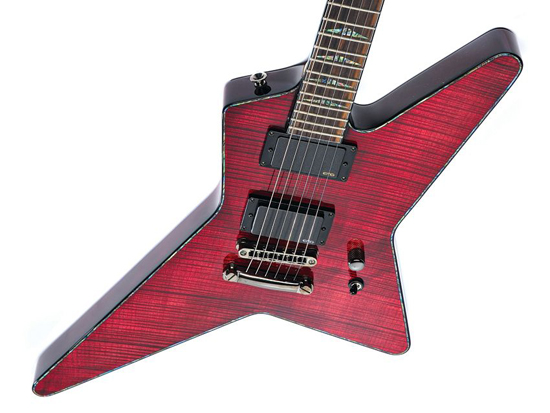 // 9
Sound: I play mostly metal, and this was tailor-made to play metal. The lack of tone pot allows all the signal to make it through, with none of it being bled off to ground, so you get a slightly hotter signal than a typical vol+tone+switch Superstrat configuration. The active EMG's also make this hotter than my other passive guitars.

I'm running this through my Orange Micro Terror head into a Marshall MG412B cab. I don't usually need any effects, the signal is plenty hot enough to drive the head with the built in gain. It isn't noisy, in the sense of faulty shielding of wiring. However active pickups, again, are way hotter and pick-up the minute sounds when you try to mute completely for silence, like dynamic rests, or between songs, but that is manageable with a bit of practice.

This can make a bunch of sounds. I have played it clean on the neck pickup and it sounds really nice. When playing songs where I want a more subdued distortion tone (example, to sound more like passive PU's) I put the neck on instead of the bridge. For a more vintage feel, I'll even roll of the volume a little. The bridge will melt your face off if you let it. // 9
Action, Fit & Finish: Being one of the few guitars I bought new, it was refreshing to have a guitar ready to go as soon as I got my hands on it. The action was nice; not shredder perfect, but super easily playable. It came out the box in C (CFA#D#GC) which was convenient as the first song I wanted to play on this was Blood Mine. I ended up stringing it with Dunlop Heavy Core "Heaviest" gauge strings (12-54). The pickups were at a decent height, didn't really have to touch them for a normal set-up (but I always set the bridge as close to the strings as possible without touching for the hottest signal possible, and back the neck off for a more subdued neck tone). The neck is stated to be unfinished, and this does seem to be the case, because where the thick glossy black paint ends, we can see the thickness of the paint. I would have put a coat of satin clear on the neck to try to at least make a nice smooth seam on the heel, especially since it's a neck-thru. Everything is still cherry looking; no rust or tarnishing of anything.

The jack comes out of the bottom of the short "leg" of the body. So if you try to sit the guitar's "crotch" on you knee (like with a V), you need a right-angle jack or scrawny legs, 'cuz the jack is right there. Also, despite having 24 frets, the cutaway doesn't reach much farther than the 23rd, and the "horn" is too close to the neck, so with my larger hands, I struggle to get my hand up to play up to the 23rd fret on the 1st string, and to 22 by the 4rth 5th and 6th strings. The 24th fret is only playable by turning my hand (not convenient when soloing) or tapping. // 7
Reliability & Durability: I haven't gigged it yet, but I feel this would totally survive. The toggle switch is the most durable of switchgear, and this one is no exception. Being part of the Fender-Jackson-Charvel group, it has these nice, wide-brimmed strap buttons. They seem really sturdy, and I might almost consider leaving them on and not swapping them out for Schaller strap locks. I could totally gig without a back-up with this. I wouldn't do that (because accidents happen), but barring human error (falling on the guitar, dropping it off the stage, etc.) I don't see this going drastically out of tune, or breaking strings regularly, or the electronics shorting or any such breakdown. As stated above in fit & finish, the neck is unfinished. This nags at the back of mind telling me that someday sweat from my palms will seep into the neck and discolor it, or worse, warp it. It might just be OCD, but it bothers me. I would definitely work on that (Charvel, if you're reading this...) // 7
Overall Impression: Again, I play mostly metal, and this was built for metal, so the match is perfect. I sort of wish I had asked about the "unfinished" neck, but seeing as this was a time-limited bargain deal, I pulled the trigger, and I feel I made the right choice. Were I to loose this or have it stolen, I don't think I'd replace it, I'd get something else. I love the overall feel of the guitar, but I find myself sitting it on my knee like a V, which as I mentioned above, is not great for the cable. My favorite feature is the EMG's, which is odd because I'm a Duncan man, but these are the first time I've owned active pickups. They work great on songs that were recorded with active PU's. The tone is instantly identifiable as being way closer than what I could do with the passive pickups in my other guitars. I hate that I can't comfortably play to the 24th fret. That is a big turn-off for me. // 7