Features:

8

Sound:

9

Action, Fit & Finish:

10

Reliability & Durability:

10

Overall Impression:

9

Reviewer's score:

9.2

Superb

Users' score:

7.6

(

5 votes

)
Price paid: $ 380
Purchased from: Local Shop
Features — 8
Its features:

I am not really sure when or where it was made
22 Medium Frets
Basswood Body
Maple Neck
24.75 Scale Length
C Neck Profile (Very Thin Neck)
Floyd Rose Special Double-Locking-Tremolo
3-Way Pickup Selector (can be used as a killswitch)
2 Pickup-Volume-Knobs
1 Tone-Knob
Grover Tuners
DMT Design Bridge + Neck Pickup (passives)
Rosewood Fingerboard (don't know tis radiums but it feels very nice and sturdy)
Allen Keys, Lite Leer Case, Instrument Cable
Bolt On Construction
Lightning Graphic (Very Addictable)

Edit: Dean changed some of this features in the 2016 production.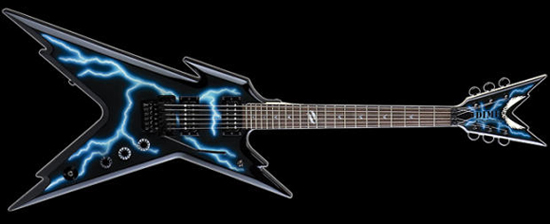 Sound — 9
It suits perfect the music style I play which is metal (mostly melodic death metal) and I can get a huge variety of tones with it but only metal ones (but hey!, that's the reason I purchased it). I am running it through a Fender Mustang I V.2. And I can say it does amazingly good with both distorted and overdriven tones as well as cleans, something that I really wasn't expecting. The only thing I would change are the pickups. They tune in the frequencies of every electronical device and when I record through interface they even catch my voice and the metronome! Also they do very well in all styles of metal but not PERFECT as they are not specified for only one kind (that's the reason I'm planing to replace them later).
Action, Fit & Finish — 10
I can't comment about it as I got it from a local shop and the first set-up was free. By the way, it was a really awful set-up so I decided to send it to a professional. The only flaw from the factory he said me the guitar had was that the bridge's screw-holes weren't deep enough and he had to dig them (which in my opinion isn't such a big flaw as it is at least beatable). Furthermore, the flaw I had with many guitars wasn't exist on this one although its extreme body shape... this is the neck dive.
Reliability & Durability — 10
Don't need to comment on its reliability & durability, it's all PERFECT! (You know: hardware, finish, FLOYD, etc.) I would use a backup because we are humans and we cause accidents ;) It has a Floyd Rose (Special) so never worried for its tuning standability. Some people that I was chating with said that it wouldn't keep the tuning cause it has a Special FR but my guitar don't allow me to believe them as it has never so far let me down.
Overall Impression — 9
I like this guitar a lot and it is very good for metal but never do the serious mistake and buy it unless you are at least 101% metal. It may not be a High-End one but every time I see it, it inspires me to play with it and that's the reason it will always be my favourite guitar of all! If it was stolen or lost I would firstly do everything I could so that I find it and if I couldn't then I would buy it again. The only thing I would change... you know... these pickups, although they were not that awful.