Features:

10

Sound:

9

Action, Fit & Finish:

8

Reliability & Durability:

10

Overall Impression:

10

Reviewer's score:

9.4

Superb

Users' score:

6

(

6 votes

)
Purchased from: Eastwood direct
Features — 10
I'm not sure when the guitar was manufactured, but it was built in China. The guitar's body is made of Basswood, with a set Maple neck with a rosewood fret board. The body is very much like that of an old Mosrite guitar. It has an intonable bridge with rollers instead of the usual guides, a master tone and volume knob, 3-way selector, 2 EW-90 pickups and Kluson style tuners. Mine is a very dark purple with gold pick guard, gold hardware, and gold pickup magnets. It has a Fender mustang style vibrato. The finish on the guitar was spotless, no loose areas or gaps along the pickups. The binding was well done and quite lovely.
Sound — 9
I use either my Boss GT-8 either direct or through a Fender Champ. The guitar comes with 2 EW-90 pickups. They are wound hot but can deliver everything from mellow jazz to biting rock. Mine are surprisingly quiet. They were quiet on my crunchy channel, clean channel, and barely a buzz when distorted. The neck feels exceptionally good. It's a little wider than Fender or Gibson, but it feels comfortable, just as I remember from a Mosrite I plenty years back. Because it's a touch wider it allows more room to do fancier things along the neck more accurately. It's got an approx. Radius of 12" so it's a very fast neck. I didn't rate this 10 because if you've ever heard Dana-Mo pickups you'd hear an incredible single coil sound. That said, this guitar packs plenty of sound and kick ass tone. It rivals most other big names.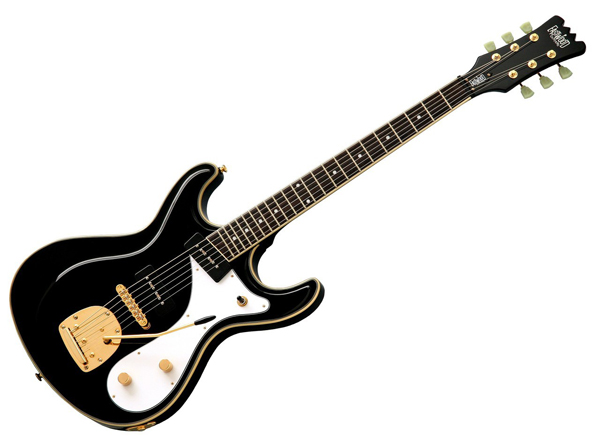 Action, Fit & Finish — 8
I would have rated this higher, but for one little issue. The instrument was well set up out of the box, but I did find a dead spot on the high E between frets 6-8. There was string buzz at the third through fifth frets. This really isn't surprising. One can experience the same thing with a $1000 Hallmark or a PRS SE. I had planned on changing the strings to .10s, and a look at the electronic settings, so a trip my local luthier was already planned. He only had to tweaked the truss rod and mashed down some frets and problem solved. He reported the electronics were sound. The bridge pick up is set high. Almost high enough to rest your hand on. It allows you to pick more directly over the pick up. When I did this on the bridge pick-up it made for some interesting overtones.
Reliability & Durability — 10
Not only will the hardware last, but I simply have to talk about the vibrato system. First a little history: Semmie Mosley invented and patented the best vibrato system ever devised. You can whammy a Mosrite all day without it going out of tune. If you own guitars with a vibrato you know tuning can be a problem. Unless your guitar is designed for vibrato (string locks at the nut, etc), tuning can be an issue. Even with most safeguards a string will sometimes go slightly flat or sharp on a regular basis. I mention this because my Sidejack did not go out of tune despite hitting the whammy pretty hard. The roller bridge which was one of Semmie's innovations does the job. The guitar easily holds it tune. Quite a pleasant surprise for a $500 guitar.
Overall Impression — 10
I play all kinds of music except for heavy jazz, bluegrass, or metal. I have been playing professionally for over 20 years. I currently own 16 guitars of various brands, i.e. Fender, Gibson, Ibanez, Turser to name a few. I'm primarily a vocalist who plays lead guitar as well, so smaller rigs with a good stomp box suit my needs best. Hands down, this guitar is a wonderful buy for the money. It won't break the bank but it will deliver what you need and then some. It's a bright sounding guitar, so you don't want to play heavy jazz, but since I don't play that style it's not an issue for me. It's slick, gorgeous, easy to play, sounds great, and has an exceptional whammy system. What's not to like? If it was lost or stolen, I would replace it. I can't say there's anything I hate about it. The additional work I put in was already planned. However, the cost of that was negated by the 10% discount I received for being a first time buyer, so it was a wash. This model was not available stateside. Mine was shipped from Liverpool and I still rec'd it in 3 days! The customer service was wonderful. This is a great little buy, so if you're in the market get one.