Features:

10

Sound:

9

Action, Fit & Finish:

10

Reliability & Durability:

7

Overall Impression:

9

Reviewer's score:

9

Superb

Users' score:

8.6

(

8 votes

)
Price paid: € 500
Features — 10
I have played this guitar for almost a year now and noticed there was no review of it on this website. So I thought it's about time now. Forgive me if I make grammar mistakes, I'm Dutch.

I have always like the artisan design. If I was ever going to buy an Gibson, it would have been the artisan. I searched for the Gibson online and suddenly came across the Epiphone website. I loved it instantly, but I didn't have the money to buy it. This was also the first time I ever heard of the band Bring Me The Horizon. I quite like music, but didn't really care about the fact that this guitar was a signature model. By coincidence, I found one 2nd-hand online.

My Epiphone Les Paul Ltd. Ed. Lee Malia Custom Artisan was made in December of 2014. The guitar was bought in store by a guy in Belgium. He decided he liked his 5000 euro guitar more so he put this one on sale after playing it no more than 4 times. It even had the factory strings still on it. within 10 minutes I had fallen completely in love with it. I took it home, put some new strings on it, adjusted the action and intonation and it was good to go! I was blown away immediately.

First the features:

Solid Mahogany body with a maple top, Gibson USA pickups (1 splittable humbucker and 1 singlecoil), a medium '59 Les Paul C-shaped neck, regular 24,75 inch Les Paul scale, Artisan Inlays, some nice "top hat" knobs and gold hardware. It comes with a strap and Epiphone straplocks. on the back of the headstock you'll also find Lee Malia's signature. The guitar has a "like it or hate it" look. But it is the right guitar for me.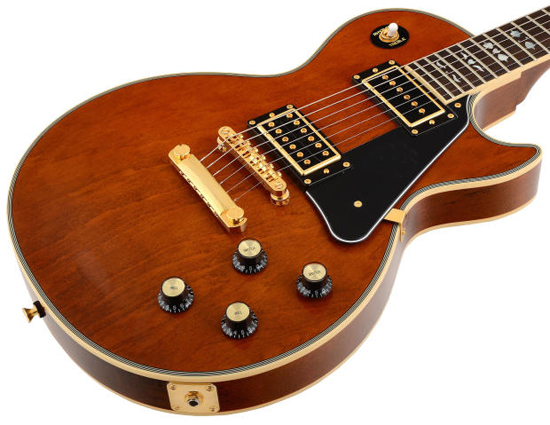 Sound — 9
I play any type of music: blues, rock, clean, metal, punk, pop etc. And I think I got the right guitar for that. The pickup configuration makes the guitar really versatile. Although sometimes I miss the humbucker in the neck position. The sound is just a little bit thinner with the P90. When I play slash-like solo's, it just does not seem to be totally fitted for that job. But the P90 has it's good points. It just really sounds good when playing clean. It will give you a nice acoustic like sound, which I like more than a humbucker would do in this job.

The bridge pickup is where you can tell that the guitar was designed by a metal guitarist. Just really good voor rock and metal. When you split it, it takes the guitar to different level. It makes a sharp tone. You should give it a try when making pop music. When I play blues I use both of the pickups. It just feels like the right sound to me. Sometimes I roll the tone and volume knob a bit back for a bit less intensity and some darker warmer and softer tones.
Action, Fit & Finish — 10
First I'd like to tell you a bit about my experiences with Epiphones in the past:

I have had a 3 Epiphones in the past which I was not pleased about. All contained big flaws. All were Koreans from different years. 1 had a terrible sound and necks of the other two couldn't be adjusted which made playing them a hell because the action was just crap. I had sworn to never buy an Epiphone again.

When this one came along I felt like I was taking another risk. The neck had to be adjusted, the strings had to be replaced and the guitar was not intonated well. After adjusting, the guitar just played like a Les Paul should play. I was very happy with the result. I can't find any flaws on the guitar. Everything seems to be in the right place and works perfectly.

One thing I really like about this guitar is the '59 C shaped neck. There are not many Epiphones that use these Gibson style necks. It just feels way better than all of the other Epiphones I had, which all had a D shape.
Reliability & Durability — 7
The guitar seems solid, nothing has broken so far, the guitar plays great sounds great and I expect it to be lasting a lifetime. It is my personal favourite guitar and I will never sell it.

This guitar is almost stage ready from stock. I choose the word "almost" very carefully. Because there are some minor things to consider:

1. The Tuners. I don't know what tuners are used on these guitars, but they are not grovers! They work "okay" on my guitar but not perfect. I might consider to change them to grovers. I'll probably get gold grovers with green knobs for it in the future. A little personal touch. I just don't want to tune my guitar after 30 minutes of playing every time.

2. The strap. The strap that comes with this guitar is just a cheap piece of plastic.It is made of the same material you find on backpack straps. When playing sleefless, it hurts your skin. I never use it. Instead I bought a nice leather one.

3. The straplocks. I have had some problems with the straplocks. These are made by Epiphone. Mine seem to get a bit loose and rotate a bit. Twice, at some point they rotated 180 degrees, which made the strap lock unlock from the guitar while playing. Both times I was able to catch the guitar in time. But I fear there will come a day it will actually drop... and make me cry... Sooo... I think I am gonna replace them.

In conclusion: Guitar is fantastic, the tuners and strap are not so great for me. But those are easy to replace.
Overall Impression — 9
Buy this guitar. Really, it won't disappoint you! It is a serious instrument and it is a good match for a Gibson. I have had it for a year now, and it is still my #1 out of 7 guitars. I would surely get another one if it got lost or stolen, no question about it.

Things I wish it had? Better tuners, strap and straplocks. And maybe I'll add a bigsby one day or a pickguard you find on a Ibanez Custom Agent. It would suite this guitar well in my opinion.