Features:

10

Sound:

10

Action, Fit & Finish:

9

Reliability & Durability:

10

Overall Impression:

10

Reviewer's score:

9.8

Superb

Users' score:

6.3

(

4 votes

)
Price paid: $ 510
Purchased from: eBay
Features — 10
This is a 2010 EC-1000T FCSB model guitar made in Korea. It's got 22 extra jumbo frets. It is full-thickness at 2" thick and is not weight relieved. Consequently, it weighs in at a very hefty 9 lbs, 11 oz. It has a flamed maple top that's about 3/16" thick with a solid mahogany body and mahogany neck. It features passive Seymour Duncan Alnico Pro II pickups, a TonePro locking TOM bridge and abalone flag inlays. Full binding around the body, neck and headstock. Tuners are locking ESP tuners. This is a very equivalent feature set-up to a Gibson Les Paul. Excellent build quality as well.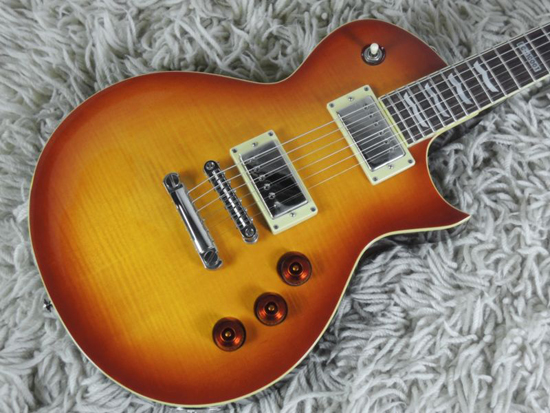 Sound — 10
I play a lot of blues and classic rock as well as some gospel stuff when I play at church, so I was looking for another weapon in my arsenal that could do it all. This ESP LTD EC-1000T totally fits the bill. It can play all of the above with aplomb. The Duncan Alnico Pro pickups are fantastic and allow you to dial in exactly the kind of tone you want with the volume and tone controls. The neck pickup is nice and warm and can be very creamy but still has the ability to cut through the mix. While the bridge pickup is sharp and bright. Dial in a little overdrive and it gives you that classic rock '70s crunch we all know and love.
Action, Fit & Finish — 9
Build quality on this guitar is absolutely flawless. Everything on it is great. Bookmatched maple top is gorgeous. All the frets are nice and smooth on the ends, neck joint is clean and seamless. Pots are responsive all the way from 1-10. There's a little bit of play in the pickup selector switch, so I'll probably have that replaced with a switchcraft. I might also put in orange drops for the pots, although the stock ones are good. The quality of this guitar is extremely comparable with its Eclipse counterpart and its Les Paul rival. It feels like it was carved out of a one giant hunk of mahogany!
Reliability & Durability — 10
Very, very solid feeling guitar. As it is not weight relieved and full thickness this guitar feels like it would survive a nuclear bomb blast. When you pick it up it is so reminiscent of a 1970s Les Paul before Gibson started cutting holes in them. The quality is much better and it also sounds better than those old Gibbys do though! The finish is a bit glossy so I'm sure that it's a poly finish to keep costs down, so I have no doubt that this will stand up to the rigors of time and travel quite well. It will probably look very much the same 20 years from now as it does today.
Overall Impression — 10
I can't find a thing wrong with this guitar. I've been playing 20 years and I own several high-end guitars that are worth well into the four figures, and this ESP LTD EC-1000T is the equal to all of them and maybe even superior to some - at a fraction of the price. It is literally like buying a 1970s Gibson Les Paul for 1/5 of what those go for now. I prefer non-weight relieved Les Pauls so for a traditionalist like me this is the perfect guitar. These are getting very hard to find as ESP only made them for a couple of years in this full thickness non-weight relieved configuration. This is just as good as a Gibson and maybe even an ESP Eclipse. It gives you everything you want in a classic single-cut guitar. Couldn't be happier with it!