Price paid: $ 999
Purchased from: Guitar Center
Features: The 2015 Dave Murray Stratocaster is the guitar that has been used by Iron Maiden's Dave Murray for the past 2 decades +. It is made in Mexico in 2015, has 21 medium-jumbo frets on a compound radius rosewood fingerboard. The neck is 25.5 scale quartersawn bolt-on solid maple coated in gloss urethane over natural wood, and the body is solid alder with beautiful grain showing through the sunburst gloss poly finish. Dave's signature is on the back of the headstock.

It's actually surprisingly heavy, was expecting it to be much lighter than it is. When I first got it home and played it a bit, there was a decent amount of stain coming off the fretboard onto my fingers. After changing the strings and giving the fretboard a really good cleaning, it has stopped dirtying up my fingers when playing.

It comes loaded with a flat-mounted original Floyd Rose double locking trem in chrome, and a pair of Seymour Duncan Hot Rails sandwiched around a Duncan JB Jr, all in white. It has 1 master volume and 2 tone pots (middle and neck), and a 5-way pickup selector, all mounted on a sparkling 4 ply white pearl pickguard. The backplate over the FR springs is also matching white pearl, and the tuners are Fender vintage style slot tuners.

The tuning stability has been completely amazing, I've been completely shocked at how little I have needed to retune. After changing the strings, once the new strings settled in, I have not had to even adjust the fine tuners in weeks now. I've had a couple of older guitars with Floyds (not originals), and it seemed I was constantly having to not only fine tune between songs, but unlock and reset from the tuning pegs quite often as well.

It came with a Fender Deluxe gig bag, as well as a pair of hex wrenches supposedly for the Floyd, but unfortunately the wrenches they provided do not fit anything on the guitar.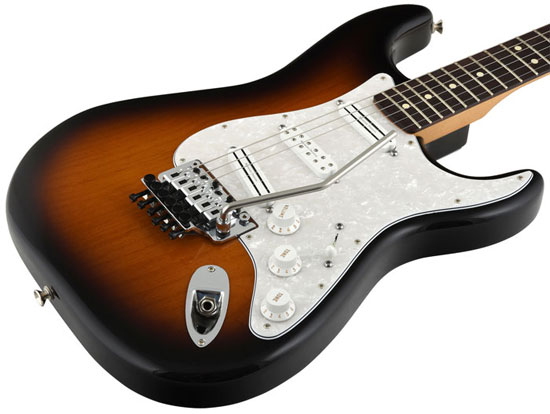 // 9
Sound: I play a lot of old classic heavy and hair metal, and this guitar is perfect for this. Due to being in an apartment and not being able to play as loud as I want, I generally play through a Line 6 POD HD500X through a pair of Audio Techninca ATH-M50X headphones, and a Blackstar Metal HT5 combo that gets minimal use. It sounds great through either of these, and there is no noticeable noise when not playing.

The pair of Seymour Duncan Hot Rails pickups scream! The neck position gives you Murray's signature lead tone, and the bridge pickup gives plenty of punch while retaining crisp note definition and separation even with high gain. Harmonics really shine through with the Hot Rails, by far these pick up harmonics and make them stand out much better than any other guitar I've owned, including ones with EMGs. The JB Jr in the middle seems at it's best for clean tones. With the 5-way switch, you can get a wide variety of tones out of this guitar. // 9
Action, Fit & Finish: Here's where my only complaints come in-the factory setup was terrible. The action was very high, and all 3 pickups were set much too low. So I basically had to do a full setup myself, as well as the fretboard cleaning due to the stain rubbing off on my fingers. Also was lucky I had the correct hex wrenches at home since they shipped it with wrenches that do not fit anything on this guitar. The finish is gorgeous, very high gloss, and the wood grain shows through beautifully, and was completely flawless. The neck was set up perfectly as well, with no sharp fret ends or dead frets etc. // 5
Reliability & Durability: This guitar is built like a tank, very solid and heavy. It feels like it will handle gigging with no problems. The electronics and hardware are all top notch, I would have no worries about the Duncans or the Floyd having any issues whatsoever. All of the hardware is solid, none of the tuners are loose etc, everything is tightened down quite nicely, and overall seems to be very durable. The finish appears to be quite thick, and I have not noticed any fading or wearing down at all. When next to my other guitars, the gloss finish on this stands out exceptionally. // 9
Overall Impression: Once set up properly, this guitar is simply an amazing instrument. I'be been playing for about 21 years now, even though I'm not gigging anymore and are strictly a living room rocker, I've owned quite a bit of gear over the years, and currently still own 7 guitars, and this is by far my favorite of any of them. With the amount and quality of the name brand features packed into this, along with the solid build quality of Fender for under a grand, this is a steal for anyone, Iron Maiden fan or not. With the 5-way switch and the tone and volume controls, you can get a wide variety of tones, so it is not strictly a metal guitar, even though it excels at it. If it were lost of stolen I most definitely would look to replace it. // 9