Features:

8

Sound:

8

Action, Fit & Finish:

7

Reliability & Durability:

8

Overall Impression:

8

Reviewer's score:

7.8

Good

Users' score:

6.3

(

4 votes

)
Price paid: $ 399
Purchased from: Online
Features — 8
The guitar was made in China, I guess in 2013. It has a C-shaped maple neck with rosewood fretboard, 21 medium jumbo frets and full-length scale (the norm for a Jazzmaster). Solid mahogany body with a see-through red finish and black pickguard. The finish in neck and body is "poly-gloss," it is SHINY and looks like it is a pretty thick coat. Tune-o-Matic bridge with the classic Jazzmaster tremolo system and lock button (to prevent it from going out of tune in case of string breakage). It has two passive Modern Player Humbuckers and a 3-way switch, pretty basic yet versatile configuration. No rhythm switch as in classical Jazzmasters. Master Volume and Tone knobs, vintage style tuners and "synthetic bone" nut, nothing fancy here. No case, it came home in a cardboard box.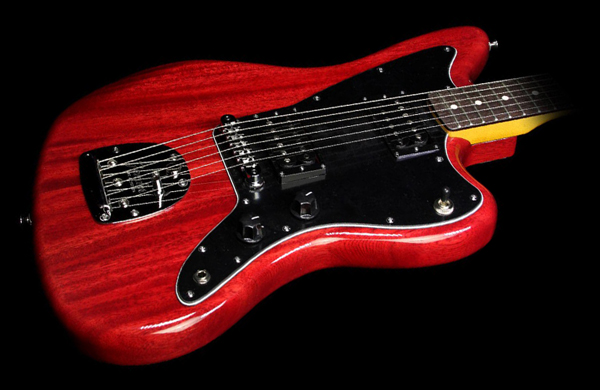 Sound — 8
I play rock... garage, punk, grungey, thrashy, shoegazey... indie, pop... I play clean and also distorted, dry and also drowned in effects, always to the input of a Laney CUB12R. After adjusting pickup height, the sound is sweet. The neck pickup is round and warm, the bridge pickup is bright and with a more pronounced attack, but maybe a bit thinner sounding. The middle position (both pickups engaged) is a good balance between both sounds. I'd say both pickups have a clear sound with good note definition. Maybe they have low output for humbuckers, but I think it goes with the Jazzmaster voice/style. Good results either for rhythm (chords) and lead playing.
Action, Fit & Finish — 7
The setup was near perfect when it came home, I just had to adjust pickup height, rising them up a bit. Action rather high yet very comfortable for fretting chords and playing leads and bends. Body, neck and frets assembly and finish are flawless, the guitar feels rock-solid and looks neat. The tuners keep tuning fine even with violent tremolo usage; nonetheless, I initially experienced the commonly reported tuning issues when using the tremolo, which were fixed by applying graph on saddles and nut, stupid cheap solution. Also once or twice had a string jump out of its saddle, but changed to .11 strings and have had no problem since then. Electronics... Volume and Tone knobs make their job pretty well, you can hear a gradual change with both and make no strange noises. The weak point, and a serious one, is the pickup selector: it sometimes fail to engage the neck pickup! Sometimes it even makes a scratchy noise. I bet it is an easy fix, but also a very important feature to have it faulty.
Reliability & Durability — 8
It's been my 1st guitar for a year. As said earlier, it feels rock-solid and (after graph and .11s) keeps tuning very well. So yes, it will withstand live playing without doubt. After a year, the only important dents are on the head stock, made by bumping the roof with it (low ceiling). Broke a string only once, but that was also before switching to .11s. It goes along well with my effects and amp, and also with some Marshall amp I had to use at one gig. Obviously the pickup selector issue is a problem, but I have managed to get on with it, and the final sound is great and pays up for it.
Overall Impression — 8
Great guitar as is for the price: versatile, good sounding, great playability and bitching looks. It could also be a great modding platform for those who like to tinker and solder and swap pickups and whatever. I would recommend it for pretty much any rock sub-genre, from the most mellow jazz to the fuzziest stoner. Shredders be warned: it has only 21 frets and no Floyd Rose tremolo. Purists stay away: it is not your typical Jazzmaster. For almost anyone else this could be a nice guitar to play and gig with.