Features:

10

Sound:

10

Action, Fit & Finish:

10

Reliability & Durability:

10

Overall Impression:

10

Reviewer's score:

10

Gem

Users' score:

6.8

(

10 votes

)
Price paid: € 1500
Purchased from: Thomann, Germany
Features — 10
This is a US 2016 HP model, with robot tuners. She's all mahogany, a slim, but wide neck for solos, 22 frets, not jumbo, but middle fat. Adjustable zero fret, titanium. Gold plated jack. '57 Classic pickup on the neck and burstbucker on bridge. Speaking od bridge, saddle is also titanium. And on the neck pickup you can pull the knob out to get a single coil for acoustics. And she smells nice. :) Gibson provides a hard case with this model. It's not a heavy duty hard-plastic one, but nevertheless, a leather-imitation, nice quality. It came with some basic tools, and I bought a Gibson Trubadour strap for it, very nice and wide. For now, I use Gibson's default strings that came with the guitar, but they are not different from Elixir .10's, so I'm keeping them for a while, then I'm switching to Elixir.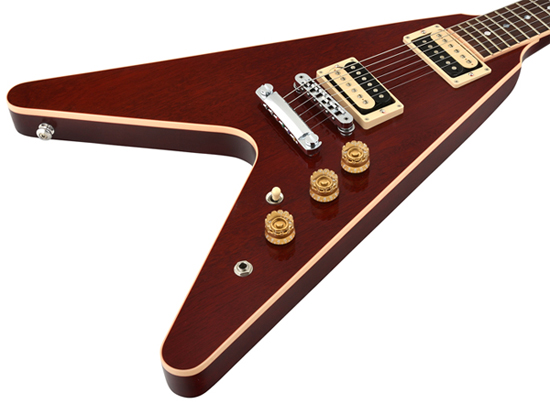 Sound — 10
It's Jack of all trades. You can go acoustic by switching off the neck humbucker to turn it into single coil (pardon my non-native English, I don't know all the expressions), neck humbucker is very meaty, deep, while bridge is all about power delivery. I don't use ANY effects, it's all done by a Marshall amp and its own powerful gain. The guitar doesn't make a sound while it waits but when you hit the strings, it goes like a tank. I play rock 'n' roll, with a very heavy sound, sometimes switching abruptly from heaviest to acoustic and back. This guitar delivers it all. And the sustain is... Oh. My. God. It just goes on and on. The titanium-made elements distribute the vibrations throughout the body like I have never seen before and even without an amp, it gives a rich and powerful sound. I can rehearse at home without an amp. Something you don't see every day with a solid body guitar...
Action, Fit & Finish — 10
The guitar came with a signature of the man who checked it out, even a photo of it on the table. It was ready-to-go. I haven't touched a thing since I got it. The guitar came flawless. I bought it with the robot tuners especially because I play in E and in Open D and I usually needed two guitars for this. Sometimes when one plays on small stages, one cannot have 2 guitars on stage. Not to mention, that you need 2 reserves in case one of them breaks down. With robot tuners I can tune the guitar in a different setting in less than 10 seconds - between 2 songs on a concert - which is worth its weight in gold.
Reliability & Durability — 10
This guitar is made to perform and so far I have absolutely no complaints. It sits around my shoulders beautifully, lightly, likes to play rough. Everything is tight, smooth, there are no rough corners, the point where neck meets the body is very soft, no edges, so when you want those high notes, nothing is in the way. I bought this guitar because I knew - if I want to get my playing on a higher level and to count on my guitar to perform 110%, I need to buy a Gibson. I took it to rehearsal the day I got it and my playing has improved immediately.
Overall Impression — 10
This guitar is advertised as a heavy metal guitar. I play rough stuff too, but mostly rock, blues, also some ballads that need soft acoustics... I needed 2 guitars, one for open D blues, one for E tune, but this Gibson delivers both. I may have bought a guitar for 1500 euros, but I bought 3 guitars in one: this Flying V can change its personality with a flick of the switch, form a blues guitar to a rockstar to a heavy metal screamer and growler. Considering what it delivers, this guitar is cheap. If god forbid something happened to it I'd buy another one just like it in a heartbeat. This is simply THE best guitar I have ever played.